Google My Business ("GMB") is arguably the most powerful local citation that you can acquire. In essence, it is THE search engine that majority of your potential clients will use to find your law firm. If your GMB profile is not complete or depicts incorrect information, you're missing out on free business.
If your Google My Business information is incorrect, you may be losing out on free business!
Your GMB Knowledge Panel ("KP" A.K.A., the place that allows you to edit your business information) should provide vital information regarding your law firm to local searchers, such as address, practice areas, photos, and telephone number. It is your opportunity to convince a potential client that your law firm is THE law firm that they need to contact.
With that in mind, when was the last time you reviewed your GMB KP? If your answer is "longer than a month ago," you need to do a quick audit of your profile to ensure all of your information is added and correct. You can do so easily by logging into your GMB KP Account. Once you are signed in, you can easily edit the information that is listed on public view.
If you are not consistently auditing your listing, you are providing a bad user experience and as a result, you are hurting your chances of being found on local search… which, as an attorney, is one of the most invaluable lead generation tools you can utilize. If you are not avidly monitoring your listing, the below mistakes may prevent you from acquiring free business:
5 Most Dangerous Google My Business Mistakes Attorneys Make
1. Unclaimed Listings:
If you do not claim your business listing, you cannot manage it. Further, you run the risk of unwanted edits and suggestions by your peers and competitors. In some cases, a user can suggest that your business is closed or has moved, and Google will likely accept that suggestion and close your listing completely! Moreover, your competition can claim the listing themselves and capitalize on your traffic.
By claiming your listing, you assume full control of your account. You can reply to reviews, edit your address, telephone number, website address, add photos and create local promotional posts that are visible to every local searcher.
The simplest way to assume your listing is by directly accessing the GMB Knowledge Panel. Select the option to "manage now" and follow the steps to claim your business!
2. Missing Information:
If you have already claimed your GMB listing, go ahead and conduct a quick audit to ensure your listing is not missing important information.
Important information to audit:
Photos of your practice: Published by you AND your clients.
Streetview Photos: Google will use a default streetview photo. If you are dissatisfied with their photo, upload your own.
Map: Ensure the location displayed on the map is correct. Note: adding your map to your website will enhance your local SEO ranking. 
Website Address: Open a new browser window, type in your site address. Once the site loads, make sure the URL that is rendered is identical to the URL listed on your GMB listing. (Ex: https vs http).
Physical Address: Make sure it is identical to the address listed on your website.
Reviews: Make sure you are responding to both positive AND negative reviews.
Hours
Telephone number: MUST be identical to the telephone number listed on your website.
Questions and answers: Respond to any questions and answers in the Q&A section.
About Section
Auditing the above information is imperative for acquiring new business on a consistent basis. If your information is incorrect, your potential clients will likely go to your competitor if they are unable to reach you.
Before proceeding to step 3, log into your GMB account and verify that all of your information is both listed and correct.
3. Incorrect Information:
Displaying incorrect information is actually worse than not displaying information. For example, if your hours of operation is incorrect, and potential clients try to contact you only to receive a voice mailbox, that not only makes you look bad, it will frustrate them. I had a client tell me about a case he had acquired because of this. His client went to an injury law firm that advertised "24-hours." She called multiple times after her evening shift, only to be sent to voicemail on each attempt. She could have tried again the following day during normal business hours, but she did not. She lost trust in the law firm as they provided her with incorrect information. She retained their competitor, my client, the very next day.
4. Reviews/Questions:
I'm not sure why, but the area of responding to negative reviews is always a struggle for my clients. Granted, no one likes being yelled at, and if a person is leaving a bad review, you'll probably want to tell them to kick rocks. However, it is imperative that you respond to EVERY review, whether it is good or bad. The reason for this is because it shows your peers that you are actively engaged with your audience, and you care. It helps build trust between you and your potential clients, and it gives you an upper hand against your competition.
Responding to negative reviews can feel a bit awkward. Some ways to reply to a negative review:
We would like to discuss this issue with you to find a resolution. Please contact our office and speak with [attorney name] directly. We will look forward to speaking with you.
Thank you for your feedback. We will address this issue and ensure that it does not happen again.
Hi, [client name]. We've reviewed your comment and would like to invite you to contact us so we can address this issue with you directly. Thank you for your constructive feedback.
Google client missed Q&A
The Q&A section is a fairly new feature and is often overlooked. This section is actually crucial for your law firm. Your potential clients are looking for a quick answer to their questions, so they'll likely browse this section to see if they can discover what they are looking for. If they can't find an answer, they will likely browse your competitors Q&A.
GMB allows business owners to post their own questions, so it is best practice to post any FAQ's as they are asked. Build up that profile!
5. Not adding the map to your website
Having worked with numerous attorneys, I can attest that this is a huge asset to increasing your local ranking position! You can easily add the map by clicking the "directions" button on your GMB listing, as depicted below: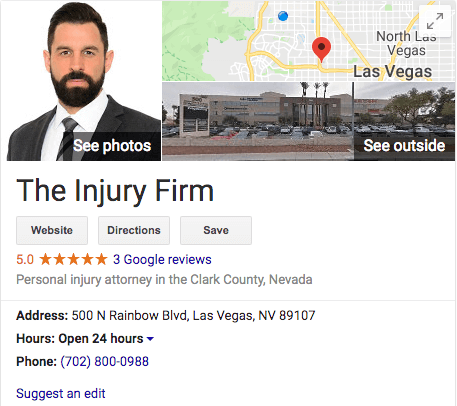 Once the map loads, click on the menu button on the upper-left-hand side of the screen.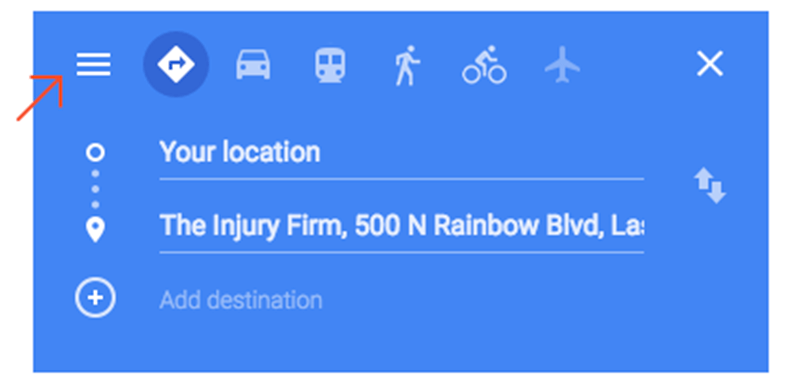 Select "Share or embed map"

Select "Copy HTML" and add the code directly to your website!

WordPress users can easily add this map into a footer widget or in the page editor. For complimentary assistance, you may contact me directly.
Follow the above steps, ensure your webpages are optimized with local keywording and I'm confident that you'll see your local rankings and monthly traffic increase significantly! Taylor McArthur