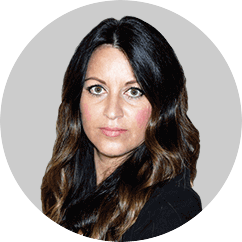 Attorney at Law Magazine Phoenix is proud to introduce its Inaugural Attorneys to Watch special issue, featuring the movers and shakers you will want to keep an eye on this year. The featured criminal defense attorney is Carmen Gosselin who tells us about her practice and her plans for the future. 
AALM: What drew you to the practice of criminal law?
Gosselin: I have always been inclined to question authority (so says my mother); criminal defense was just a natural fit. I have a Bachelor of Arts in philosophy focusing on ethics. I was always interested in the philosophy of justice and fairness. During law school I always excelled in my criminal law classes. I suppose I knew I was going to be a criminal defense attorney long before I became one.
AALM: Which case most defined your career?
Gosselin: I represented a college football player who had recently graduated and was on the brink of playing professionally. His life took an unfortunate turn when he rekindled a friendship with the wrong girl. She would eventually accuse him of kidnapping, aggravated assault and robbery. Even though, my client had never been in any legal trouble, he was facing a long prison sentence if convicted because the state had alleged the crimes were dangerous.
The trial was full of sex, lies and no videotape. The alleged crime had occurred at a bus station that had 32 different video cameras, but the lead detective never asked to see any video footage, let alone impound it as evidence. The girl was also less than credible. During trial she testified that my client had stolen $1,500 in single dollar bills, which she claimed she had in her little clutch purse. During my closing argument I had $1,500 in single dollar bills brought into the courtroom as demonstrative evidence. The dollar bills were stacked into two columns each about 8 inches high and impossible to fit into her little clutch purse. I argued that my client was innocent and ultimately the jury agreed.
Regardless of the outcome, this case most defined my career because I had to use every tool I had ever learned while trying the case.
AALM: What flaws do you see in the current legal landscape? How would you propose they be corrected?
Gosselin: The system is set up so that opposing counsel is more concerned with winning and less concerned with justice. I would change the system to be less about re-election and retribution, and more about rehabilitation.
AALM: What do you find most rewarding in your day-to-day work as an attorney?
Gosselin: Connecting with people, building trust and providing a level of comfort or peace of mind while we navigate through the storm.
AALM: How would you say your practice has evolved over the years? How is it different from the way you envisioned it?
Gosselin: I have evolved into a better negotiator and advocate. I am more of a creative problem solver rather than a zealous fighter; although, I still keep that tool in the toolbox because sometimes a fierce and zealous fighter is absolutely necessary.
AALM: What events are you most looking forward to in the coming year?
Gosselin: I'm looking forward to building my practice. I enjoy my work and I enjoy helping people.