We Find the Best Attorneys
Since 2009, our magazine has interviewed the best and brightest attorneys nationwide. Now, we bring you our recommended attorneys in Local Legal Authorities. Here is our listed best Santa Rosa Personal Injury attorney.
Writer for Attorney at Law Magazine
Knowledgeable & Reliable
Accepting New Cases in Santa Rosa
Leading Consumer Reviews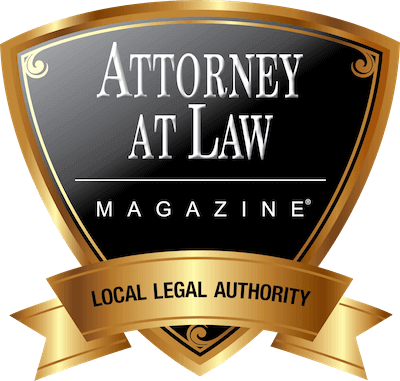 About
Eric Young
Santa Rosa personal injury attorney Eric G. Young is the founder and principal of Young Law Group. He began practicing personal injury law in 1997.
What drew Eric to become a lawyer? Eric was majoring in history in college and came across some old law casebooks in the library while studying for a civil rights issues class. "I began leafing through them and found myself fascinated by the stories the cases told, everything from the betrayal of a broken contract to burglary to someone getting hurt by the actions of another. I realized these were more than stories in a book. The events in these cases happened to real people and probably represented one of the most consequential events in that person's life. I was immediately hooked and decided to become a lawyer and make stories of my own."
How Eric chose to practice personal injury. Once Eric was enrolled in law school, it didn't take him long to be drawn into the field of personal injury – or torts as it's called in law school. "In torts class, I learned a couple of valuable lessons. First, do not take life for granted. Life and safety are precarious in a fast-paced, complex society. In fact, despite having practiced now for 25 years, I still find it astonishing the many ways one can be hurt due to someone else's negligence. Second, for every wrong, there ought to be a remedy. I believe that should be the guiding philosophy of any plaintiff's personal injury lawyer."
Eric's philosophy for the practice of law. "I view my role as an attorney as wearing two hats – teacher and advocate. Because I represent injured individuals, most of my clients come to me with no knowledge about the legal system, or they have mistaken ideas about their case based on articles they read on the Internet. Consequently, I spend considerable time educating my clients about their rights and responsibilities under the law. I also firmly believe it is my job to tell the client both the strengths and weaknesses of their case. A personal injury lawyer does a disservice to his or her client when all they do is tell them the good points. I strive to make sure my clients have the knowledge to make good, informed decisions about their cases. At the same time, I also believe it is my job to be my client's most ardent proponent in dealing with the defense. My firm fights large insurance companies, corporations and other businesses, doctors, and government agencies. They all have teams of crafty defense lawyers at their beck and call. I am there to level the playing field so that my clients have the opportunity to be heard and treated fairly."
The highlight of Eric's day. As an attorney and principal of his firm, every day brings new challenges. "I like the intellectual stimulation I get from serving in both roles. I also enjoy the strategy that comes with building a case, piece by piece, and being able to see where it will go down the road. It is a bit like a real-life chess game."
Why Eric chose to launch his own firm. "I grew up with a mother who operated three businesses in a small, rural community in the Midwest where most business owners were men. To me, she was a superstar, and she inculcated me with the philosophy that being one's own boss was the best thing one could achieve. In terms of my team, I like that we all have diverse backgrounds and that we each bring particular strengths to our client's cases. I like that my team thinks outside the box and is always willing to roll up their sleeves and get the work done."
Some of Eric's Biggest Cases. In 2003, Eric successfully argued a personal injury case to the California Court of Appeal called Mata v. Mata which involved a bar patron who was shot by a gunman being ousted from the bar. Mata established that a business owner who hires security assumes a duty of care to protect the patrons of the business. As a result of this work, Eric was asked to author an article for Thomson Reuters' Cause of Action series. The resulting article was a comprehensive survey of the law of premises liability which has been cited as the definitive source of its kind.
In 2005, Eric successfully argued a personal injury case to the California Supreme Court called Delgado v. Trax Bar & Grill, which established precedent allowing plaintiffs to recover damages for injuries sustained at businesses due to the violent acts of other customers/patrons.
Eric in the community. Eric is a member of the San Francisco Trial Lawyers Association and Consumer Attorneys of California. Most of his activities outside the office, however, are focused on the local community. He is a member of his local bar association and a frequent speaker on legal technology, practice management, and e-discovery. He also pens a quarterly column, "Legal Technicalities" and will be a speaker at the 2021 LegalUp Conference.
Eric volunteers with "Lawyers in the Library." His pro bono representation and charitable works are focused on animal rights and welfare issues. "I am deeply committed to helping a number of animal rescue and abuse prevention organizations in my community and around the country."
Eric outside the office. Eric and his spouse of 18 years live in the beautiful wine country. They have three dogs and enjoy outings with them to the beach as well as the many nearby parks. In his spare time, he writes historical fiction and nonfiction boos and hopes to publish one of these works by the end of 2022.
He is also an avid gardener and enjoys digital photography.
Attorney and Author
Eric Young is an author for our magazine specializing in personal injury articles.
What it's Like Working With the Best Personal Injury Attorney in Santa Rosa, CA
Contact Santa Rosa

Personal Injury Attorney
Successfully argued Mata v. Mata in California Court of Appeals
Successfully argued Delgado v. Trax Bar & Grill in CA Supreme Court
Teacher at Center for Advanced Legal Studies
Author of "Legal Tech-nicalities" Column
411 Russell Avenue, 2nd Floor Santa Rosa, California 95403
What Is a Personal Injury Attorney in Santa Rosa?
As you go about your daily routine, it's likely you will come across scenarios where you could suffer an injury. Maybe you are grocery shopping, dining at your favorite restaurant, or driving in your car. A personal injury lawyer in Santa Rosa represents those who have been injured because of another party's carelessness, negligence, or willful disregard of others. These wrongful acts are more formally referred to as torts. When you suffer harm as a result of another party, you shouldn't have to shoulder the financial burden which often accompanies an injury because of medical expenses and lost wages. A licensed Santa Rosa personal injury attorney can help you seek the compensation you deserve in civil court.
Although personal injury attorneys in Santa Rosa deal with tort law, they often specialize in one or more areas. The following list is not exhaustive but includes three broad types of cases personal injury lawyers handle on a day-to-day basis.
Traffic Accident Injury Cases
Each year, the National Highway Transportation Safety Administration (NHTSA) estimates more than six million traffic collisions are reported to law enforcement, including more than 35,000 fatal crashes, and about 2.5 million injuries. A skilled attorney can help investigate your accident and build a strong case against the defense to hold at-fault drivers accountable. Traffic accidents can include truck accidents, motorcycle accidents, bicycle accidents, and pedestrian accidents. When high speeds are involved, victims who are lucky enough to live through an accident, potentially face lifelong complications.
Premises Liability Injury Cases
In all 50 U.S. states, property owners have the legal obligation to maintain a safe environment for those who visit their business and home. Although exact laws vary from state to state, when a property owner fails to uphold his legal obligation and someone suffers an injury, courts often find the owner liable for damages in civil court. Premises liability accidents include a wide variety of accidents based on location and the type of injury. Victims might get injured at a swimming pool, a theme park, on an elevator, at a shopping mall, and many other locations. The most common type of premises liability accident is a slip-and-fall injury or a trip-and-fall injury. In fact, the Centers for Disease Control and Prevention (CDC) reports the most common cause of traumatic brain injuries, besides traffic accidents, is unintentional falls.
Product Liability Injury Cases
The Consumer Product Safety Commission (CPSC) records and maintains millions of complaints of injuries caused by defective products each year. A defective product might have a manufacturing defect, a design defect, or a marketing defect, which occurs when companies don't warn consumers of dangerous products or provide proper instructions. When a known or unknown defect causes injury to a consumer, courts can hold any party in the product's chain of distribution liable for damages. The CPSC is concerned with all types of household items, sports equipment, toxic and flammable chemicals, toys, and much more, but they do not serve as a watchdog for the automotive industry or the pharmaceutical. Defective airbags and defective tires have been a common cause of injury or death, as well as dangerous drugs.
Finding the best Santa Rosa personal injury lawyer can be tough, but lucky for you we did the legwork and found the top personal injury lawyer in Santa Rosa.