DALLAS, TX—Congratulations to Crain Brogdon, LLP Partner, Rob Crain for his work in earning the Individual Unity Award, presented by Project Unity.
"Division and hate still exist in our world, but they will not reign over us or cloud the many, many things we have in common," said Richie Butler, Founder and Chief Visionary Officer of Project Unity.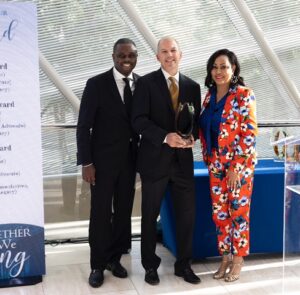 For the first time, Project Unity introduced the inaugural Together We Awards which recognized individuals, corporations, and organizations who show an outstanding commitment to supporting and implementing racial unity, inclusion, social justice, and health efforts in the community and workplace.
Crain Brogdon, LLP Partner, Rob Crain was presented with the Individual Unity Award (Advocate) at the Morton H. Meyerson Symphony Center, 2301 Flora St, Dallas, TX 75201 on Wednesday June 15, 2022 at the Together We Awards Recognition and VIP Reception, Together We Sing presented by Project Unity & Texas Capital Bank.
Project Unity is a collaborative movement among Dallas-area religious, business, civic, philanthropic, grassroots and government organizations, based on the faith-driven belief that what unites us is greater than what divides us. During the COVID-19 pandemic, Project Unity is committed to overcoming the disparities in health outcomes across our community by meeting the critical needs of our neighbors. Founded by Pastor Richie Butler, Project Unity's mission includes dialogue and community-building events, education, and empowerment.