---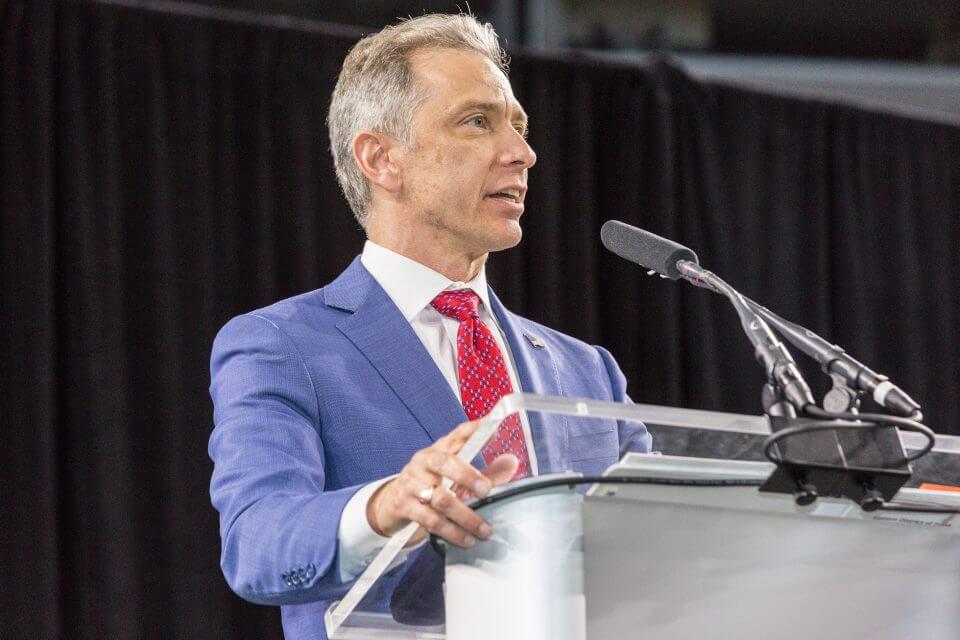 PLANO, TX—The Eastern District of Texas Bench Bar Conference set a new attendance record this year with more than 450 attendees gathering in Plano, Texas, for three days of informative programming and panel discussions focused on the diverse legal cases handled by the U.S. District Court for the Eastern District of Texas.
This is the 22nd year the Eastern District of Texas Bar Association has hosted the annual conference, which included a major policy address from Andrei Iancu (pictured), the U.S. Secretary of Commerce for Intellectual Property and Director of the U.S. Patent and Trademark Office (USPTO).
Mr. Iancu's speech at the Inaugural Texas Dinner in Honor of the Judiciary and 7th Amendment was reported by many media outlets as a push back against the "patent troll" narrative that has encircled America's intellectual property system for more than a decade.
"[I]nstead of focusing exclusively on policies that highlight dangers in the system, we should focus on policies that encourage inventors and entrepreneurs," Mr. Iancu told attendees. "And when we do encounter abuses, we should address them promptly and with narrowly tailored solutions."
He also remarked, "Those who spend their time and money relentlessly preaching the dangers of monsters lurking under the innovation ecosystem, and who work exclusively to identify only faults in the system, are unconvincing when they argue that they are doing so for purposes of increasing innovation."
This is the third time in recent years that a major policy address has been delivered at the Eastern District of Texas Bench Bar Conference.
Conference Chair Clyde Siebman of East Texas-based Siebman, Forrest, Burg & Smith says this year's conference was the most successful ever.
"I want to extend a special thank you to all of our distinguished panelists and attendees," Mr. Siebman says. "We were fortunate to be joined by all the judges from the U.S. District Court for the Eastern District of Texas, including Chief Judge Rodney Gilstrap ; trial judges from federal courts nationwide; Chief Judge Carl E. Stewart of the U.S. 5th Circuit Court of Appeals; Chief Judge Sharon Prost of the U.S. Court of Appeals for the Federal Circuit; other appellate judges from the U.S. Courts of Appeals for the 5th and Federal Circuits; U.S. Attorneys; other national and international leaders in patent infringement litigation; and general counsel and in-house litigation counsel from some of the world's leading companies."
Geoff Culbertson of Texarkana's Patton Tidwell & Culbertson, who serves as President of the Eastern District of Texas Bar Association, notes: "While the Eastern District is the 2nd leading venue in the nation for patent infringement filings, the District's docket is also becoming more and more diversified with increases in trademark and trade secret disputes, qui tam claims, False Claims Act cases, and challenges to federal regulatory statues."
Joseph D. Brown, the U.S. Attorney for the Eastern District of Texas, says the conference is a reminder of what makes practicing law in the Eastern District so special: "I was glad our lawyers could participate in the conference. Whether it's criminal or civil litigation, the Eastern District has a uniquely collegial Bar. This is a great place to practice law."
Elizabeth M. Chiaviello, an associate at Morgan, Lewis & Bockius LLP in Houston, says, "In my experience from practicing in the Eastern District of Texas, this District is comprised of judges and attorneys who are dedicated to the law and providing justice on matters that come before it. As such, it was an honor to be a part of the Conference as a panelist discussing the Local Rules and Practices."
The Plano Marriott Legacy Town Center hosted this year's conference, which concluded October 19. Preparations are already underway for the 2019 EDTX Bench Bar Conference, which is scheduled for September 23-25, 2019, at the same location. The Second Annual Texas Dinner in Honor of the Judiciary and 7th Amendment will once again be held at AT&T Stadium in Arlington.
---
Trending Now