---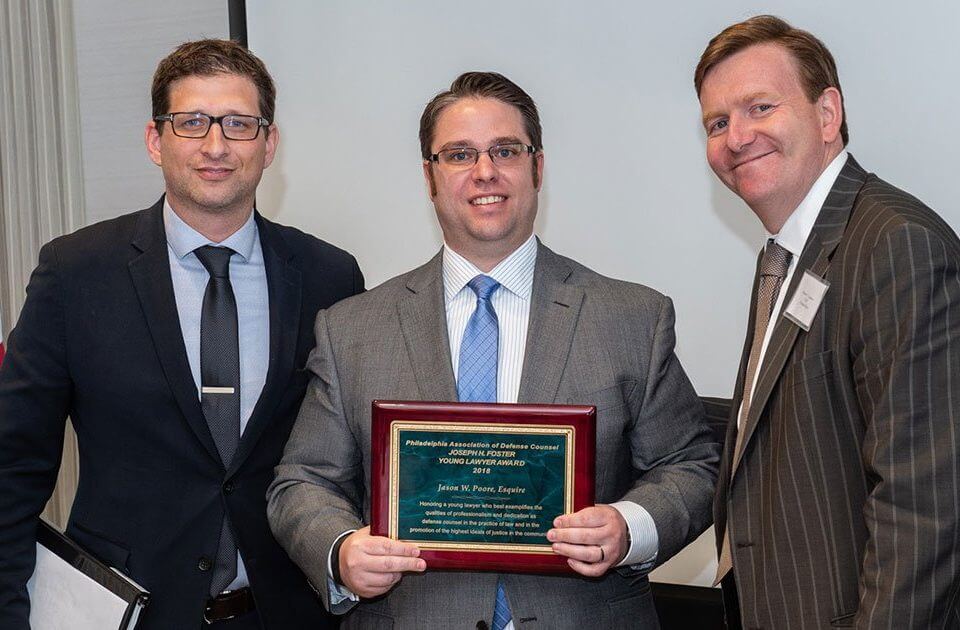 Jason Poore, an associate the General Litigation Group of White and Williams LLP, recently received the 2018 Joseph H. Foster Young Lawyer Award during the Philadelphia Association of Defense Counsel's annual meeting. The Joseph H. Foster Young Lawyer Award honors "a young lawyer who best exemplifies the qualities of professionalism and dedication as defense counsel in the practice of law and in the promotion of the highest ideals of justice in the community."
Jason continues to make significant contributions to the local bar and community. In addition to serving on the Executive Committee of the Philadelphia Bar Association Young Lawyers Division, he is the creator and Chair of the PBA's Youth Courts Committee.
Outside of the PBA, Jason is very involved in the Philadelphia legal community. He currently serves on the Advisory Committee of the Joint State Government Commission, where he is studying the use and effects of Youth Courts in the education and juvenile justice systems, and the potential implementation of Youth Courts statewide in Pennsylvania. He is also a Board Member, and Co-Chair of the Events Committee of The Spruce Foundation, which provides grants to Philadelphia non-profits working to empower at-risk youth.
The Joseph H. Foster Young Lawyer Award is named for the firm's longtime partner, Mr. Joseph Foster. Mr. Foster served as the Chair of the Litigation Department and as a member of the firm's Executive Committee. He strongly believed that lawyers should get involved in and serve the legal profession and the community.
Jason's commitment to serving his community, along with his professionalism and dedication to his practice truly honor Mr. Foster's legacy.
A donation will be made by PADC to Jason's designated charity.
About White and Williams LLP
Founded in 1899, White and Williams LLP is a global-reaching, multi-practice law firm with over 240 lawyers in ten offices. We represent individuals and public and private companies in an array of industries, including education, energy and utilities, financial services, food and beverage, healthcare, insurance, life sciences, manufacturing, private equity/venture capital, real estate, staffing and business services, and technology.
---
Trending Now