Although the COVID-19 pandemic, until further notice, has changed the way trials and legal proceedings are being conducted today, what hasn't changed for law firms is the critical need to produce revenue from new cases.
Since 2016, we have cultivated over $270 million in new case verdicts utilizing a five-step formula. This marketing formula was a product of our experiences managing the marketing programs for solo practitioners to large law firms since 2009.
Step 1: Respond Immediately to All Lead Inquiries
"Companies are making big investments in order to obtain customer queries from the internet, and they should be responding at internet speed." – Harvard Business Review
In today's instantaneous information culture, consumers expect immediate answers to their inquiries. Firms that are slow to react lose those potential clients to their rivals who make the commitment to respond immediately to prospects' outreaches.
How long does it take your firm to respond to an email, phone call, text, live chat, or social media question from prospective clients?
It's important to understand what an effective response time is in landing new clients.
According to a still relevant study conducted by InsideSales.com and Harvard Business Review, (HBR), 2,241 U.S. companies were audited to measure the length of time it took each to respond to online sales leads:
37% responded to their lead within one hour.
16% responded within one to 24 hours.
24% took more than 24 hours.
23% of the companies, inexplicably, never responded at all.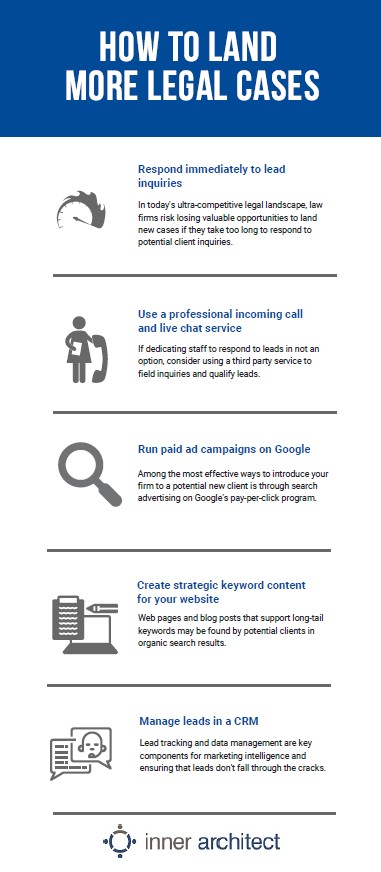 The average response time of companies that responded within 30 days, was 42 hours. More startling is that 515 companies in the study, (23%) never responded to the prospect lead at all!
According to a separate HBR study:
One Hour or Less: Firms that contacted prospects within 60 minutes of receiving an inquiry were approximately 7x more successful in making contact.
60x Less Likely: Firms that waited 24+ hours were 60x less likely to have contact with a prospect than firms that reached out earlier.
Step 2: Use a Professional Incoming Call Service and Live Chat Service
If your staff doesn't have the expertise or time to respond to inbound leads, consider using a third-party service to field inquires and qualify leads.
Professional inbound services utilize trained agents whose job is to:
Respond immediately to inquiries by engaging with the prospect.
Assure the prospect they will be connected to someone in the firm who can answer their questions.
Capture name and contact information. Agents never attempt to answer any legal questions. Agents will never act as a consultant, only as a resource for contact information.
Live Chat a Hidden Source for New Clients
Professional live chat services provide trained agents who engage with website visitors when those visitors leave inquiries in the live chat box on your site.
A  live chat service provides website visitors another method of communication.
The live chat box floats down each page of your website when a visitor is on that page. Your visitor can then type their question into the box and the agent will begin engaging with them by:
Responding immediately.
Building rapport.
Capturing a name, preferred method of contact, and asking if the person would like to connect with someone from the firm.
Why is Live Chat Important?
A substantial group of visitors to websites are known as "drive by" visitors because they are invisible, never making their presence known to the site owners. These people prefer to remain anonymous, yet they are interested in information.
These visitors will never fill out a contact form because it takes too long to get information.  They won't call your office nor will they reveal their email address because they lose all anonymity.  Live chat provides this group a safe method of communication and increases your chance of capturing new leads.
Mistakes to Avoid When Choosing a Live Chat Service
Chat Bots: Don't hire a live chat service that utilizes chat bots. Website visitors quickly realize they are not communicating with a real person and leave.
Email Verification: Never require an email from a visitor to access the chat function. Most visitors will leave.
Real Time: Some websites offer chat that is not live. Answers are promised within 24 hours. This does not work in most cases.
Step 3: Run Google Ads
One of the fastest, most effective ways to introduce your firm to a prospective client is through search advertising on Google's pay-per-click (PPC) program.
Why PPC? It's the Biggest, Fastest Driver for New Clients
Impactful reasons many lawyers and firms utilize PPC advertising:
Search Engine Indexing: Your firm does not have the organic search ranking in Google to show up for multiple prospect's search queries. Your competition has blocked your website from page 1 on Google search results for the most coveted keyword search terms
Advertising: Your firm, if blocked out of the organic searches, can use Google PPC ads to show up on a page 1 search for the search terms you deem most critical to landing new clients
Targeting Your Audience: PPC advertising allows your firm to target your best prospects through keyword selections, relevant ads, geographic areas, and other filters. There's no waste
Set Your Own Daily Budget: You control how much you want to spend over a certain period-of-time. You have the option to set the maximum price you are willing to pay for each click to your website, and you can pause a campaign at any time. There are controls set in place to protect you from surprises
Quick Results: Once your ad campaign is live, it has the potential to drive traffic to your website immediately. You will have access to data about ad performance in near real time. By reviewing this information, you can maximize the effectiveness of your pay per click marketing dollars
Brand Awareness: If you are willing to make the financial commitment, Google Ads can place your firm name, logo, and website in front of a targeted audience that would otherwise not find your firm
Step 4: Create Strategic Keyword Content for Your Website
What do we mean when we say: Web pages and blog posts that support long-tail keywords may be found by potential clients in organic search results?
It means the following:
The content on your website pages and blog articles are signposts to Google, for ranking purposes, and as proof to visitors that your firm has expertise.
"Organic search results" means non-PPC content that has been ranked and indexed by Google as authoritative and best suited to answer people's search questions.
Long-tail keywords, the sentences or phrases used by potential clients when searching for legal services must be strategically placed throughout your website. But keep in mind, using your keywords too often is keyword stuffing and Google will penalize your site.
Content Marketing
Law firms that focus on one practice area or firms that have multiple practice areas should create content, make videos, utilize infographics, and author case studies based on these areas.
Each practice area is a keyword. Knowing your keyword phrases means understanding how potential clients search for those services within Google. Here are a few tips to get started:
If you have access, use Google Keyword Planner to research the best keyword phrases for your practice areas.
Research your top competitor's websites. Analyze how they set up their pages and blog articles. What are they writing about and how are their pages and articles using keyword phrases?
Seek out long-tail keyword phrases that are less common and more unique. Look at these phrases as potential growth search areas for your firm.
Step 5: Record and Manage Leads in a Customer Relationship Management (CRM) Tool
Lead tracking and data management are vital components for marketing intelligence. If you don't record your data consistently, your leads could fall through the cracks.
What is a CRM?
A database to "house" all data from your website, email campaigns, social media properties, phone calls, PPC ads and all marketing channels. A place to organize contact information from prospective clients and current clients. A way to analyze data captured from your marketing campaigns in one place.
You can then use data to make intelligent decisions, based on consumer behaviors and your marketing campaigns, on future marketing budgets, and where to spend your marketing dollars.
Top CRM Platforms
Salesforce
Hubspot
ZoHo
Sugar
Aptivo