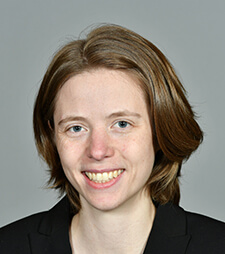 NASHVILLE, TN—Micah N. Bradley of Brentwood, Tennessee, has won the Founder's Medal signifying first honors in Vanderbilt Law School's J.D. Class of 2020.
Bradley also received the Robert F. Jackson Memorial Prize, awarded to the member of the second-year law class who has maintained the highest scholastic average during the two years, and the Archie B. Martin Memorial Prize for Scholarship, awarded to the student of the first-year law class who earned the highest general average for the year.
During her 3L year, she served as senior en banc editor of the Vanderbilt Law Review and as articles editor of the Environmental Law and Policy Review. As a 2L, she was a Legal Writing teaching assistant.
Bradley will work as a law clerk for Judge Eli Richardson '92 of the U.S. District Court for the Middle District of Tennessee in 2020-21.