---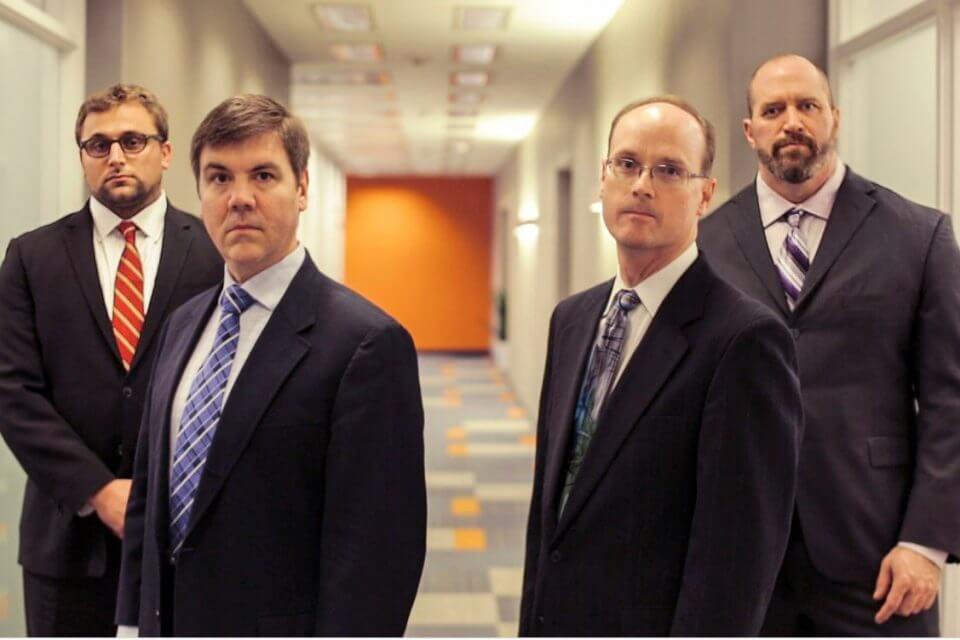 What is more American than a shiny, new idea? The creations of innovating Americans impact people around the world every day, from the humble zipper to the exalted Internet. And where would civilized society be without Post-Its?
Fortunately, for all of those who regularly color outside the lines and dance to the rhythm of their own drums, there is also a community of visionary legal minds poised to help innovators protect and profit from their ideas. The attorneys at Patterson Thuente IP believe in the unreasonable power of great ideas. They exist to give power to the idea people.
Eric Chadwick is the firm's CFO and head of the litigation department. With a view to becoming a patent lawyer, Chadwick earned his undergraduate degree in industrial engineering and went on to complete his legal education at William Mitchell College of Law. He began his career as a clerk for the Honorable Peder B. Hong and then worked for a year at Dorsey & Whitney. Determined to be among the best IP lawyers in the nation, Chadwick reached out to Jim Patterson, who invited him to join Patterson Thuente in 1997. Since, Chadwick has made his mark representing clients in varied intellectual property matters throughout the nation, with a focus on patent infringement litigation.
The Patterson Thuente's Litigation Department personal approach to client representation is both unique and highly effective. "As a boutique firm of 25 lawyers, our relationships with clients are different," Chadwick said. "We have a lot of clients who have grown with us, companies who were startups or family businesses when the firm started. We take pride in that. We know their businesses, and we know them as individuals. We work with them as partners, more so than other firms are able to do. We try to understand their needs, both on the prosecution side and the litigation side, and help those businesses to succeed."
Aaron Davis is a partner in the litigation department, who also heads the firm's arts and entertainment practice. He recently observed his 15th year at Patterson Thuente, where he has spent the entirety of his legal career. Davis assists clients with a wide array of intellectual property disputes, including patents, copyrights, trademarks, entertainment contracts, rights of publicity, trade secrets, trade dress and other business torts.
Unlike most of his colleagues at Patterson Thuente, Davis' undergraduate education is rooted in philosophy, rather than a STEM degree. He brings a fresh and thoughtful approach to IP issues, and he produces striking results in the courtroom. "I'm the utility fielder on the team," Davis said. "Since I don't have a science background, I see myself as the token common man who can look at things more from the point of view of an ordinary person. My job is to take people who are not informed and translate what we know in a quick timeframe without leaving them feeling overwhelmed. I've found that people in the courtroom are very well-meaning. They want to get it right and feel they did the right thing. They are looking to the lawyers and the judge for guidance."
Chadwick echoed a similar point of view. "The job of a trial lawyer is to be a teacher who can explain the subject matter to a jury and judge in a way that is true to the technology, but also make it understandable to decision makers. I also see myself as a storyteller. People want to understand the story behind the invention. People don't really want to hear about technology. They want to know what the case is about in terms of the idea, who came up with it, and the people who are infringing on it."
The attorneys at Patterson Thuente work together to bring resolution using the most effective and efficient methods, understanding that their clients want to get back to business, not fund lawsuits. "The bottom line of our litigation practice at this firm is to do what is best for the client's business interests," Davis commented. "Sometimes that means going to trial, but more often it's coming up with some other business arrangement with the other side that allows the parties to move forward. One of the things that separates us, particularly from very large firms, is that everything we do here is a team effort. The people you hire know the day-to-day of your case, talk with you on the phone and have the skills to go win in court. Every person who works here is a contributor who makes their voice heard. We win as a team."
The issues arising out of IP disputes are diverse and compelling. For the past five years, Davis has been representing defendants in a highly-publicized case involving alleged trademark infringement on the name "Sturgis." Davis said, "As an IP attorney, I believe in protecting intellectual property. But not everything in the world is subject to IP. In this case, we are challenging the validity of the trademark, and whether a generic name like 'Sturgis' should be subject to trademark at all. Cases like these are fascinating. They are full of unique personalities, characters and innovators. The story of innovation is part of our country's fabric. It's a challenge that gets me out of bed in the morning."
Chadwick and colleague Casey Kniser have taken up the cause against patent trolls, persons or companies that seek to enforce patent rights against alleged infringers, beyond the patent's intended scope. One client, who works with antivirus software, has been sued repeatedly. "This part of the computer industry is disproportionately affected by patent trolls," Chadwick explained. "Patents are being extended beyond what they were ever intended to be. This particular client has adopted the view that they don't want to encourage more of that behavior, so they have been willing to fight back. We've been successful a half-dozen times winning against patent trolls, and not just winning in the sense of negotiating a good settlement, but winning outright, getting them to walk away on the eve of trial. I'm proud to be a part of it because it's the right thing to do."
These avant-garde legal thinkers are masters at unmasking the humanity that underlies innovation. They foster intimate relationships with the people they serve, and they are passionate believers in the necessity of invention. "We want to encourage people to keep innovating," Davis said, "and we want them to feel their investment of time, effort and money are protected."
---
Trending Now