In the latest Readers Respond, we asked attorneys to share how their firm focuses on attorney wellness particularly in light of the year anniversary of the pandemic. 
We try to work remotely as much as possible, but we have the standard protocols when we are in the office, such as a mask requirement, and hand sanitizing stations.   We have also stopped using recirculated air conditioning and instead open our office windows.  But wellness really is a team effort that begins with the trust in each other to be responsible to stay safe and healthy. If anyone doesn't feel well, they are told to stay home, and we also encourage frequent COVID testing.   
— Andrew T. Ryan, The Ryan Law Group, Los Angeles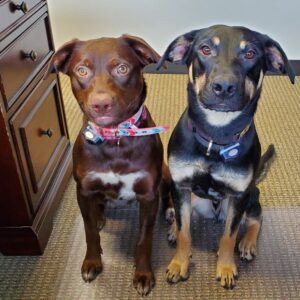 To help improve attorney wellness and the overall wellness of our team, we have office dogs!  At least a few days a week, I bring our two dogs to the office.  Quincy and Champ are well-trained and loveable mutts.  Every time our dogs enter the office, they make sure to greet anyone who wants to say hello.  They sleep at my feet, in their bed, or near anyone with treats.  During the day, I often take the dogs for walks on the nearby trail system – sometimes while I conduct calls.  We love our office dogs!  
Note:  Quincy is the brown female.  Champ is the black/tan/white male.  Our kids wanted to name them Princess and Lightning Bolt!  
— Greg Colburn, Colburn Law, Seattle
Boundaries between life and work have taken a hit during this brutal pandemic. As any parent will tell you, online schooling and increased hours of family togetherness coupled with a lack of social diversions have created a litany of tensions for families. As a Plaintiffs' personal injury litigator, these boundaries are hard for me to erect even in the best of times as I'm always thinking about my cases. One boundary that I've always used, however, was a physical one – my front door. As I stepped inside I would pivot from work mode so as to interact with my wife and our sons. But working from home this year has changed this paradigm. Thankfully, I've been able to harness a part of my personal and work life to help me sustain a sense of well-being while retaining a successful work model. 
Most mornings at 7am you'll find me at the dog park: coffee mug in hand, watching my beloved Doberman, unleashed and romping with abandon. Doing what dogs do – living in the moment. What better inspiration could I have to establish a proper perspective at the start of my day? And the word "unleashed" is a good metaphor for the way I feel as my own boss. No middleman or woman to order my priorities or dictate my values. Work makes me happy and happiness creates a climate for creativity, good relationships and productivity. I wholeheartedly recommend a dog, a private practice and an awesome spouse, by the way, to help negotiate this pandemic.
— Adam E. Deutsch, Fiedler Deutsch, New York
At Tillmann Law, attorney wellness and wellness of all our team members are a top priority. I start each day with a workout. A good workout is good for the heart and body and helps with the mind before I tackle a day of legal projects. 
Additionally, we keep a pretty stocked fridge with healthy no-calorie alternatives.  We also, at times, make healthy smoothies for the morning hours in the office kitchen.  
Our Portland office is located one block away from the Tom McCall Waterfront Park along the Willamette River. The park is filled with walkways and bike paths, and on occasion, since Portland is such a bikeable city, I'll commute to work on the bicycle. 
Portland not only provides for a wealth of easily accessible outdoor activities right downtown but at our firm, we focus on exercise and healthy eating to ensure everyone is happy and healthy. 
— Aaron Tillmann, Tillmann Law, Portland 
Attorney wellness is a guiding principle at Hendy, Johnson, Vaughn Emery.  We create an environment that promotes a work-life balance to ensure that our attorneys are sharp, focused and eager to work for our clients.
— Ronald Johnson, Hendy Johnson Vaughn Emery, Louisville

Join the Conversation
Tell us how the attorneys in your firm focus on wellness.