Attorney at Law Magazine is pleased to present its 2022 First Coast Women in Law Special Issue featuring these spotlighted female lawyers. As a part of her spotlight, each lawyer told us about one of the women lawyers who have inspired them in their practice.
Lindsay Tygart, Coker Law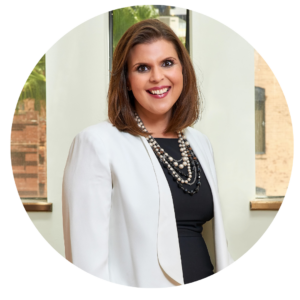 Lindsay Tygart is the lead trial attorney for Coker Law's medical malpractice division, representing individuals and their families. Tygart is a member of the JBA Board of Governors and is a past president of the Jacksonville Women Lawyers Association. Tygart received JWLA's 2020 Woman Lawyer of the Year Award for her service to clients, the community and fellow attorney-moms.
"My daughters love to read and learn about powerful women in history. They love to hear the story of Myra Bradwell, who was an early pioneer for women practicing law. She represented herself and appealed to the U.S. Supreme Court, arguing the first sexual discrimination case on record. Myra argued that she was qualified to practice law in her home state of Illinois because she was a U.S. citizen. At issue was the question of whether the right to receive a license to practice law was guaranteed to all American citizens by the 14th Amendment. Not surprisingly, at that time, the U.S. Supreme Court answered in the negative, but that didn't stop Myra from standing up for herself and for all her fellow American women who wanted to practice law."
Kelli Lueckert, Clay County Attorney's Office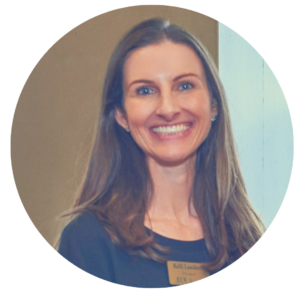 Kelli Lueckert is an assistant county attorney in Clay County. She provides legal counsel and advice to the Board of County Commissioners, county departments, administrative staff and officials on local government matters and prepares and reviews contracts for the county. Lueckert is president of the Jacksonville Women Lawyers Association and chair of The Florida Bar Prepaid Legal Services Committee. She was recognized as a FAWL Leader in the Law in 2019. She enjoys spending time outside with her husband and their two children.
"Courtney Grimm, Clay County attorney, past president of Jacksonville Bar Association, Fourth Judicial Circuit Judicial Nominating Committee member, and officer and master in the Chester Bedell American Inn of Court, inspires me each and every day. Courtney commands a room and is the hardest working person I know. She leads with strength and confidence and encourages others to get involved. Her passion and commitment to her career, community, and family is an inspiration to me."
Laura Renstrom, Holland & Knight
Renstrom as a partner at H&K, focuses her practice on complex commercial litigation, with a special emphasis on product liability, tort and class actions, and healthcare disputes. Renstrom is the president-elect of the Jacksonville chapter of the Federal Bar Association and an active member of the Chester Bedell American Inn of Court.
"Magistrate Judge Patricia Barksdale is the woman in law who inspires me most – for her dedication to the practice of law and her passion for inspiring young lawyers, primarily through developing and growing the Federal Bar Association's Summer Series for Law Students."
Lauren Vickroy Purdy, Gunster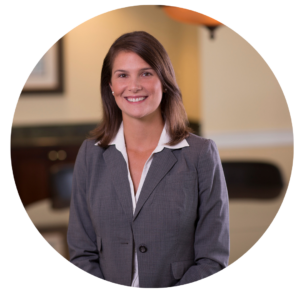 Prudy is a litigator who focuses her practice on complex commercial litigation, transportation, and professional liability defense matters in both state and federal courts. Her clients include local, national, and international corporations, and she routinely handles litigation from trial court proceedings through any appeal.
"Many brilliant female lawyers and judges have inspired and continue to inspire me, but one, in particular, has stood out since I had the pleasure of meeting her as a young law clerk – the late Judge Phyllis Kravitch, only the third woman to serve as a U.S. Court of Appeals judge when she was appointed to the old Fifth Circuit in 1979. She became a lawyer at a time when women were not even permitted to serve on juries in the State of Georgia. Yet, she eventually became the first female president of the Savannah Bar Association before joining the bench and going on to a distinguished career as a federal judge.
Dana Jacobs, Coker Law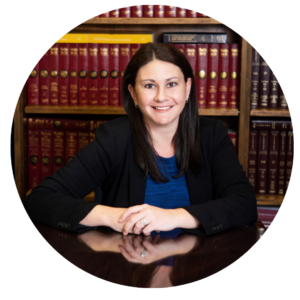 Dana Jacobs is a proud Double Gator and an experienced trial attorney at Coker Law. She is licensed to practice in both Florida and Georgia, handling a variety of personal injury matters, including automobile and trucking crashes, premises liability, wrongful death, and negligent security cases.
"I have always admired Sandra Day O'Connor and Ruth Bader Ginsburg for reaching the top of the profession when it was even more male-dominated than it is now. However, I am most inspired by my own female friends and colleagues when I hear about the specific challenges they face and sacrifices they make to be successful attorneys and judges."
Andrea Pinzon, JALA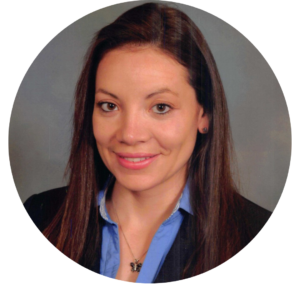 As division director of Jacksonville Area Legal Aid's Immigration Unit, Andrea Pinzon represents hundreds of refugees in the Jacksonville area. She established a sliding-scale affordable fee structure for immigration clients and is active in class action work on behalf of separated families. Besides a law degree from her native Colombia, she holds a Juris Doctor and Master of Laws in international law from the University of Florida Levin College of Law, another Master of Laws in business law from the Université Paris 1 Pantheon-Sorbonne in France, and a Master's in public administration from the University of North Florida. She represented Colombia at the Athens 2004 Olympics as a swimmer and teaches swimming to low-income children as co-founder of the Omar Pinzon Foundation.
"Lyrissa Lidsky, my mentor at UF Law School inspires me the most. She clerked for a judge of the Ninth U.S. Circuit Court of Appeals before joining the faculty at the University of Florida, where she served in a variety of roles for 23 years before becoming dean of the University of Missouri School of Law in July 2017. She is a cancer survivor, from an early stage but aggressive form of breast cancer. I stayed in touch with her and with her family. She was so inspiring because she was always encouraging students, leading with persistence and the idea of seeing and planning a bold future. She would use affirmations to help students see great capabilities in themselves."
Charmaine Chiu, Smith Hulsey & Busey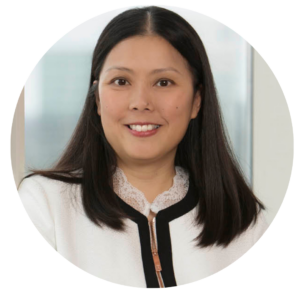 2021 JWLA Woman of the Year Charmaine Chiu is the first woman to serve on the board of directors at Smith Hulsey & Busey and is chair of the firm's healthcare practice team. A graduate of Harvard University and the University of Notre Dame, she is one of only 129 attorneys board certified by The Florida Bar in healthcare law. She is a former chair of The Florida Bar's Health Law Section and values her work with health systems, clinically integrated networks, physician group practices, and other providers statewide – representing them in complex transactions and regulatory matters. She is a huge supporter of arts and child welfare organizations and is on the board of directors at the Cummer Museum, Civic Orchestra of Jacksonville, and the First Coast Child Protection Team.
"I am fortunate to be part of a healthcare practice team that is heavily female, working with health system counsel for which female representation is also strong. Their hard work and dedication inspire me daily."
Crystal Broughan, Marks Gray
Crystal Broughan is a shareholder at Marks Gray and lead attorney for the intellectual property practice area. Her practice focuses on intellectual property matters such as trademark, copyrights, and domain names. She litigates infringement cases plus prepares trademark and copyright applications, for clients including international clients from Canada and China. Broughan spends her spare time enjoying the outdoors biking, hiking, or swimming.
"The woman lawyer who influenced me in the practice of law was Melanie Ann Hines, former statewide prosecutor for the state of Florida."
Ashley Wells Cox, Bedell, Dittmar, DeVault, Pillans & Coxe, P.A.
Cox is a litigator and director with the Bedell Firm. She represents clients in family law matters. Cox is a volunteer guardian ad litem, a weekly volunteer at the BEAM, and a member of the Providence Parent Council. She received the 2019 Barry Stevens Sinoff Award for Excellence in Family Law. 
 "Linda Fischer Wells, Esq., my mother, graduated from George Washington law school in 1969, and became a partner at Carlton Fields, P.A., when there were very few woman lawyers, all while raising three children and doing significant work in the community."