---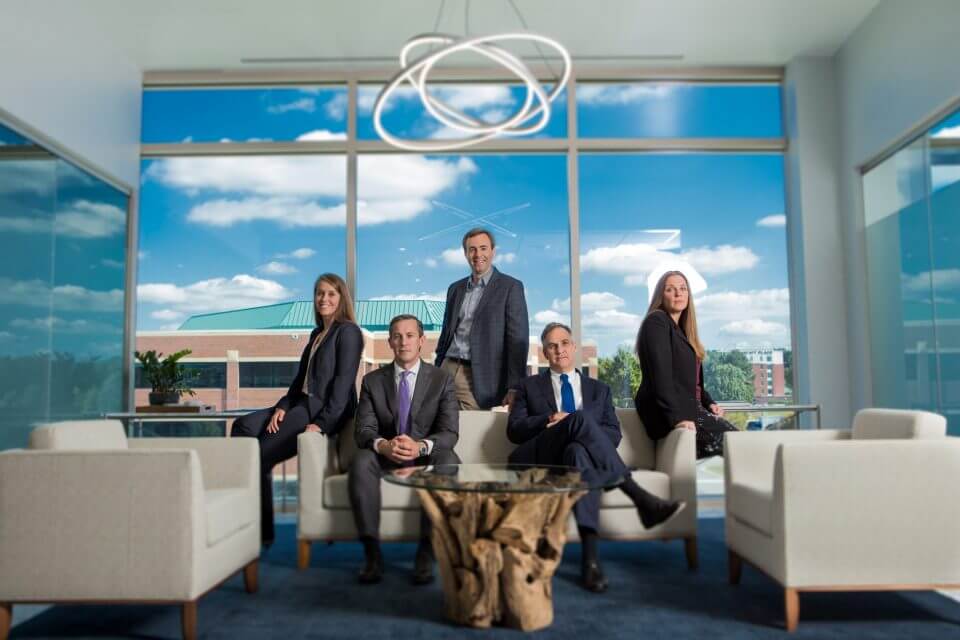 Ward and Smith's Raleigh office positioned itself for growth this summer when it moved into 33,000 square feet of custom-built space. The new offices are on Corporate Center Drive in Raleigh near the North Carolina Judicial Center offices.
While touring the new space we talked with various people about the ethos fostered by the design.
"Coming from a law firm office with a more narrow focus, what attracted me to Ward and Smith is the fact that it is a full-service law firm, and that's reflected in the layout of this new office. As you walk down the halls, there's a lot of collaboration between attorneys in different groups." Daniel Gunter, corporate attorney who joined the firm in the fall of 2018
"We wanted to create a place where people really enjoyed working." Deana Labriola, business attorney and Geographic Team Leader
"How could people NOT enjoy this tremendous space," remarked Ken Wooten, Co-Managing Director. "It's so nice, we had to change the label from the breakroom to the café. It's too nice just to be a 'breakroom."
Deana added, "I like the artwork. Every piece in this office was created by a North Carolina artist, which is important to us since we are a North Carolina firm. We have works by John Geci, Brenon Day, Ann Roth, Thomas Sayre, Dan Gottlieb, Bill Russ, Bob Rankin, Tonia Gebhart, and Constance Williams."
"All of our attorneys have laptops with a secure 'always on' connection that supports our flexible work policy. It's easy and convenient to work from wherever I am, and to be accessible to our clients wherever they are." Deana Labriola, Geographic Team Leader and business attorney
"Our firm's emphasis on teamwork and collaboration is unique. But one of the main advantages of this new office is we have substantially improved the quality of our coffee." Gary Rickner, litigator
"That's funny because it's true. The new coffee bar is our version of the old-school water cooler. We catch up while making a latte or espresso. People hang out here for a little while to say hello." Marla Bowman, litigator
"We have a number of collaborative spaces where attorneys can huddle up. We built four hubs at the corners of the buildings, and attorneys use them for quick meetings. Each of the four hubs is named for one of our other offices. We're also in New Bern, Asheville, Wilmington, and Greenville." Ken Wooten, Co-Managing Director
"Our old space had a total of 27 offices, and we had 25 attorneys. We have 50 external offices in this new space. Our expectation is that eventually, we're going to fill up this office, but we're on a 'smart growth' plan, driven by client need rather than a date on the calendar. We are also looking for good talent out of law schools in practice areas where we have specific needs at the junior level. And we're always looking for opportunities to expand our bench or expand our market share capabilities with high-quality laterals." Brad Evans, Co-Managing Director
"We wanted to embrace an open floor plan and bring in a lot of natural light. We brought light into the center of the building with an enormous five by eighteen foot skylight in our Café, and by using clerestory windows in the hallways. Our goal was to create an uplifting, positive atmosphere and environment where folks really enjoy coming into the office and working together." Devon Williams, employment attorney, and member of the design committee
"I've been here about a year, and came from another firm. I've found Ward and Smith has a good onboarding plan for laterals. If you know what you want to do, embrace the idea of teamwork—we don't do originations here, we just do what is best for the client—and have a good work ethic, this is the kind of place you can be really successful." Steve Long, Tax Practice Group Leader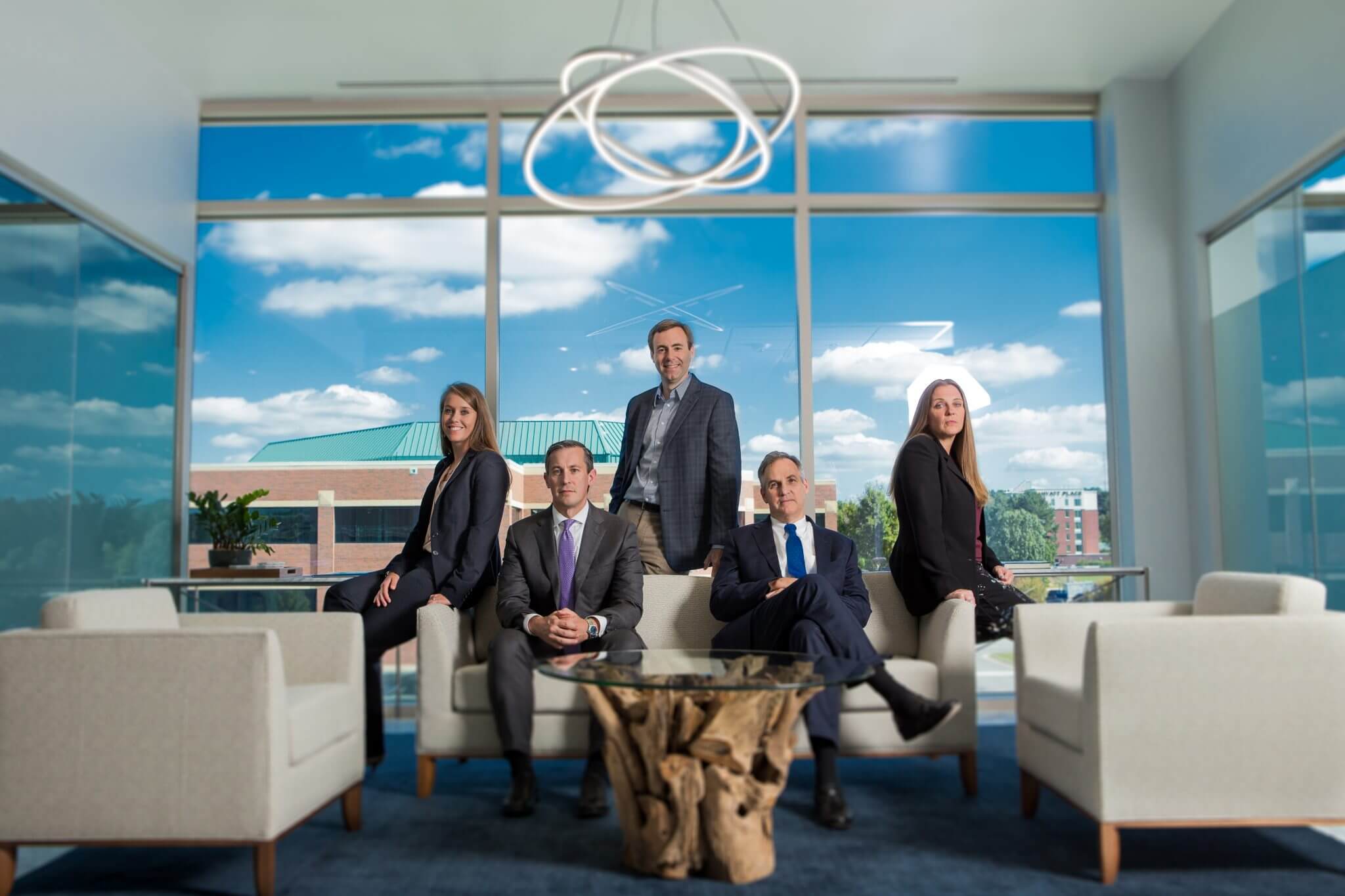 Devon Williams, Brad Evans, Daniel Gunter, Steve Long and Liz Stanek in the lobby.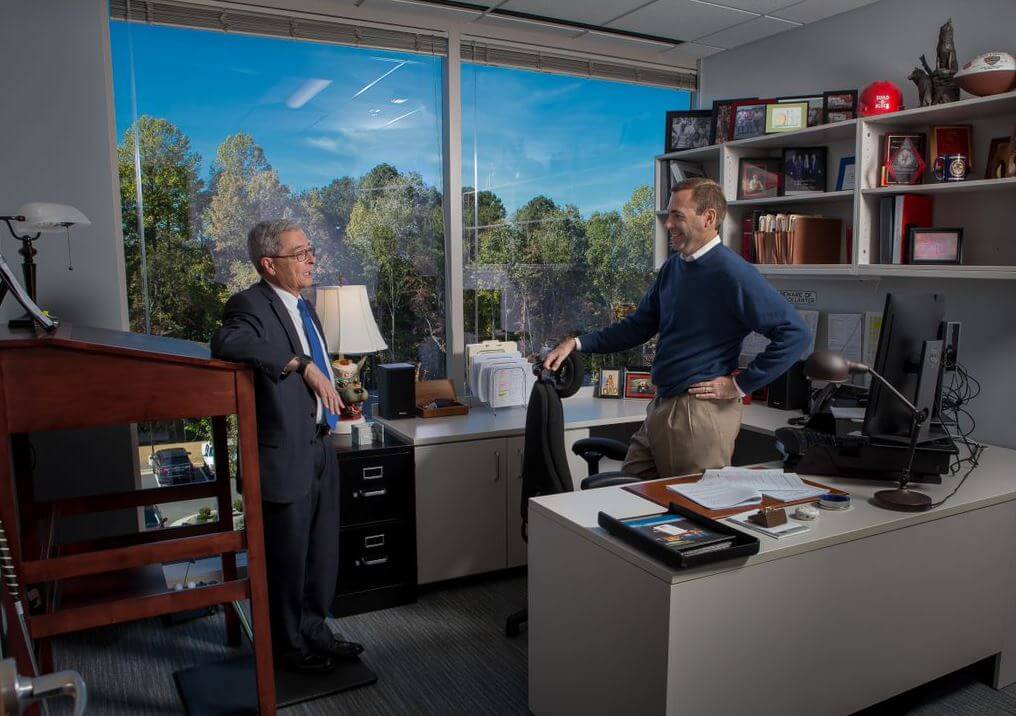 Ken Wooten and Daniel Gunter in Daniel's office. Daniel is clearly for NC State.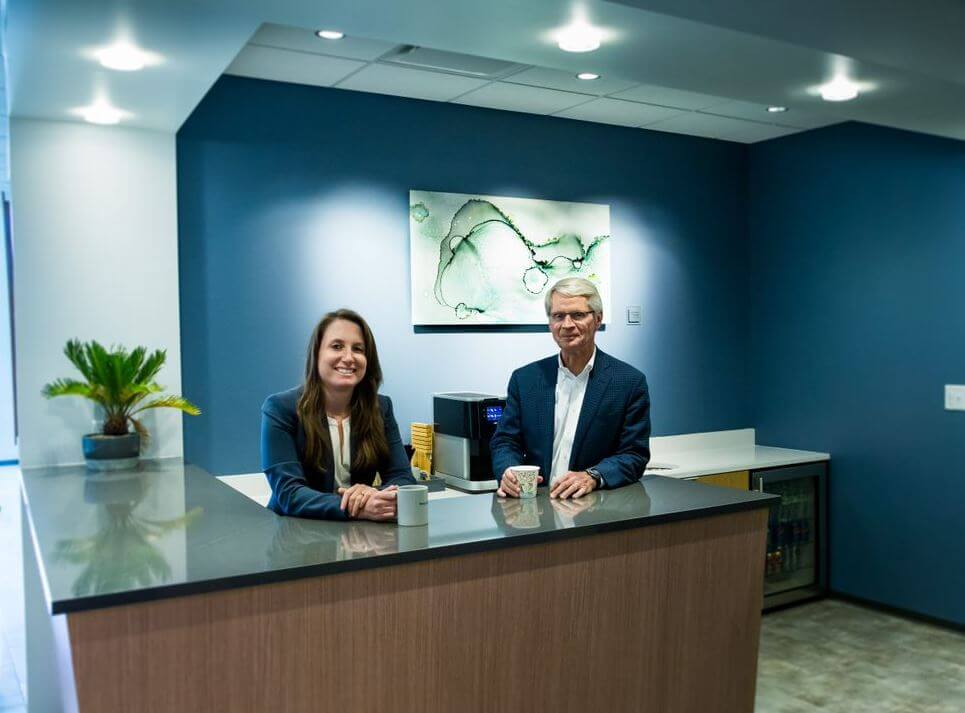 Litigators Marla Bowman and Gary Rickner grabbing "better" coffee between meetings.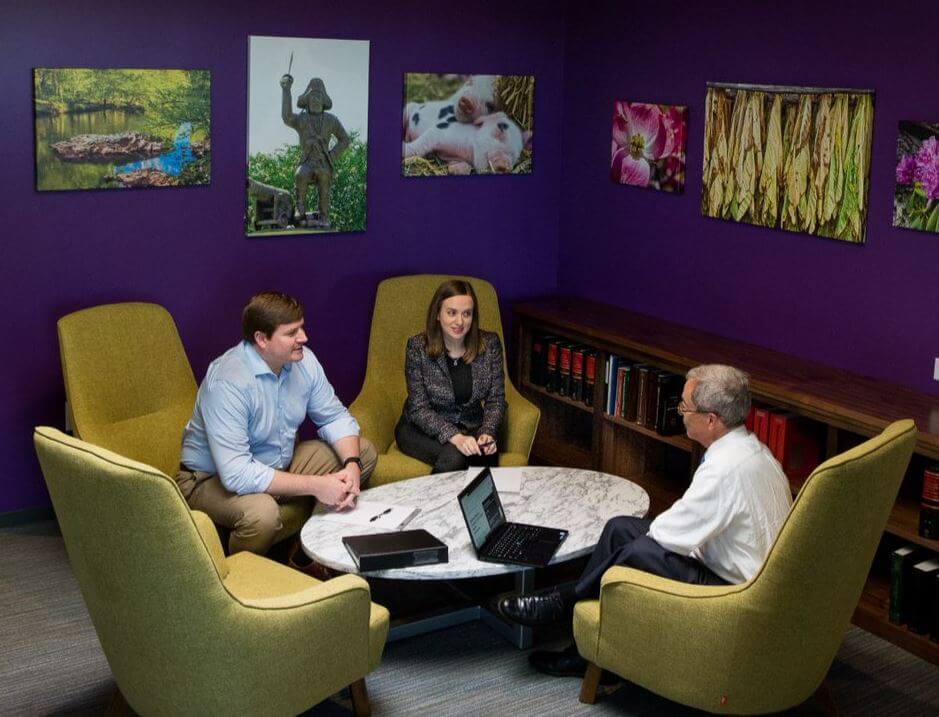 Tyler Russell, Emily Massey and Ken Wooten talk at the Greenville "hub."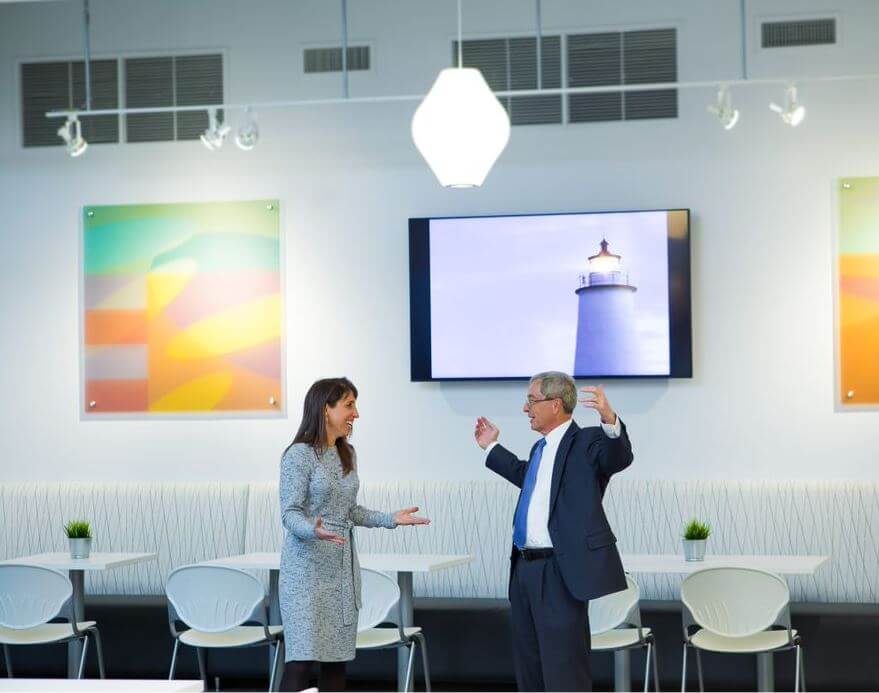 Deana LaBriola and Ken Wooten in front of Ann Roth's "Conversations: Dialogue" 1 and 2 in the cafe.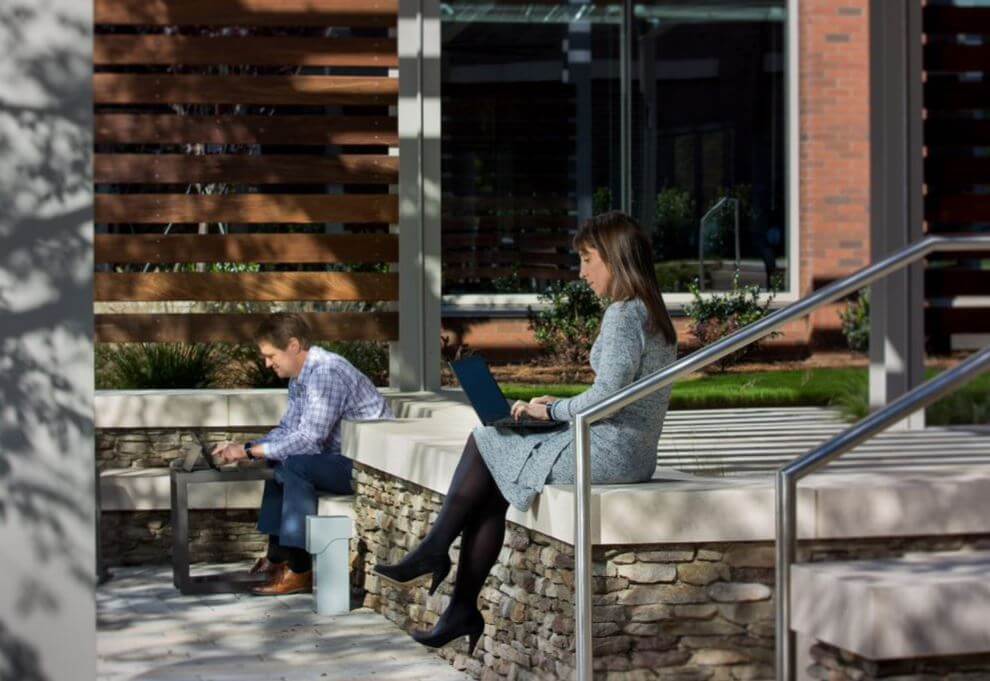 Jerry Sayre and Deana LaBriola enjoying the weather while working on the building's entertainment patio.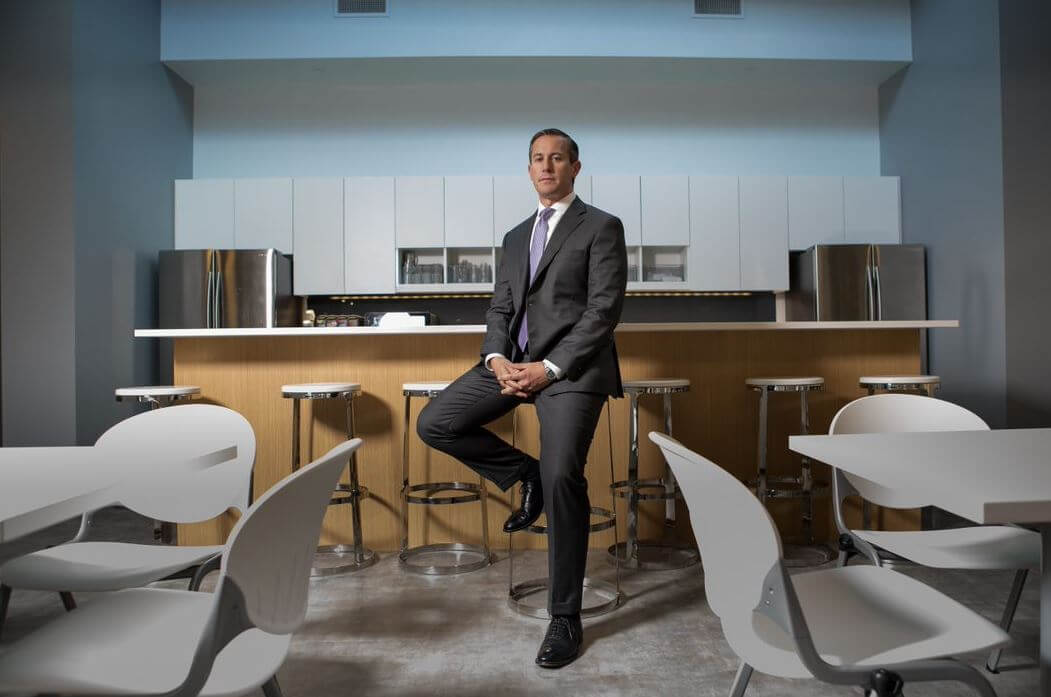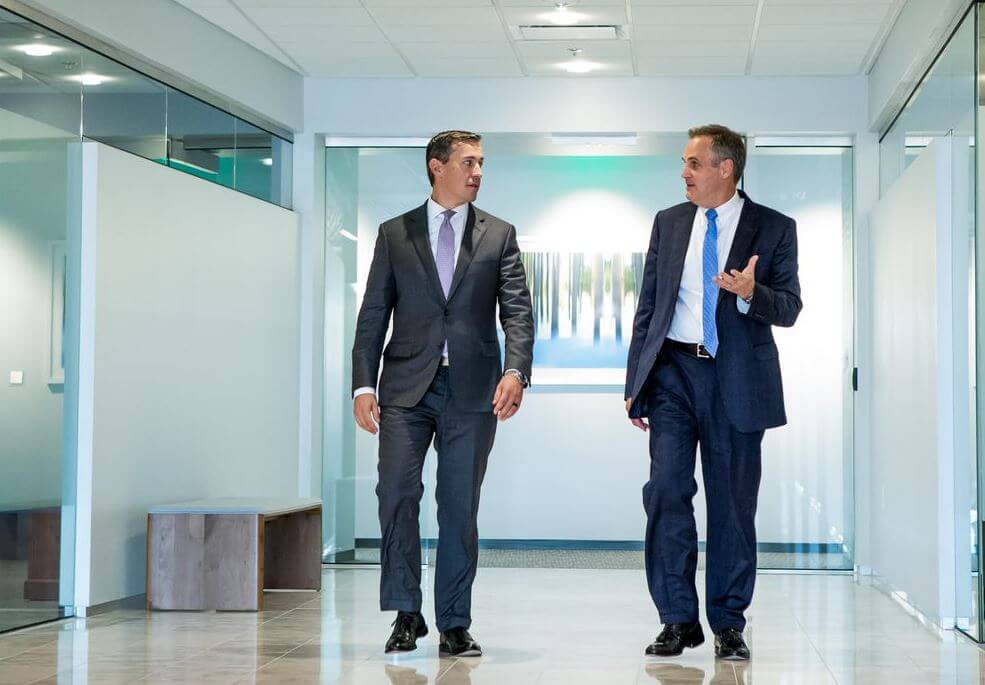 Brad Evans and Steve Long in the lobby.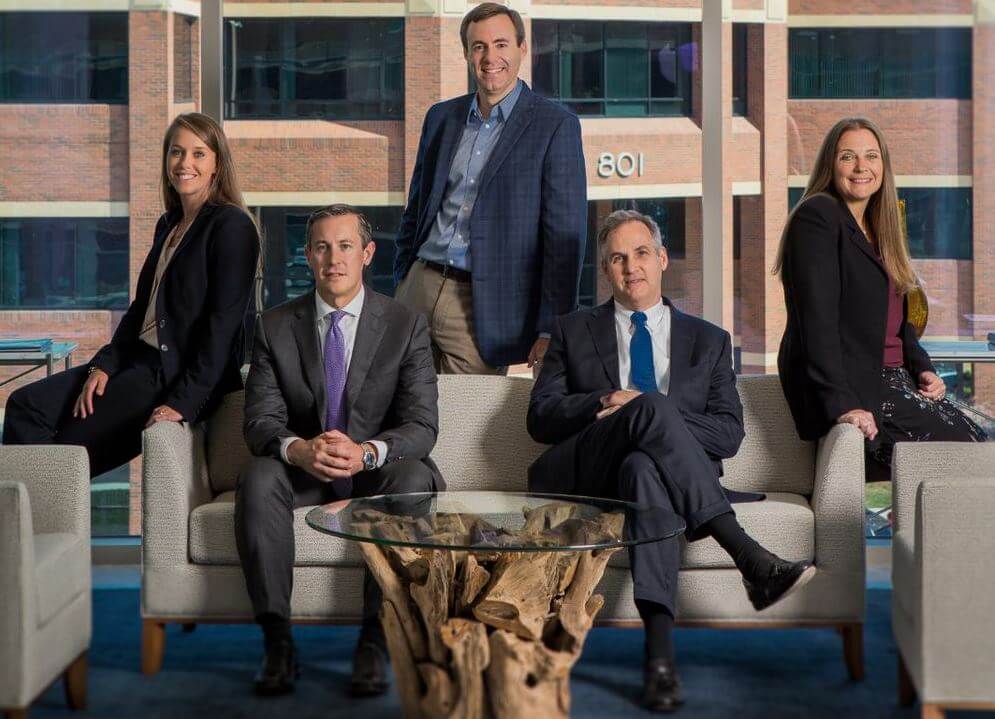 ---
Trending Now