We Find the Best Attorneys
Since 2009, our magazine has interviewed the best and brightest attorneys nationwide. Now, we bring you our recommended attorneys in Local Legal Authorities. Here is our listed best Los Angeles Personal Injury attorney.
Writer for Attorney at Law Magazine
Knowledgeable & Reliable
Accepting New Cases in Los Angeles
Leading Consumer Reviews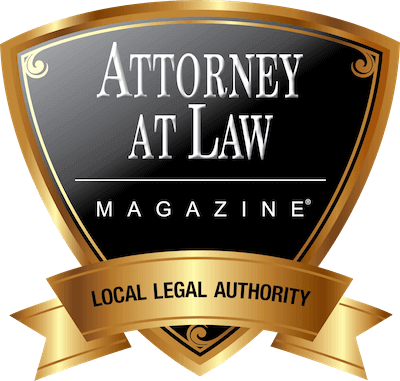 About
Juan Dominguez
Juan J. Dominguez is a nationally recognized, award-winning, bilingual attorney. He is the founder, CEO and Managing Partner of The Dominguez Firm, LLP; a Los Angeles based personal injury, workers' compensation and employment law practice with a legal staff of over one-hundred employees. The firm is one of the most successful and well-known injury law firms in Southern California. In 2011, Mr. Dominguez was nominated Attorney of the Year by the Consumer Attorneys of California (CAOC). In 2013, he was honored with distinction by the Hispanic National Bar Association with the Attorney of the Year award. In 2014, the Mexican-American Bar Association honored Mr. Dominguez with the Special Recognition Award for his outstanding career accomplishments and contributions to the community. In 2015, The Los Angeles Business Journal awarded him the Latino Business Award for setting the example for excellence. In 2018 Los Angeles Magazine named Mr. Dominguez a Super Lawyer for the ninth year, and Pasadena Magazine named him a Top Attorney from 2010 through 2018. Mr. Dominguez is a lifetime member of the exclusive Multi-Million Dollar Advocates Forum and Elite Lawyers of America and a long-time member of several other major national, state and local bar associations, including The National Trial Lawyers Top 100 and The Order of Distinguished Attorneys of the Beverly Hills Bar Association. His significant experience as a trial lawyer was recognized by the Trail Masters lawyer association with a lifetime membership and the Seal of Experience award. Juan came to the U.S. as a 10-year-old, Spanish-speaking immigrant with his family of eight. His parents' exemplary work ethic enabled them to overcome grave disadvantages and financial hardships, while also providing their children with strong parental role models. Mr. Dominguez earned a Bachelor's Degree in 1984 from California State University, Long Beach. He earned a Juris Doctor from top-ranked University of California Hastings College of the Law in 1987 and opened his law practice that same year. Before entering law school, Mr. Dominguez worked for several years in the emergency rooms of major trauma centers at UCLA Medical Center and St. Francis Hospital in Lynwood, assisting seriously injured patients. There he developed a keen insight and deep compassion for the gravely injured. This ingrained compassion for those in need is reflected not only in the thousands of injury cases he has championed, but also in the over 50 charitable causes he supports in the U.S. and abroad, including scholarships, disadvantaged children, health-related causes, assisting the homeless, and others.
Attorney and Author
Juan Dominguez is an author for our magazine specializing in personal injury articles.
What it's Like Working With the Best Personal Injury Attorney in Los Angeles, CA
Contact Los Angeles

Personal Injury Attorney
CEO of The Dominguez Firm
2013 Attorney of the Year, HNBA
National Trial Lawyers Top 100
3250 Wilshire Blvd #2200, Los Angeles, California 90010
What Is a Personal Injury Attorney in Los Angeles?
As you go about your daily routine, it's likely you will come across scenarios where you could suffer an injury. Maybe you are grocery shopping, dining at your favorite restaurant, or driving in your car. A personal injury lawyer in Los Angeles represents those who have been injured because of another party's carelessness, negligence, or willful disregard of others. These wrongful acts are more formally referred to as torts. When you suffer harm as a result of another party, you shouldn't have to shoulder the financial burden which often accompanies an injury because of medical expenses and lost wages. A licensed Los Angeles personal injury attorney can help you seek the compensation you deserve in civil court.
Although personal injury attorneys in Los Angeles deal with tort law, they often specialize in one or more areas. The following list is not exhaustive but includes three broad types of cases personal injury lawyers handle on a day-to-day basis.
Traffic Accident Injury Cases
Each year, the National Highway Transportation Safety Administration (NHTSA) estimates more than six million traffic collisions are reported to law enforcement, including more than 35,000 fatal crashes, and about 2.5 million injuries. A skilled attorney can help investigate your accident and build a strong case against the defense to hold at-fault drivers accountable. Traffic accidents can include truck accidents, motorcycle accidents, bicycle accidents, and pedestrian accidents. When high speeds are involved, victims who are lucky enough to live through an accident, potentially face lifelong complications.
Premises Liability Injury Cases
In all 50 U.S. states, property owners have the legal obligation to maintain a safe environment for those who visit their business and home. Although exact laws vary from state to state, when a property owner fails to uphold his legal obligation and someone suffers an injury, courts often find the owner liable for damages in civil court. Premises liability accidents include a wide variety of accidents based on location and the type of injury. Victims might get injured at a swimming pool, a theme park, on an elevator, at a shopping mall, and many other locations. The most common type of premises liability accident is a slip-and-fall injury or a trip-and-fall injury. In fact, the Centers for Disease Control and Prevention (CDC) reports the most common cause of traumatic brain injuries, besides traffic accidents, is unintentional falls.
Product Liability Injury Cases
The Consumer Product Safety Commission (CPSC) records and maintains millions of complaints of injuries caused by defective products each year. A defective product might have a manufacturing defect, a design defect, or a marketing defect, which occurs when companies don't warn consumers of dangerous products or provide proper instructions. When a known or unknown defect causes injury to a consumer, courts can hold any party in the product's chain of distribution liable for damages. The CPSC is concerned with all types of household items, sports equipment, toxic and flammable chemicals, toys, and much more, but they do not serve as a watchdog for the automotive industry or the pharmaceutical. Defective airbags and defective tires have been a common cause of injury or death, as well as dangerous drugs.
Finding the best Los Angeles personal injury lawyer can be tough, but lucky for you we did the legwork and found the top personal injury lawyer in Los Angeles.