We Find the Best Attorneys
Since 2009, our magazine has interviewed the best and brightest attorneys nationwide. Now, we bring you our recommended attorneys in Local Legal Authorities. Here is our listed best Asheville Personal Injury attorney.
Writer for Attorney at Law Magazine
Knowledgeable & Reliable
Accepting New Cases in Asheville
Leading Consumer Reviews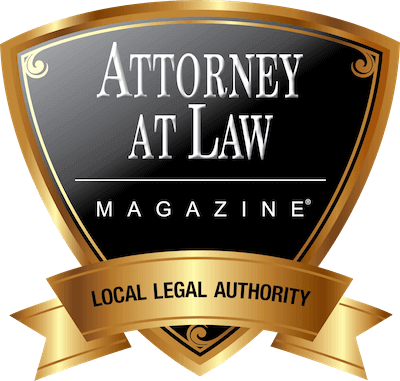 About
Lakota R. Denton
Lakota Denton is an Asheville, NC attorney who focuses on recovering for injured people. Lakota has been practicing law in Asheville, N.C. since 2011. Lakota attended Keene State College in New Hampshire and graduated with a degree in psychology in 2000. Lakota played professional soccer after graduating from college. In 2011 Lakota graduated Cum Laude from Western New England college where he was awarded the Edward Cooley Award for Excellence in Labor Law, The CALI excellence for the future award for Labor Law, The CALI excellence for the future award for Jurisprudence Survey, The CALI excellence for the future award for Trial Methods, and was a member of the American Association for Justice Moot Court Team.
Lakota helps people who have been injured in car accidents, truck accidents, motorcycle accidents, pedestrian and bike accidents and dog attacks in the Asheville, NC area. If you have questions about personal injury law or car accidents, contact Lakota Denton for a free case consultation.
Lakota has been practicing in his own firm since 2013, focusing solely on personal injury. He is a member of the American Association of Justice, the North Carolina Advocates for Justice, the North Carolina Bar association, the American Bar Association, the National Trial Lawyers, and was awarded Top 100 Trial Lawyers by the National Trial Lawyers, the 2014 Top 40 Lawyers under 40, and the Avvo clients choice award.
Attorney and Author
Lakota R. Denton is an author for our magazine specializing in personal injury articles.
What it's Like Working With Lakota
Contact Asheville

Personal Injury Attorney
Awarded Top 100 Trial Lawyers by the National Trial Lawyers
The 2014 Top 40 Lawyers under 40
Avvo clients choice award
36 Orchard St. Asheville, NC 28801
What Is a Personal Injury Attorney in Asheville?
As you go about your daily routine, it's likely you will come across scenarios where you could suffer an injury. Maybe you are grocery shopping, dining at your favorite restaurant, or driving in your car. A personal injury lawyer in Asheville represents those who have been injured because of another party's carelessness, negligence, or willful disregard of others. These wrongful acts are more formally referred to as torts. When you suffer harm as a result of another party, you shouldn't have to shoulder the financial burden which often accompanies an injury because of medical expenses and lost wages. A licensed Asheville personal injury attorney can help you seek the compensation you deserve in civil court.
Although personal injury attorneys in Asheville deal with tort law, they often specialize in one or more areas. The following list is not exhaustive but includes several broad types of cases personal injury lawyers handle on a day-to-day basis.
Catastrophic Injury
Catastrophic accidents result in devastating injuries that are frequently life-altering. Many times, individuals who have been involved in a severe car crash, truck accident, or other Asheville, NC incident experience severe injuries such as traumatic brain injuries (TBI) or even spinal cord injuries (SCI). These catastrophic injuries leave them unable to live the life they once enjoyed. They can't work, care for themselves, or care for their Asheville loved ones. They often require frequent or round-the-clock supportive or medical care. Not to mention that these injuries can come with astronomical price tags in Asheville. The prognosis for their catastrophic injury may remain uncertain. Someone who has suffered such consequential injuries must be able to access the maximum amount of compensation they deserve. They are absolutely entitled to financial relief to pay for their medical care and support themselves and their family. A skilled Asheville personal injury lawyer can help them seek this compensation.
Traumatic Brain Injury
Traumatic brain injuries (TBI) can result from many different types of accidents, such as a motor vehicle accident or a slip and fall. In these cases, it's possible that another party was negligent in causing the injury. It's crucial that those in Asheville, NC with a TBI seek immediate medical care and treatment. If the appropriate care isn't given promptly, the TBI can worsen and even be deadly. If this occurs, it could be negligence on the part of the Asheville doctor or medical staff, depending on when treatment was sought. If the Asheville TBI victim survives, their life may never be the same. They may experience ongoing life-long seizures, memory loss, depression, and personality changes. They may need constant help caring for themselves. Not only are they suffering, but someone has to pick up the tab for these types of injuries. Suppose a TBI victim or their family member thinks another party could be liable for their injury. In that case, it's essential to contact a knowledgeable Asheville medical malpractice attorney as soon as possible.
Traffic Accident Injury Cases
Each year, the National Highway Transportation Safety Administration (NHTSA) estimates more than six million traffic collisions are reported to law enforcement, including more than 35,000 fatal crashes, and about 2.5 million injuries. A skilled attorney can help investigate your accident and build a strong case against the defense to hold at-fault drivers accountable. Traffic accidents can include truck accidents, motorcycle accidents, bicycle accidents, and pedestrian accidents. When high speeds are involved, victims who are lucky enough to live through an accident, potentially face lifelong complications.
Premises Liability Injury Cases
In all 50 U.S. states, property owners have the legal obligation to maintain a safe environment for those who visit their business and home. Although exact laws vary from state to state, when a property owner fails to uphold his legal obligation and someone suffers an injury, courts often find the owner liable for damages in civil court. Premises liability accidents include a wide variety of accidents based on location and the type of injury. Victims might get injured at a swimming pool, a theme park, on an elevator, at a shopping mall, and many other locations. The most common type of premises liability accident is a slip-and-fall injury or a trip-and-fall injury. In fact, the Centers for Disease Control and Prevention (CDC) reports the most common cause of traumatic brain injuries, besides traffic accidents, is unintentional falls.
Product Liability Injury Cases
The Consumer Product Safety Commission (CPSC) records and maintains millions of complaintsof injuries caused by defective products each year. A defective product might have a manufacturing defect, a design defect, or a marketing defect, which occurs when companies don't warn consumers of dangerous products or provide proper instructions. When a known or unknown defect causes injury to a consumer, courts can hold any party in the product's chain of distribution liable for damages. The CPSC is concerned with all types of household items, sports equipment, toxic and flammable chemicals, toys, and much more, but they do not serve as a watchdog for the automotive industry or the pharmaceutical. Defective airbags and defective tires have been a common cause of injury or death, as well as dangerous drugs.
Finding the best Asheville personal injury lawyer can be tough, but lucky for you we did the legwork and found the top personal injury lawyer in Asheville.