We Find the Best Attorneys
Since 2009, our magazine has interviewed the best and brightest attorneys nationwide. Now, we bring you our recommended attorneys in Local Legal Authorities. Here is our listed best Atlanta Car Accident attorney.
Writer for Attorney at Law Magazine
Knowledgeable & Reliable
Accepting New Cases in Atlanta
Leading Consumer Reviews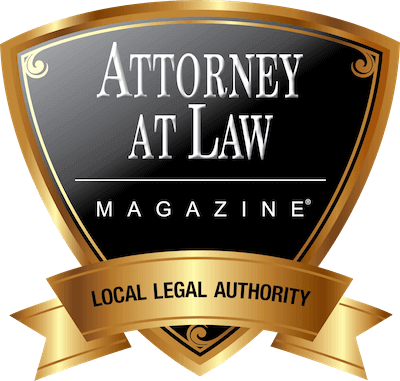 About
Todd Henningsen
Attorney Todd Henningsen is the managing partner at Henningsen Injury Attorneys, P.C. With over a decade of legal experience, Todd has spent his time as an Atlanta personal injury attorney working toward one objective: to protect the rights of accident victims.
A dedicated trial lawyer, a veteran in the courtroom, and a skilled legal advocate, Todd has recovered millions of dollars for his clients and recently obtained a $400,000 jury verdict for a client in Fulton County. This is believed to be the largest settlement of its kind in Georgia, more than 25 times the amount originally offered.
Todd was raised in Nashville, Tennessee. After high school, he continued his education at Wake Forest University in Winston-Salem, North Carolina. There, he joined the Wake Forest Track and Field Team and became a varsity letterman. After graduation, Todd attended the University of Richmond in Richmond, Virginia to pursue a Juris Doctorate and a Masters of Business Administration. Today, he uses his unique educational background to provide effective case strategies for his clients in Atlanta, Georgia.
What it's Like Working With the Best Car Accident Attorney in Atlanta, GA
Contact Atlanta

Car Accident Attorney
Todd Henningsen is the managing partner at the Henningsen Injury Attorneys where he acts as lead trial lawyer at the firm.
In late 2010, Mr. Henningsen obtained the "Top Georgia Verdict" in the fall category. This $400,000.00 verdict was over 25 times what was offered before the case was tried.
Mr. Henningsen is a Million Dollar Advocate from the Million Dollar Advocates Forum®
Attorney Henningsen is a proud member of the Georgia Trial Lawyers Association, the Virginia Trial Lawyers Association, and the Southern Trial Lawyers Association.
5855 Sandy Springs Circle Suite 300, Atlanta, GA 30328
What You Should Know about Car Crashes in Atlanta
Car accidents injure thousands of people each year, and victims are often left with substantial economic and non-economic damages. Fortunately, people who are injured in accidents within Atlanta, Georgia caused by the negligence of others can typically recover compensation for their losses. Because the car accident claim process can be hard to navigate, and insurance companies are out to save money whenever possible, it's advisable for anyone involved in an accident to retain the representation of an experienced Atlanta car accident attorney as soon as possible.
Car Accidents & Car Accident Compensation for Victims in Atlanta
Car crashes can happen anytime and anywhere. In most cases, they happen when you least expect it, and they can turn your life upside down in an instant. Whether you have been injured in a T-bone crash, a head-on collision, a drunk driving accident, an accident involving distracted driving, or rear-ended at a stoplight or stop sign, if your accident was the result of someone else's negligence, you are likely entitled to compensation. Some of the damages you may be able to pursue after a car accident in Atlanta include:
Medical expenses
Lost income
Lost quality of life
Physical and emotional pain and suffering
Property damage
Importantly, you only get one chance to settle your case, so it's critical that you work with an auto accident attorney in Atlanta when negotiating with the insurance company. Failing to do so could result in significant uncompensated losses.
Steps to Take Immediately After a Car Accident in Atlanta
There are certain things that you should do after you are involved in a car crash to protect both your health and your ability to recover the compensation you are owed.
Seek Medical Attention
It's critical to seek medical attention after an accident, both for your health and for the viability of your car accident claim. For many injuries, early intervention is connected with a better outcome, and seeing a doctor right away can often prevent serious complications from arising. In addition, it's vital to have an official medical record detailing your injuries when you make an insurance claim or go to court in order to prove your damages. In fact, failing to seek medical attention may even give the other side an opportunity to argue that you failed to mitigate your damages, further damaging your claim.
Document Your Accident
If you can, take pictures of the scene of the accident in Atlanta and your injuries, paying special attention to anything that you believe may have caused the accident. In addition, collect information about the other drivers involved, including their names, addresses, and insurance information. If there are witnesses, ask them for their contact information in case your car accident lawyer in Atlanta wants to reach out to them later.
Contact Your Insurance Company as Soon as Possible.
You should also report the incident to your insurer as soon as you can. Many insurance policies have requirements to report accidents within a certain amount of time, and failing to do so could result in a denial of coverage you need.
Retain the Best Atlanta Car Accident Lawyer Immediately
Finally, you should retain the most experienced car accident lawyer in Atlanta as soon as you can after the crash. A lawyer in Atlanta, such as Todd Henningsen, will be able to determine whether you have a claim, evaluate your losses, and protect your rights from the insurance company. Importantly, do not give the other driver's insurance company a statement until you have had a chance to speak to a car accident lawyer in Atlanta. Once you have an attorney, the insurance company will need to communicate with him or her directly, protecting you from saying something that could hurt your claim.
Common Car Accident Injuries
Car crashes often leave victims with severe injuries. The forces involved in a collision are no match for the human body, and victims can easily sustain a wide variety of injuries that have the potential to change their lives. Some of the most common injuries people sustain in car crashes include:
Broken bones
Severe soft tissues injuries
Lacerations
Contusions
Burns
Concussions
Traumatic brain injuries (TBIs)
Spinal cord injuries
Why Should I Hire a Car Accident Lawyer?
You may be curious as to why you need to hire a car accident attorney in Atlanta, especially if it's clear that the other driver was at fault and your case is going to settle out of court. It's important to keep in mind that insurance companies invariably want to settle cases for as little as possible and will deny your claim entirely if they can find a way to do so. Car accident lawyers in Atlanta know insurance companies' tricks, so they can protect your rights and ensure that you get the compensation you deserve.