Lindsay Tygart's love of the law and passion to help others is a family genetic trait, unavoidable and admirable. With eight family members serving as lawyers and judges, Tygart has always known that her purpose to be a champion for others who couldn't help themselves and make a lasting difference would be encouraged and supported.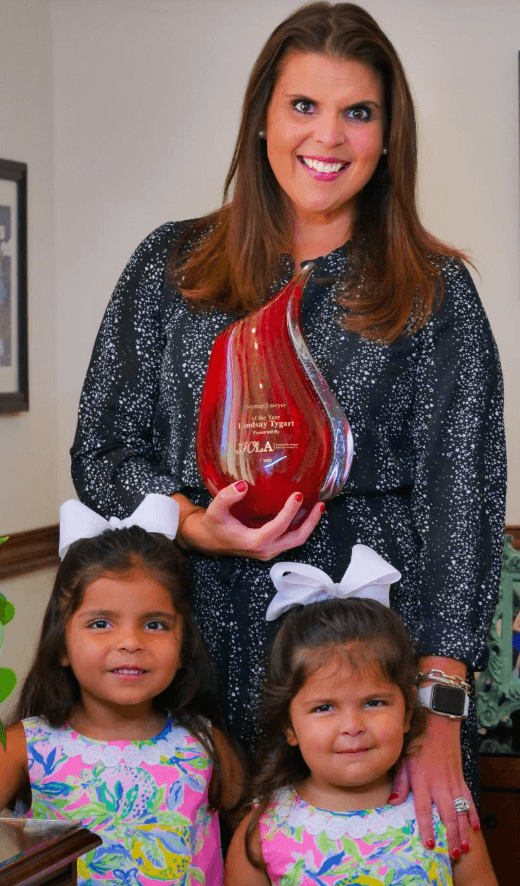 Skillfully securing impressive results for complicated personal injury, medical malpractice, neglect, wrongful death and catastrophic injury cases as a senior member of the medical malpractice division at Coker Law is just one remarkable aspect about Tygart. She is also a respected leader in several bar associations and legal organizations, a dedicated community servant, a guardian ad litem giving voice to children, and a strong advocate for women in the profession.
For her meaningful contributions through her legal service and volunteer activities throughout her career, the Jacksonville Women Lawyers Association (JWLA) presented Tygart with the 2020 Woman Lawyer of the Year award.
"Lindsay's energy and enthusiasm creates an atmosphere where we all wanted to serve and challenge each other to strive for more member engagement and greater impact in the community," said Cyndy Trimmer, president of JWLA. "She is someone who rises to every challenge and not only meets them head on, but excels and surpasses every expectation."
The award is presented to a woman lawyer in the local community who is currently licensed to practice law, an active member of JWLA, and has: (1) earned the respect of others professionally; (2) been involved in activities for the betterment of her local community; (3) exemplified the qualities of a positive role model; and (4) advanced the cause of women in the community.
Tygart's absolute commitment is evident in the many long-term board positions she has held in the Jacksonville Bar Association, the Florida Bar Association, the Jacksonville Justice Association, and the Florida Justice Association, in addition to her roles as past president and member of the executive board of the JWLA. A proud alumna of Bolles and Florida Coastal School of Law, Tygart has served on their boards, too.
She also volunteers in community organizations such as Dreams Come True, JT Townsend Foundation, Jacksonville Humane Society and Labrador Rescue of North Florida, and is the 2020 co-chair of the American Cancer Society ResearcHERS program in Jacksonville.
"Being able to represent my fellow attorney-moms out there is something I am truly honored to do. Our role in life is spectacular and fulfilling, but it is a delicate balancing act, often full of stress, worry and sacrifices, which, at times, go unnoticed.  I try to make it a point to really see these women, hear them and assure them that I will never stop bringing their issues to the forefront of conversations until the two little warrior women that I am raising (and each of theirs) can, one day, have it all," said Tygart.
Admiring Tygart's work-life balance, Trimmer noted that, "she has shown that it is possible to be an incredibly accomplished trial lawyer, while taking on ever more prominent leadership roles in the community, and still being present and involved with her family."
"As one of our most visible trial lawyers, Lindsay's prominence in that arena paves a path for women in the field. She continues to set a high bar for what it means to be a successful wife, mother, lawyer, mentor and community servant," Trimmer said.