Personal injury cases can be drawn out and expensive affairs.
Attorneys must fund legal research fees, expert witness fees, court fees, and other related costs upfront—despite having no certainty that they'll even win the case.
Worse still, defendants often drag their feet hoping that plaintiffs and attorneys will settle for lowball offers out of financial necessity.
But financial worries should never come at the expense of justice.
The solution? To work with a litigation funding (also known as case cost funding and litigation financing) company.
This article explains the benefits of litigation funding before listing the top 5 litigation funding providers for personal injury attorneys in the US.
What Are the Benefits of Litigation Funding for Personal Injury Attorneys?
Personal injury attorneys often take on complex, costly cases that require significant upfront resources. The potential payouts might be incredibly handsome—but firms need large sums to engage in protracted legal battles.
This is where litigation funding comes in.
Litigation funding companies provide the finances attorneys need to fund their cases upfront. This allows attorneys and their clients to pursue cases to their maximum settlement value, without having to settle prematurely due to financial hardship.
Let's dive into the top litigation finance firms!
While all opinions remain our own, this content contains links to companies we may be compensated by.
The Top 5 Litigation Funding Companies for Personal Injury Attorneys
If you're looking for litigation funding, you've come to the right place. Below, we rank the top 5 litigation finance companies for personal injury attorneys, outlining each company's main pros and cons.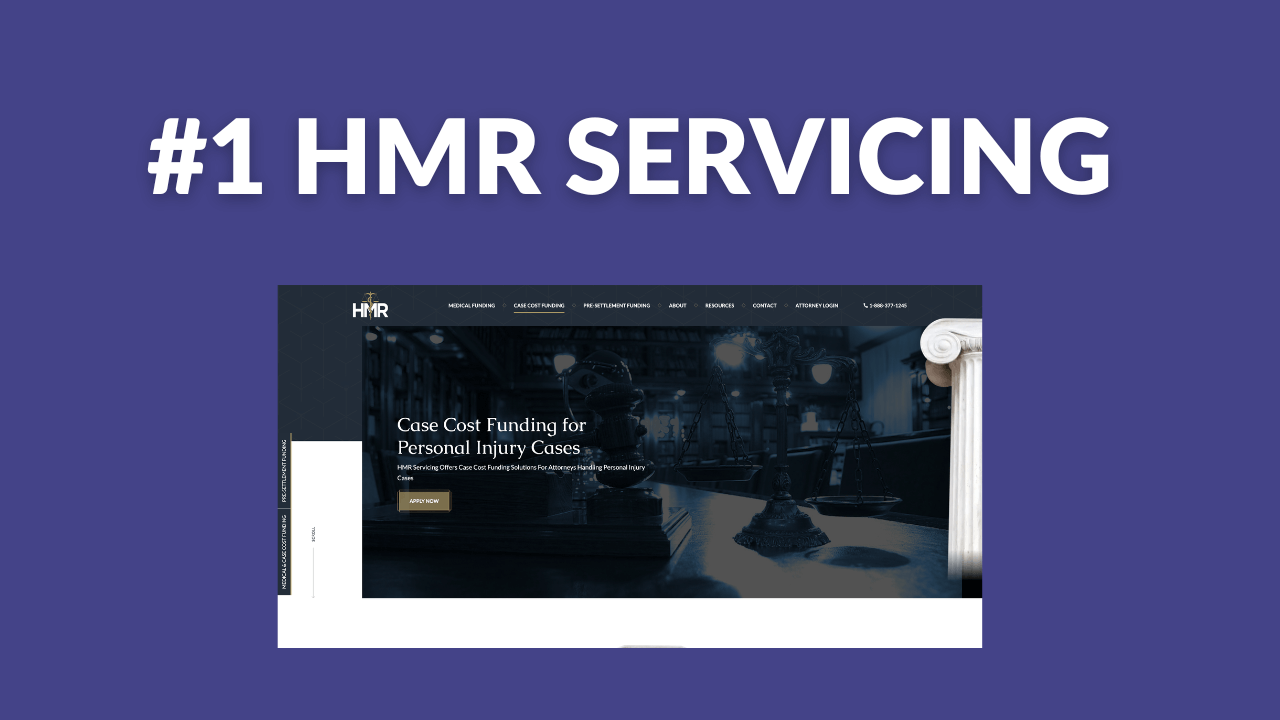 HMR Servicing is the clear #1 personal injury case cost funder. The company's unique approach, vast experience, and unparalleled expertise set it head and shoulders above other litigation funding companies for personal injury attorneys.
As a personal injury law firm, you know that having the right experts on board is essential to proving your case. Unfortunately, the cost of these experts can put a strain on your resources, and on your ability to seek justice for your clients.
That's where HMR Servicing can help.
HMR Servicing provides the funds you need to afford experts who can show the extent of damages and increase your chances of winning. What's more, by seeking external funding, you won't tie up your firm's assets in years of litigation costs.
By working with HMR Servicing, you can focus entirely on your client's cases—not on managing your firm's finances and litigation expenses.
Pros
HMR Servicing doesn't require firms to put up their entire case portfolio as collateral, unlike other case cost funders. Instead, they underwrite and provide non-recourse funds based on the merits of each individual case. This reduces firms' financial risk and exposure.
If a plaintiff requires urgent medical attention (such as for a traumatic brain injury), then this litigation funding company also provide the medical funding required for them to access this care. They are a full-service litigation funding company.
You don't have to pay anything until your clients' cases are settled or won.
Aside from case cost funding, HMR Servicing works with a wide range of specialty providers across 39 states, including Orthopedic Surgeons, Neurosurgeons, Pain Management Specialists, Imaging Facilities, and Inpatient and Outpatient Traumatic Brain Injury Centers. So whether you're in need of litigation funding for experts, for your plaintiff's medical care or even if your plaintiff needs funding for living expenses, HMR is your choice.
HMR Servicing is deeply knowledgeable about the legal and medical system. Their in-house specialists work directly with paralegals to progress cases, helping to lighten the load on personal injury law firms.
It's one of the only US-based case cost companies that is also able to fund large brain injury cases.
Cons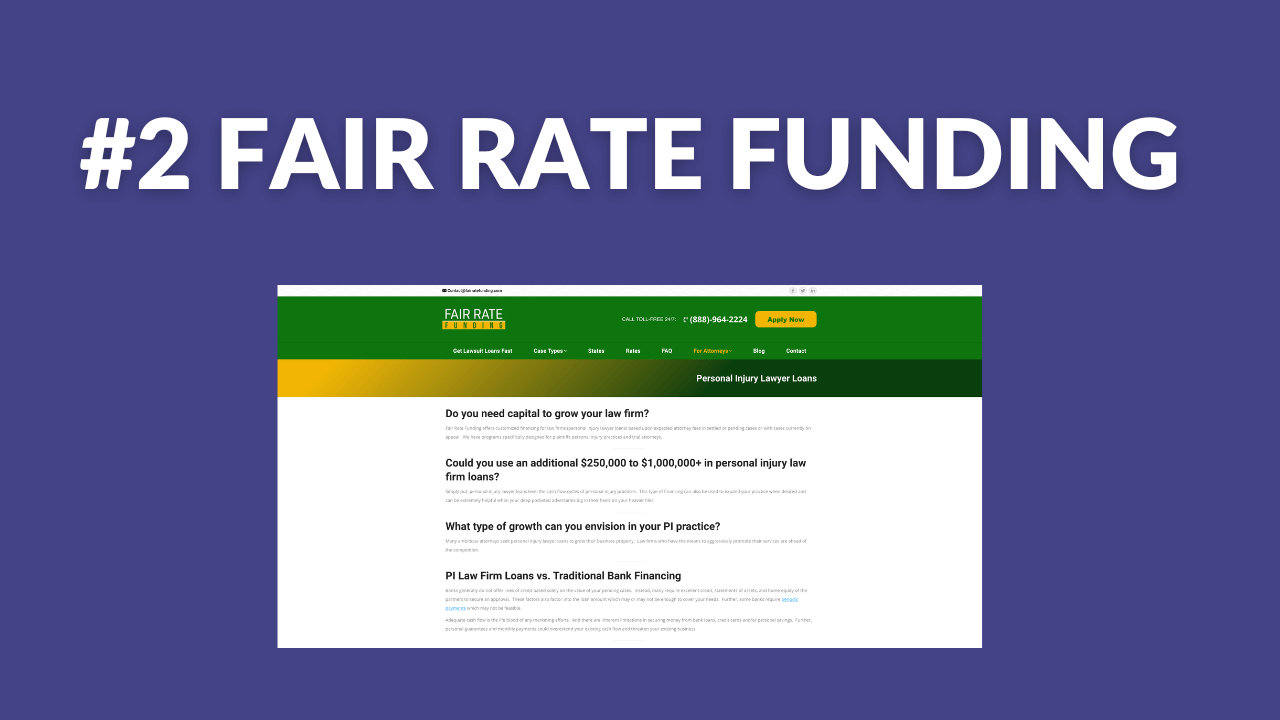 Fair Rate Funding's litigation funding puts personal injury attorneys on a level playing field with insurers. Attorneys can pay their litigation and operational expenses and ensure their case is litigated properly. Most importantly, they help attorneys avoid accepting lowball offers due to financial concerns.
Gain the funds required to let your clients' cases mature to their maximum settlement value.
Pros
While they offer case cost funding and pre-settlement funding, you'll have to look elsewhere for medical funding.
This legal funding company has non-recourse funding, meaning you only repay what you owe if you win your case.
Fair Rate Funding's expertise in surgical funding allows you to pay for personal injury plaintiffs' essential medical bills, even if they've exhausted their insurance benefits.
Cons
Unlike other litigation funders, Fair Rate Funding provides no in-house legal/medical expertise or assistance to help with your case. They simply provide litigation financing—that's it.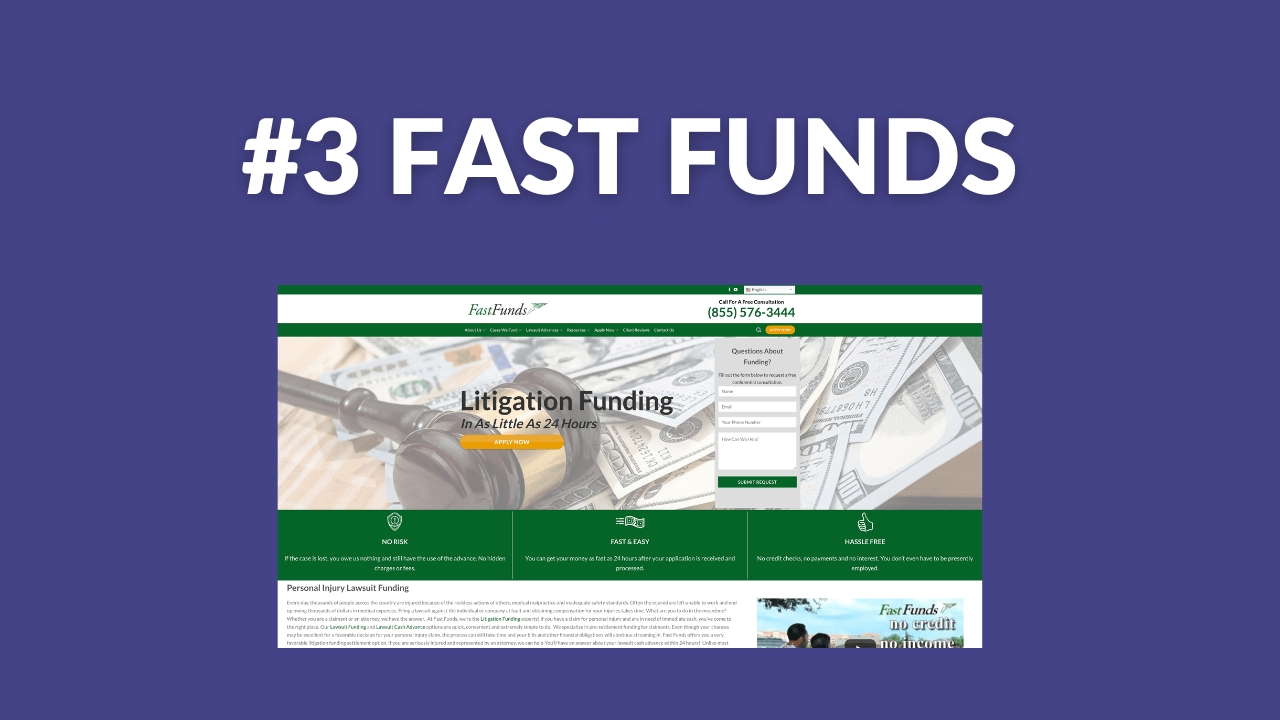 FastFunds offers four types of case cost funding for personal injury attorneys: pre-settlement, post-settlement, voucher (only for state-hired attorneys), and attorney lines of credit.
Pros
Fast Funds' litigation funding requires no monthly payments and they charge zero interest. Repayments, which are based on the risk associated with each case, are contingent on your clients receiving a judgment award or settlement.
This litigation finance firm offers several options for personal injury attorneys/law firms to receive their funds: wire transfers, direct deposits, mailing checks in the post, or if you're based locally (near Hollywood, Florida), then you can come collect a check in person.
Cons
Fast Funds only works with attorneys/firms based in Alabama, California, Delaware, Florida, Georgia, Idaho, Iowa, Massachusetts, Michigan, Mississippi, Montana, New Mexico, New York, North Dakota, Ohio, Oregon, Pennsylvania, Texas, Utah, Virginia, Washington, Wisconsin, and Wyoming.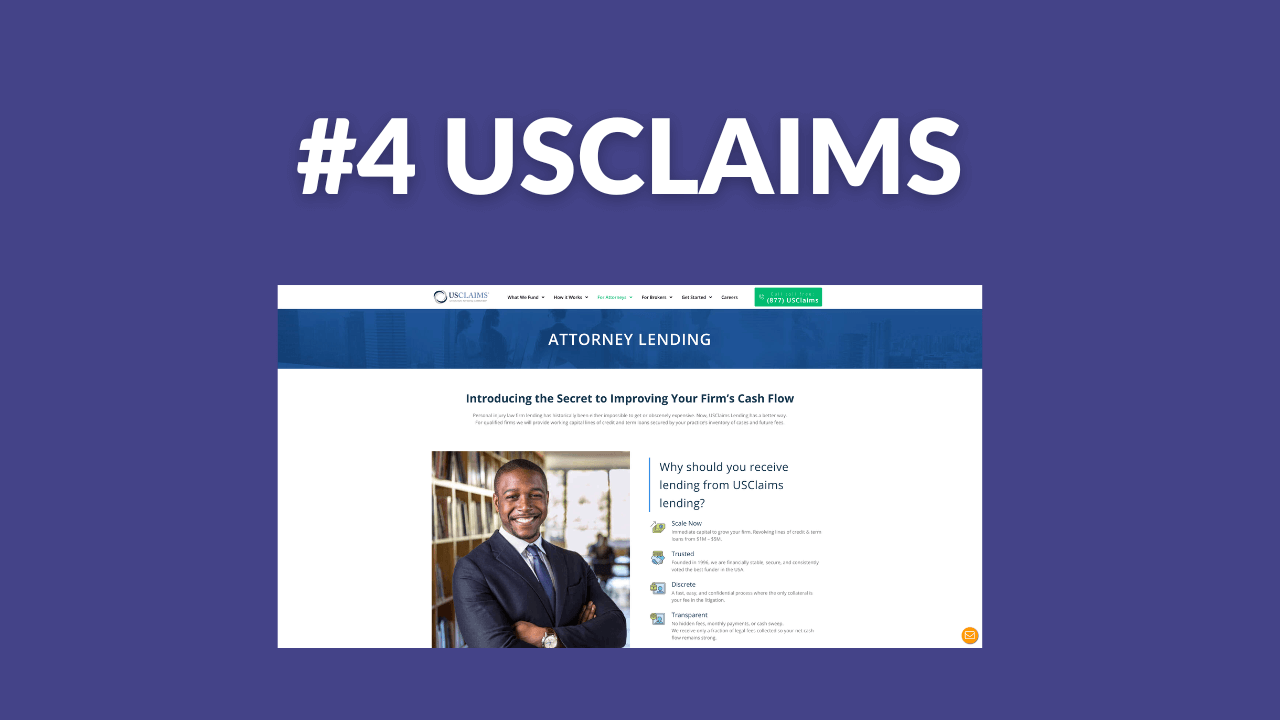 USClaims provides working capital lines of credit and term loans to personal injury law firms. These are secured by personal injury firms' inventory of cases and future fees.
Pros
USClaims offers revolving lines of credit worth $1 million to $5 million.
USClaims has operated since 1996, meaning they're well-established and incredibly knowledgeable about the personal injury sector.
Cons
Their funding is secured by the firm's inventory of cases. Therefore, this puts the firm at financial risk if a case is ultimately unsuccessful and they can't pay what they owe.
USClaims offers no support with the legal or medical aspects of claims—they just provide legal financing to legal counsel.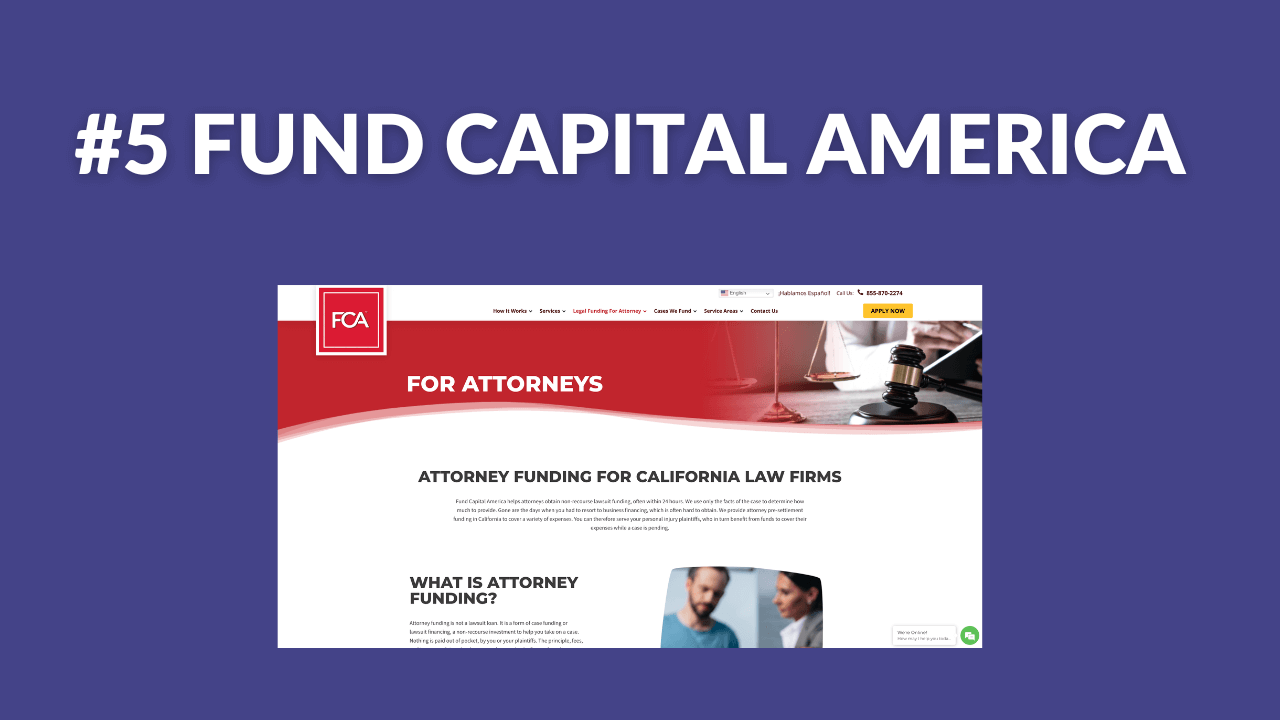 Fund Capital America provides rapid case cost funding ranging from pre-settlement loans and post-settlement loans to lawsuit cash advances and settlement acceleration programs. The company funds a variety of cases: personal injury, auto accidents, pharmaceutical drugs, labor law, medical malpractice, accounts receivables, product liability, and athlete injuries.
Pros
Fund Capital America's funds are available on a non-recourse basis.
Personal injury attorneys' applications can be approved and funded the same day. The process takes less than 7 minutes over the phone.
Principles, fees, and terms are determined on a case-by-case basis.
Cons
Don't Let Financial Worries Affect Your Personal Injury Cases
Financial worries shouldn't stand in the way of achieving justice for your personal injury clients. By seeking litigation financing, personal injury attorneys can fund costly cases and win the compensation their clients deserve.
Get in touch with a litigation funding provider to begin the process.