Attorney at Law Magazine sat down with Benjamin Taylor, an Arizona native and civil rights attorney, in the days after he was sworn in as the first black president of the Arizona State Bar to discuss his goals for the coming year. 
AALM: What are your goals for your term as president of the Arizona State Bar? What impact do you hope to have?
BT: I have three main goals for my term as State Bar President. My first goal focuses on lawyer wellness. It is extremely important to me that we take care of our member attorneys and judges both mentally and physically. Our lawyers and judges cannot properly serve the public, if they are not taking care of themselves first.
My second goal is to look into the Attorney Discipline Program to ensure it is fair for all firms in the Valley and ensure that is applied fairly to the public. This program is often talked about in the public, among our members and in the media so it is my goal to make sure it is working properly for all.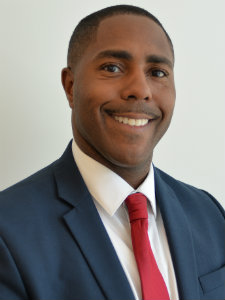 My last goal is to increase diversity of the State Bar of Arizona. If we have a variety of people with different genders, ages, religions, ethnicities and more, we are able to better serve our clients. The more diverse our backgrounds, the more we can positively impact the community.
AALM: What issues do you think will be most pressing for the legal industry in the coming years? And for the Arizona legal community, specifically? How do you see the State Bar addressing those issues?
BT: The newest and most pressing issue I see in the legal industry is the use of artificial intelligence. It is extremely important that attorneys and judges are familiarizing themselves with AI softwares and how it is being used. We must make sure the data pulled from AI is accurate especially if it is being used in the legal industry.
I also think another pressing issue is the attorney and judge work/life balance or rather the lack of balance. These are some of the highest stress jobs and if we do not have a healthy work/life balance we will see a lot of judges and attorneys burn out quickly. This is why one of my biggest goals as president of the state bar is lawyer wellness. My agenda and theme for this term is "balancing the scales of justice" and I hope it can make an impact on those who practice law in our community.
AALM: What does it mean to you to be the first black president of the Arizona State Bar?
BT: It is such an honor to be the first black president in the 90-year history of the State Bar of Arizona. Even though I am the first, I am optimistic that I will not be the last person of color as the State Bar President. I am honored to not only represent my heritage, but to also represent the legal community in this role.
AALM: In an article we published in 2019, you credited your experience with the Arizona Black Bar as giving you the courage to become involved in other bar associations. Would you agree with that statement today? How did your experience within that organization drive you forward in your professional involvement?
BT: I am extremely grateful for my time with Arizona Black Bar. This organization helped me throughout law school, helped me gain new experiences and even provided scholarships to help me financially during school. It also led me to join other bar associations. I was part of the Bar Leadership Program which is impacted me personally and in my professional development. The Bar Leadership Program is a great resource for newly licensed attorneys and exposes the members to various aspects of the legal community. Programs like the Arizona Black Bar and the Bar Leadership Program absolutely helped gain the confidence and skills to become the State Bar of Arizona president.
AALM: What are some of the best lessons you've learned from past presidents of the Arizona State Bar? And from the leadership of other bar associations? From other mentors?
BT: I am appreciative of the advice and mentorship the past Bar presidents have provided me. It is a lot to balance my law practice, my personal life and now the roles of State Bar president so I am grateful to have a community to lean on as I adjust to the new role. The best advice I have received so far is to listen first. By asking members of the bar, the board and the public for their feedback, I know I can be a successful president.
AALM: What advice do you have for young attorneys looking to get involved in the legal community? Looking to get into bar leadership?
BT: Join various organizations in the legal community. Not only do we have the State Bar of Arizona, but counties in the Valley, like Maricopa, Coconino, and Pima, also have their own bar associations. Search for your local bar association and get involved. You can also find committees that coincide with your specific area of practice which is a great way to learn from other attorneys and network. I also would advise new attorneys to volunteer in the community and offer pro-bono services.
AALM: You have been very vocal in the media about high-profile cases, what are some recent legal issues you believe the media is not giving enough attention to?
BT: I think one of the best advancements in the legal industry that does not get the recognition it deserves is the use of technology. Through body cameras, cell phone videos and even social media, we are now able to see new aspects of cases especially civil rights cases dealing with injustice from law enforcement.
This technology now gives us an inside look into what is going with our police which helps us enforce the law if there are officers who do not do what is right.
AALM: How are you involved in the community? What are some ways you hope to give back either professionally or to the community?
BT: As the State Bar of Arizona president, I am looking forward to giving back to the community more now than ever. One of the ways I hope to do so is to reach out to the community and provide the public with resources they may not be aware of. For example, the state bar provides resources for landlords and tenants if they are dealing with legal issues. Often, people cannot afford attorneys, but that does not mean there aren't ways we can help. By raising awareness on the dozens of resources we have, we can help the public gain access to justice through other means even if they can't afford an attorney.
AALM: In your legal practice, tell us about a case that impacted you personally or professionally or shifted the way you view or approach the practice of law?
BT: One of my recent cases has really impacted the way I view the practice of law. Yessenia Garcia is one of my clients that was wrongfully arrested and violated by the Scottsdale Police Department. She was completely innocent, yet had her human rights violated by the people who were supposed to protect her. This opened my eyes to how people in power need to be held accountable. I was appalled to see people in an authoritative role take advantage of the innocent person. No one, regardless of their title, position, or power, is above the law and the justice system. This case ignited a passion in me to hold people accountable and fight for those who had been wronged.
AALM: What goals are you still hoping to accomplish in your professional career? What's the next big milestone for you?
BT: My main goal in my career is to continue to practice law and to help the less fortune through pro-bono work. I hope when people look back on my career as an attorney or as the State Bar president, they see me as a good lawyer who fought hard for his clients and the community.
AALM: Is there anything else you'd like to add?
BT: I would just like to thank my parents for instilling my hard work ethic. I would not be where I am today without them. My dad was in the Airforce for 22 years and was a Vietnam Veteran and my mom was a math teacher for over 26 years. Their commitment to servicing their communities, made me who I am today and through them I learned hard work does pay off.