Danielle Holland spent the early part of her career in various strategic communications roles in Washington, D.C., including serving as press secretary for several U.S. Congresspersons, and also as communications director for U.S. Senator Lisa Murkowski. She later moved into a variety of leadership positions at such associations as the AARP and the Insured Retirement Institute, and most recently as president and CEO of the Financial Managers Society.
Attorney at Law Magazine sat down with Holland to discuss her new role as executive director of the Legal Marketing Association (LMA).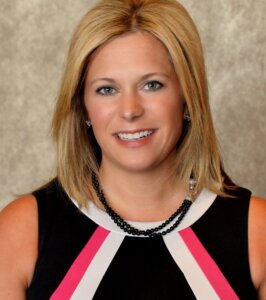 AALM: As the new executive director, what are your goals for the association in the coming year?
Holland: This is an exciting time to have joined the LMA. While our profession and organization (which is celebrating its 35th anniversary next year) are relatively young, we have much to celebrate. To kick things off from a membership perspective, I will be embarking on a listening tour with legal marketers across North America. I want to understand first-hand their challenges, needs, and the opportunities that have presented themselves to legal marketers. My goal is that the LMA helps foster the growth and development of the legal marketing field, as well as educates law firm leaders about the entirety of the value legal marketers offer lawyers and law firms.
Also vital to the success of any professional association is member engagement. On a parallel path, we will be developing programs and products that encourage legal marketers to connect with us and with one another.
I also will continue to build upon the professional advocacy work that was started by my predecessor and many dedicated members of our leadership. Legal marketers have the potential to advance law firms in so many ways that are currently going untapped. It's my goal to change that. LMA members are innovative, well-informed and trusted leaders within their firms and circles of influence. As ambassadors for the legal marketing profession, we can be the drivers of change to evolve perceptions and underscore the distinctive business value they bring to their firms.
AALM: How would you describe the main goal of the association in your own words? Do you believe the association meets its mission? How can it continue to improve its reach?
Holland: Our goal is to bring the collective legal marketing community together to advance our roles and profession. I believe we are meeting our mission, as we are on an ongoing quest to connect, grow, and advocate for the profession until every law firm and lawyer proactively takes advantage of all that legal marketers bring to the table – including revenue-generating activities. Beyond the basics of communications, for example, members of our profession can make a difference when it comes to business development, client service, diversity and inclusion, and even technology management. We are on a relentless pursuit to both educate and up-level our capabilities, as well as reach those who matter most to legal marketers – their bosses and their clients. We are improving our reach by providing our members with tools and resources, as well as advocating through partnerships and media relations, among other means.
AALM: What national events are in the works for members? Tell us a bit about them.
Holland: LMA's national (and regional) learning opportunities meet a variety of member needs from the basics to what's on the horizon. Our events feature sessions with renowned professionals, in-house counsel, and even best-selling authors. We encourage legal marketers to get out of their comfort zone, meet new people, and find new ways to advance their work.
Our next Annual Conference in 2020, in Denver, will likely see more than 1,500 legal marketing and business development professionals connecting with peers from around the globe. Together, we'll tackle their most pressing challenges. We plan three days of in-depth programming, including more than 40 conference breakout sessions and a day full of pre-conference programs.
Each year, our annual P3 – The Practice Innovation Conference keeps growing and building. I'm sure that's, in part, due to the schedule being shaped by some of our most creative and forward-thinking LMA members. Given the wide array of functions and roles represented in the P3 attendee community — spanning everything from pricing to project management, process improvement to business development, and client service to finance — conference leadership recognizes that there is a gender gap which continues to present challenges in promoting women within the profession. Thus, the Women's Initiative Network (P3WIN) was added. The Women's Initiative Network provides a platform to help discuss best practices and encourage information sharing as it relates to the current gender gap within the profession to better promote the roles of women within our evolving community.
We also host six regional conferences dedicated to helping law firm professionals advance their careers by providing forums to learn from and network with local thought leaders and colleagues. Attendees for these events range from junior-level coordinators/specialists to senior leaders in law firm marketing and business development departments. They are CMOs, directors or heads of the department who are responsible for the development and management of marketing policy and strategy in their law firms and companies.
AALM: What benefits are there to professionals who become actively involved in the association?
Holland: One of the primary benefits of becoming actively involved in the association are the opportunities to network and learn from other experienced members who have diverse backgrounds and skill sets. The connectivity naturally leads to greater professional development, exposure to new ideas and ways of working, and more success on the job. We also offer numerous educational programs, resources and experiences for legal marketers at all stages of their career.
Our members have said it best, though, and here are just some of the ways they've said they value their membership:
The connections, the resources and the education are unparalleled to another organization for the legal marketing industry.
A single conversation you can have as a legal marketer with another member can save you more than the cost of your annual dues in terms of keeping a project on track, using a better resource, or using your time more efficiently.
As a one-person marketing department, you gain a full department, community and colleagues through access to your fellow LMA members, who openly share resources, recommendations, and ideas.
AALM: What are some of the most significant shifts you've seen in the marketing profession and how do you think this will affect your association?
Holland: Marketing is ever-changing, and our association is working with and for our members to advance their skills at the same pace. When our profession was born, we were focused on advertising and basic press releases. Today, we take on a much more expanded set of competencies – from business development to strategic marketing, media relations, corporate communications, client relations, human resources, operations and much more.
AALM: What are some topics you think the organization will be addressing in events in the coming year?
Holland: Two topics immediately come to mind. First, our organization and members are out of necessity communicating the crucial need for state adoption of ABA Model Rules 7.1-7.3, which address how attorneys can market and advertise and what's at stake for the future of the industry. The need is for state adoption of these new rules, so there is no confusion jurisdiction to jurisdiction, no rule-breaking, and no ambiguity as to what's possible and what's not. And, legal marketers, whose role it is to ensure the rules are followed, are helping to lead the charge to encourage state adoption.
Second, is the topic of our "Next Big Thing" program, Service Metamorphosis. The culture and structure of law firms have historically made institutional changes in service difficult to achieve. However, a shift is taking place that focuses on service through critical conversations. Through a variety of educational programming and online communities, the 2019 Next Big Thing program educates our members on how service can make a strategic difference in a collaborative relationship, and how it can be used as a competitive differentiator.
AALM: Anything else you'd like to add?
Holland: I'd like to close with how legal marketers are passionately helping law firms work to implement more innovative diversity and inclusion practices. Progress can't come soon enough. Diversifying the workplace is the right thing to do and a vital business imperative. Clients want law firms to be representative of who they are and who they serve. The bottom line is that diversity drives revenue generation, competitive advantage, employee recruitment and retention, and innovation. Now and into the future, our members, task force and dedicated interest group will continue to develop tools and resources for members to work hand in glove with lawyers and firms to implement more impactful diversity and inclusion practices.