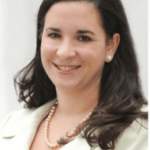 Perry Mason has nothing on Amanda J. Sharkey Ross, although he did serve as an early inspiration, prompting her goal to become a lawyer. Throughout her life, she always intended to get her J.D. and practice, but it took several experiences including studying abroad in Madrid, Spain, and legal internships with The Miami Dolphins and the University of Miami Athletic Department to help her determine which specialty to practice.
After graduating cum laude from Miami University School of Law in 2002, Ross ultimately settled into the areas of insurance defense, admiralty and maritime law. She started her career in insurance litigation in 2003 and joined a boutique maritime and admiralty defense firm in 2006 where she made partner in a little under a year due to her attention to detail, diligence and hard work on behalf of her clients. In 2009, Ross joined the Law Offices of David L. Ross, P.A.
Her firm represents a multitude of corporate insurance carriers, businesses and corporations as well as individuals themselves, but Ross' primary focus is on premises liability and admiralty and maritime law from pre-suit through trial. Ross takes great pride in her firm's effective handling of claims, courtesy throughout the litigation process and stresses the importance of client communication. All calls are returned within a 24 hour period of time which is very important to her firm, to be available and in communication with clients whenever the need arises.
"As a partner, responsiveness to my clients and willingness to fight in court for my clients' rights is paramount," said Ross. "I take my responsibilities to my clients seriously and am willing to back that up, whenever, wherever."
"Being able to assist clients is always rewarding, especially when the litigation has been a long and arduous process," continued Ross. "It is always enjoyable for me to conclude a case and have a client tell me how happy they were regarding the outcome."
Being a female in a high-powered position at a law firm can test the boundaries in a work and life balance. As a mother of two young boys, Ross believes it is important to be able to shift focus and keep perspective.
"As a woman in the practice of law, as soon as I set foot in the office or a courtroom, it is important that I am a lawyer first and a mother second. However, when it's time to shut the lights off, leave the office and go home, it is important to reverse those roles," Ross noted. "Having a balanced work/home life is of the utmost importance to keep your sanity in this profession."
With a desire to give back to the community, Amanda Ross and The Law Offices of David L. Ross, P.A. contribute both time and financial support to Habitat for Humanity, Kristi House, a healing environment for abused children and Camillus House, a non-profit organization providing humanitarian services to men, women and children who are poor and/or homeless.
Outside of work, Ross is not only a philanthropist, but is also an avid traveler and enjoys spending time on the water. In her free time, Ross is an active member of the Coconut Grove Sailing Club and the University of Miami Hurricane Club.