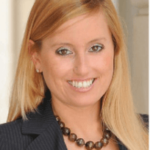 Although she didn't realize it at the time, growing up on three separate continents, North America, South America and Africa, with her 10 brothers and sisters, Aura Brooks was destined to become a savvy negotiator and businesswoman. An informative business law class taken during her undergrad work at Kennesaw State for an international affairs degree sparked an interest in her current profession that has intensified over the years.
"My undergrad business law class was enlightening," said Brooks. "People enter into contracts every day, whether or not they are aware of it. I knew that a law degree would be a useful tool whether I later decided to pursue employment through judicial opportunities, litigation, commercial businesses or public sector work."
During her pursuit of a J.D. at St. Thomas University College of Law, Brooks was awarded the American Bankruptcy Medal of Excellence and was a Dean's Fellow in the area of civil procedure.
Beginning her career as a law clerk with Florida Insurance Associates eight years ago, Brooks has helped grow the company from 10 to nearly 50 employees utilizing industry- forward ideas.
Florida Insurance Advocates is a firm dedicated to helping consumers and medical providers get insurance claims paid. The firm operates using a "factory system" where each attorney has an area of specialization helping process over $6 million per year in unpaid/underpaid insurance claims. Brooks, as managing attorney, oversees the litigation pipeline by assigning cases to the appropriate team and heading up all general office tasks such as hiring, scheduling hearings and depositions and ensuring the firm's day to day operations run smoothly.
"Through my current position as the managing attorney, I have devised a system to allocate specific tasks to qualified people," said Brooks. "Through the years, I have advocated for our company to go digital to allow many of our attorneys to telecommute, creating virtual offices all over the state, which is a rarity in our industry. I ensure that this system runs smoothly and devise solutions to any problems that arise in regard to our business operating procedures."
Because the firm is staffed with positive, laid back attorneys and support staff, the environment is conducive to changing with the times and allowing for the bulk of the employees to work virtually anywhere. Regardless of their physical location, however, Brooks ensures that there is constant communication between all staff, clients and opposing counsel.
"Without open communication and easily accessible attorneys and support staff, it is impossible for any cases to move forward," said Brooks. "I ensure that every member of our firm is available to discuss cases and tasks at hand when needed."
With a concentration in insurance collection, Brooks reviews cases, assigns tasks, negotiates with the opposition and creates a legal pathway to determine what needs to be done and how to accomplish each task.
"I especially find working in the area of P.I.P. to be an interesting focus," said Brooks. "Because the law is constantly evolving in Tallahassee, being keyed-in to the political process gives us an edge in advising our clients. Additionally, my boss, Russel Lazega, is a frontrunner in developing laws surrounding P.I.P. and encourages feedback and healthy debate within our office and between government officials."
On a personal level, Brooks not only enjoys traveling and is an avid runner, but also has been a member of the Executive Committee for the Miami – Friends of St. Jude Chapter since 2008. Friends of St. Jude is a group of young professionals networking for a cause and dedicated to the mission of St. Jude Children's Research Hospital and the fight against childhood cancer.