Growing up in the steel town of Warren, Ohio, Army veteran and Raleigh personal injury lawyer Ryan McCollum embraced a blue-collar work ethic underpinning his practice at Whitley Law Firm.
"LeBron James is from Akron, right down the road from where I lived, and there is a mentality of everything earned or nothing given," said McCollum. "That sort of lunch pail, get up and go to work and do my job attitude really helped me out in the Army and continues to help me out today.
"You take a great amount of pride working as a foreman in a steel mill like my grandfather did," he continued. "Your work is a representation of you as a person, and I think that can apply to any job. In the legal profession, when I put my name on something, I want to make sure that it's something that I'm proud of; it's something that I'll stand behind."
West Point
As far back as elementary school, McCollum recalled being obsessed with reading stories and watching movies about the Navy Seals and the Army Rangers. So, when he was offered the chance to go to West Point after high school, he seized it.
McCollum was assigned to the legendary 82nd Airborne Division. He was deployed to Iraq, where he led a platoon of 32 reconnaissance scouts through a combat deployment in support of the Battle of Mosul. "Leading my platoon in that environment is something I'll cherish forever," said McCollum.
"If I can work at the highest level of my job under these conditions with these stakes, I can go to law school. I can take the bar. I can prep for this motion hearing. Going through an experience like that gave me the confidence that I can succeed at whatever I put my mind to."
McCollum left the Army to settle down with his wife, start a family, and attend law school. He earned his Juris Doctor from Campbell University School of Law.
He said in the law, as in the military, you must be able to count on the people around you. "You need to be able to trust not just the other attorneys but also your staff. You need to have that sort of trust. If we meet as a team and we come up with our plan of attack, I need to trust you're gonna pull your weight."
"I've always said litigation is like a military operation. You have different phases of that operation, and you have your different benchmarks. We have to do our investigation, file the complaint and survive the 12B6. We need to assemble our evidence in discovery, and all of this is with the end in mind. You go to your sub-tasks and your sub-goals which are nested within that greater goal. If you win the lawsuit, it's winning the battle."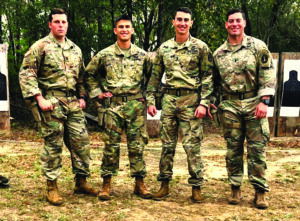 Camp LeJeune Litigation
McCollum's personal injury practice includes representing Marines and their families and civilians who were at Marine Corps Base Camp LeJeune in Jacksonville, NC, from 1953 through 1987, who may have been exposed to tap water contaminated with harmful chemicals that have been linked to cancer and other illnesses. The Camp LeJeune Justice Act signed into law in 2022, created a process for seeking damages from the U.S. government. Whitley Law is handling a large number of these cases.
McCollum said that as a veteran, these cases are particularly poignant. In fact, one of his Camp Lejeune clients is the grandfather of one of his West Point classmates.
"I think the thing that we would have in common is saying we signed this blank check to the United States to protect, serve, and defend the Constitution," explained McCollum. "When you write that check, you think about going to war; you think about training and the risks that might come with that. You don't think about being poisoned by your water at home. That's not included in that check. There's a deep sense amongst our Camp LeJeune clients of betrayal."