Living a socially rich lifestyle and taking care of your health and career is hardly easy. However, in a rush to do everything, we often lose sight of the important aspects of a balanced and healthy life, such as self-care and spending time with friends and family. Don't worry too much; losing balance in life is a normal part of the cycle, and fortunately, there are numerous tools and exercises that can help you get back on track. The wheel of balance is one of them. 
A legal portal that projects innovation in law, Lawrina cares about lawyers' well-being. With a knowledge of how lawyers concentrate on their careers and engage in numerous activities at once, Lawrina decided to make a wheel of balance specifically for them. 
Can Our Life Wheel be Unbalanced?
Even though 'unbalanced' sounds like a scary and concerning word, many journalists and scientists protect the idea that there is no such thing as living out of balance. They reason that only you can know how you want to live your life and where you want to distribute your energy. Whether you feel that you need to put more energy into your work or think that your life balance should revolve more around family and friends is ultimately up to you.
Thus, all the classic wheel of balance categories may not suit your situation, and seeing unbalance in them can cause you unnecessary distress. The best way to know the accurate picture of your balance distribution is to create a custom wheel.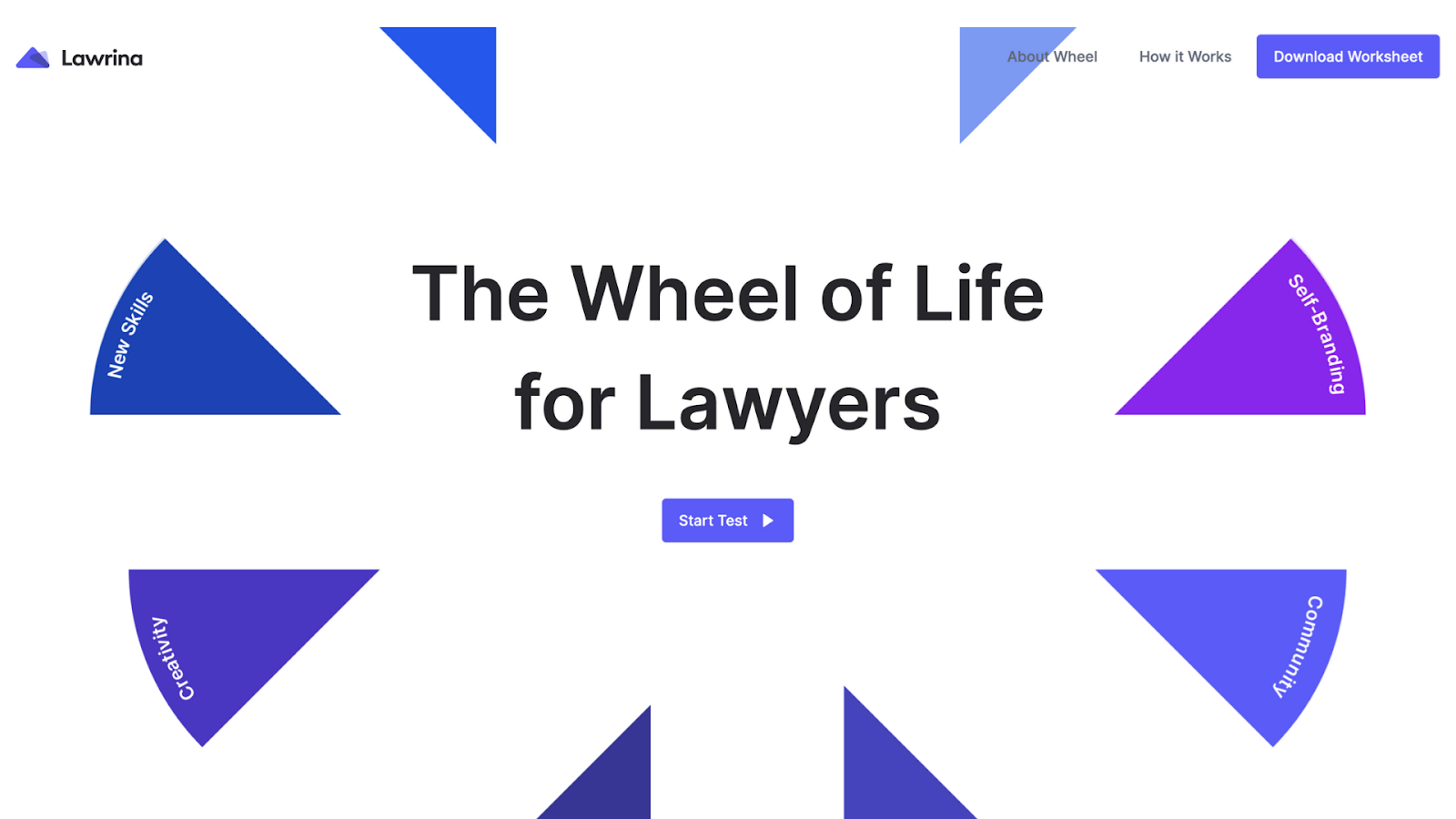 For instance, Lawrina created a wheel for lawyers considering their life and the things that might be important to them, such as:
Balance Your Life: Tools and Techniques
If you feel that your life may be out of balance and you cannot keep up with all the essential tasks, you can try some of the tips below.
1. Meditation
Many people think that you have to spend a lot of time educating yourself and finding a perfect place and time to meditate. However, meditation requires less effort than you might imagine. It has been proven that just a couple minutes of meditation can help your mental health, concentration, and stress management tremendously. You can download applications such as Calm or Headspace, find some meditation music on the Internet, or follow guides, like this one prepared by New York Times. 
Don't forget that you can meditate anywhere. At work, you can listen to a meditation session sitting behind your desk. You can even turn it on and put on your headphones on your way to an important meeting.
2. Making a list of what is important to you
Keeping a balanced life is hard without knowing how to distribute your time and energy. For all of us, different things truly matter. A helpful exercise is to take a piece of paper or a notebook and list things you feel are important for you. You can put them into categories, such as self-care, social interactions, work accomplishments, and anything else that you think is important. These categories will all be important when making your wheel of balance. Next, circle the crucial things for you and the time you put into them. If there are activities on the wheel that you think you're spending too much time on or should spend less time on, you can then adjust accordingly
3. Setting goals
Even if you know your dreams and goals, it is always important to reassess from time to time. For instance, you can sit down once every three months and look at the goals you created for yourself earlier. How much time did you spend on achieving them? What exactly did you do? Were your actions effective enough? What can you do differently next time? After answering these questions, you will be prepared to continue. Sometimes you might see that your priorities have changed, which is also completely normal.
4. Using an online calendar
Now, every task or meeting, important call, or colleague's birthday can be safely stored in the calendars on our phones. You can keep notes in your phone's calendar, or you can download a new application that will be the most comfortable for you to check every day. Most importantly, if it will work for you, don't forget to add everything on your list to your calendar and turn on notifications. You can add things like listening to podcast, buying travel tickets, going to dinner with friends, along with the typical work meetings.
5. Taking a break
Generally, getting your life on a balanced track will not be possible without stopping for some time and recharging. Experiencing loads of everyday tasks, we often forget what really matters and what goals we are trying to achieve. Going on a trip or simply staying at home for a weekend, drinking tea, and journaling can help more than you imagine.
How Can the Wheel of Balance Help
After setting your goals, take a break and decide what is truly important to you. It can be very useful to see how much time and energy you are putting into each of the items on your list. The wheel of balance is a useful exercise to see how you distribute your energy throughout life.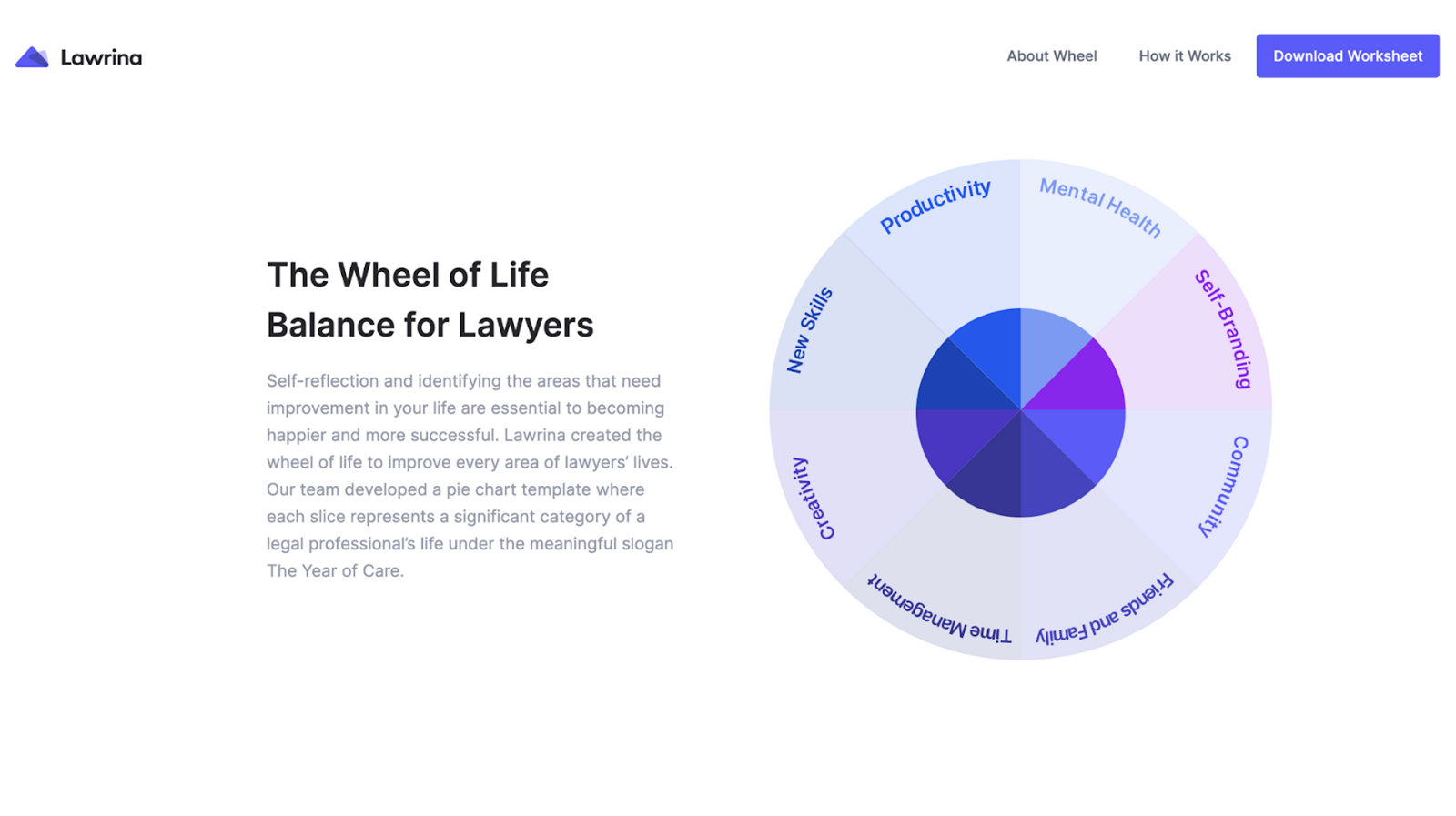 This circle is divided into essential categories, and when you see them all put together, it is easier to remember how much time you paid attention to each one. Having everything written down is a great way to see clearly. However, the trick is to be brutally honest with yourself. numbers on the wheel without lying to yourself and making the truth better. Before doing the exercise, think about how much time you really put into your work or health.
How to Use Wheel of Balance
The exercise of life assessment is pretty simple. The most work-intensive aspect is to consider your choices thoroughly. Then, you should do the following: 
Look at the categories on the wheel and think about the time you spent on each

After careful consideration, number each category from 1 to 10

When you are finished, push the button to create your custom wheel

Also, don't forget about the tips Lawrina left for you besides every category if you want to improve them.
Create Your Custom Wheel for Lawyers
Lawyers who constantly take care of others often forget to take care of themselves — their mind, body, and soul. However, they have to be concerned about balancing their energy to lead a healthy and happy life.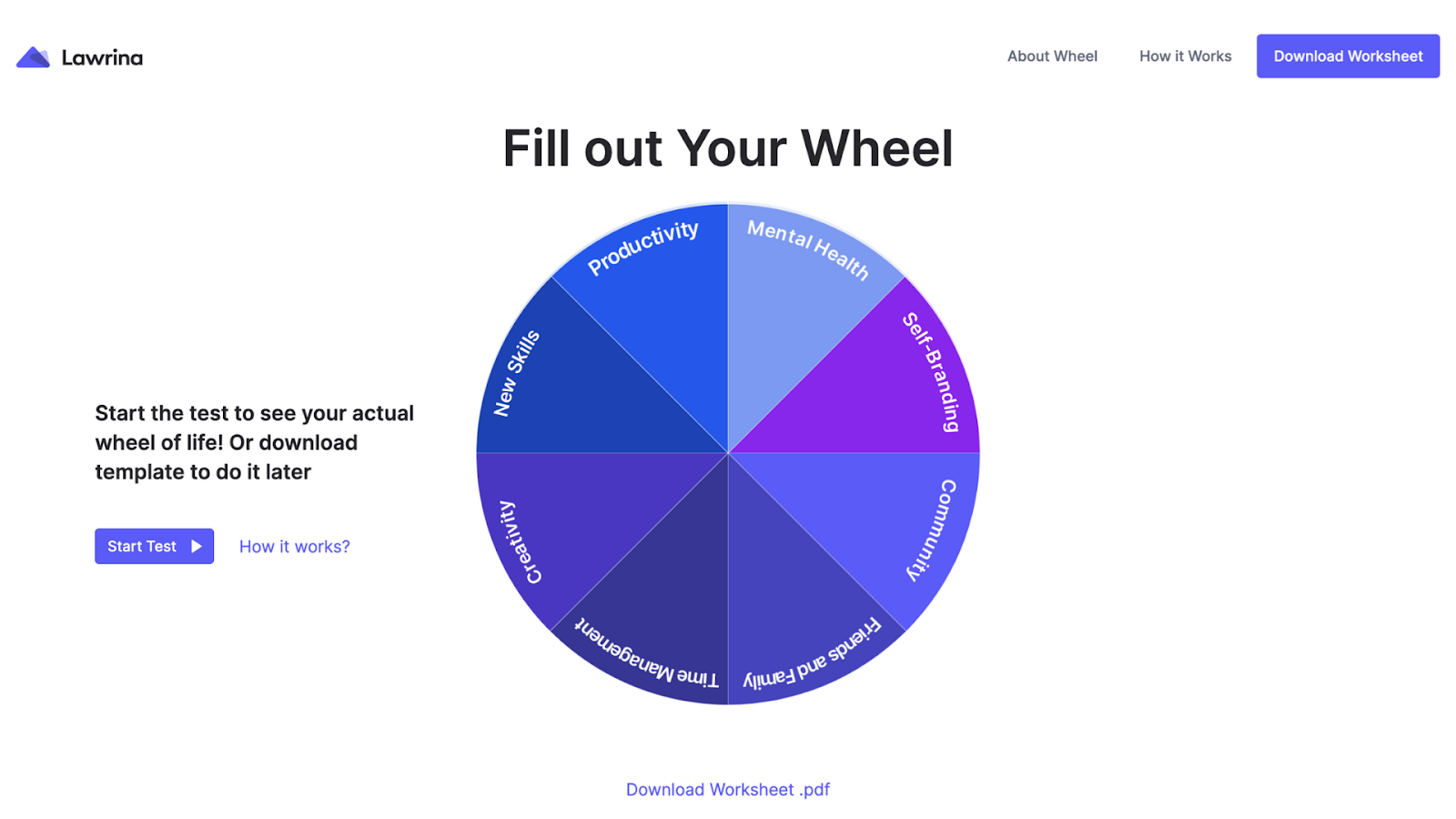 The wheel of balance for lawyers by Lawrina was created with care for lawyers. Go to Lawrina's website and make your custom wheel of a balanced life. As you can see, the wheel of life balance is a helpful tool for looking at your life with the structure and clarity needed to build and maintain the life you want.