We Find the Best Attorneys
Since 2009, our magazine has interviewed the best and brightest attorneys nationwide. Now, we bring you our recommended attorneys in Local Legal Authorities. Here is our listed best Thousand Oaks Personal Injury attorney.
Writer for Attorney at Law Magazine
Knowledgeable & Reliable
Accepting New Cases in Thousand Oaks
Leading Consumer Reviews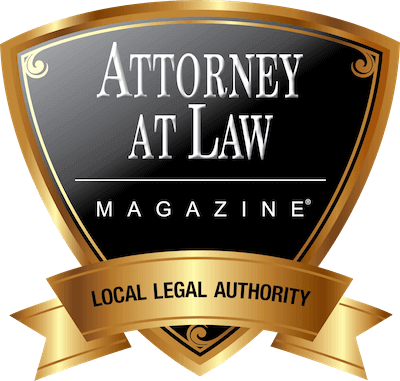 About
Logan Quirk
Logan Quirk is the founder and managing partner of Thousand Oaks personal injury firm Quirk Accident & Injury Attorneys, APC.
How Logan became a personal injury lawyer. Logan knew law school was for him while in high school. He earned his international relations degree and immediately applied to Santa Clara University School of Law.
It took Logan a bit of trial and error to find his footing in personal injury. "It was definitely a process of elimination. I interned in several fields and ultimately found them lacking. When the 2008 economic collapse hit, I was lucky to find a position working for a personal injury attorney who quickly became my mentor. I haven't found a field more rewarding."
Logan's philosophy for personal injury law. "Be persistent. Be efficient. Be respectful. Have fun."
Tell us about the origins of Quirk Accident & Injury Attorneys, APC. "I wanted the opportunity to do things the way I wanted. My team is what drives the firm. Without having good people and a great team, the quality of representation would be less and the workplace would not be as fun. Aptly put, the sum is greater than the parts."
Logan in the community. Logan and his team are involved with local charities from wildfire donations to offering physical help. "Wherever we can be of benefit, we strive to fill that void."
Logan outside the office. "I work to play." He loves travel and outdoor adventures.
"I also love to be with the people that make my existence on this green planet awesome."
Attorney and Author
Logan Quirk is an author for our magazine specializing in personal injury articles.
What it's Like Working With the Best Personal Injury Attorney in Thousand Oaks, CA
Contact Thousand Oaks

Personal Injury Attorney
Founded Quirk Accident & Injury Attorneys, APC in 2012
Graduated from Santa Clara University School of Law
Member of Consumer Attorneys Associations of Los Angeles and San Diego
Member of Los Angeles and San Diego County Bars
175 E Wilbur Rd Suite Suite 101, Thousand Oaks, California 91360
What Is a Personal Injury Attorney in Thousand Oaks?
As you go about your daily routine, it's likely you will come across scenarios where you could suffer an injury. Maybe you are grocery shopping, dining at your favorite restaurant, or driving in your car. A personal injury lawyer in Thousand Oaks represents those who have been injured because of another party's carelessness, negligence, or willful disregard of others. These wrongful acts are more formally referred to as torts. When you suffer harm as a result of another party, you shouldn't have to shoulder the financial burden which often accompanies an injury because of medical expenses and lost wages. A licensed Thousand Oaks personal injury attorney can help you seek the compensation you deserve in civil court.
Although personal injury attorneys in Thousand Oaks deal with tort law, they often specialize in one or more areas. The following list is not exhaustive but includes several broad types of cases personal injury lawyers handle on a day-to-day basis.
Traffic Accident Injury Cases
Each year, the National Highway Transportation Safety Administration (NHTSA) estimates more than six million traffic collisions are reported to law enforcement, including more than 35,000 fatal crashes, and about 2.5 million injuries. A skilled attorney can help investigate your accident and build a strong case against the defense to hold at-fault drivers accountable. Traffic accidents can include car accidents, truck accidents, motorcycle accidents, bicycle accidents, and pedestrian accidents. When high speeds are involved, victims who are lucky enough to live through an accident, potentially face lifelong complications.
Car Accidents
Over 2.5 million Americans, some right here in Thousand Oaks, find themselves in an emergency room annually because of car accidents. In fact, crash injuries account for $18 billion in lifetime medical expenses. Injuries can range from minor scrapes and bruises to permanent disability such as a spinal cord injury (SCI), traumatic brain injury (TBI), or even death. Motor vehicle accidents are the leading cause of personal injury claims in Thousand Oaks, California, and throughout the U.S. Injured parties in Thousand Oaks have the right to expect fair compensation for their medical expenses, lost income and wages, and their physical and emotional pain and suffering. An experienced Thousand Oaks car accident attorney can help them gather the evidence needed to prove their claim, file legal documents, attempt to negotiate a fair settlement and represent them in court if necessary. Being injured in a car accident can be an extremely difficult and overwhelming experience. However, with the guidance of a top Thousand Oaks personal injury lawyer, victims can ensure the best possible outcome in their claim.
Motorcycle Accidents
Traveling by motorcycle in Thousand Oaks, California is inherently riskier than taking a car, especially if the motorist or passenger isn't wearing a helmet. Motorcyclists and their passengers suffer severe injuries and even death at higher rates than other motor vehicle occupants. Their bodies have more potential exposure to outside forces since they don't have the protection of seatbelts, airbags, rollbars, and other luxuries passenger vehicles afford. Without protection, motorcyclists in Thousand Oaks frequently have severe road rash, broken bones, and head injuries. Nearly 5,000 motorcyclists were fatally injured in 2018, and approximately 82,000 suffered other injuries in 2018 alone. To help prevent and reduce the number of injuries and deaths, the National Highway Traffic Safety Administration (NHTSA) encourages Thousand Oaks motorcyclists to make themselves visible to other motorists, use U.S. Department of Transportation-compliant motorcycle helmets, and avoid riding after alcohol or drug use. A personal injury attorney in Thousand Oaks can help injured motorcyclists, their families, and their passengers pursue compensation for their losses.
Premises Liability Injury Cases
In all 50 U.S. states, property owners have the legal obligation to maintain a safe environment for those who visit their business and home. Although exact laws vary from state to state, when a property owner fails to uphold his legal obligation and someone suffers an injury, courts often find the owner liable for damages in civil court. Premises liability accidents include a wide variety of accidents based on location and the type of injury. Victims might get injured at a swimming pool, a theme park, on an elevator, at a shopping mall, and many other locations. The most common type of premises liability accident is a slip-and-fall injury or a trip-and-fall injury. In fact, the Centers for Disease Control and Prevention (CDC) reports the most common cause of traumatic brain injuries, besides traffic accidents, is unintentional falls.
Product Liability Injury Cases
The Consumer Product Safety Commission (CPSC) records and maintains millions of complaints of injuries caused by defective products each year. A defective product might have a manufacturing defect, a design defect, or a marketing defect, which occurs when companies don't warn consumers of dangerous products or provide proper instructions. When a known or unknown defect causes injury to a consumer, courts can hold any party in the product's chain of distribution liable for damages. The CPSC is concerned with all types of household items, sports equipment, toxic and flammable chemicals, toys, and much more, but they do not serve as a watchdog for the automotive industry or the pharmaceutical. Defective airbags and defective tires have been a common cause of injury or death, as well as dangerous drugs.
Finding the best Thousand Oaks personal injury lawyer can be tough, but lucky for you we did the legwork and found the top personal injury lawyer in Thousand Oaks.