The recession of 2008-2009 laid bare many of the challenges that general counsels faced during that period of economic uncertainty. Over 200,000 companies failed (e.g. Blockbuster, Borders Books, MGM), while others went through painful restructuring via bankruptcy (e.g. GM, Chrysler, and Charter Communications). As companies were shutting their doors, legal teams were busy dealing with the fallout. General counsels had to deal with closing down businesses – from layoffs and liquidations to mergers and divestitures. Legal teams across the US were knee deep in dealing with the downturn of the economy.
2020 has all the indications that we are heading towards another downturn in the economy. It is only prudent for general counsels to take the time to prepare for one of the other side effects that followed the Great Recession of 2008: an increase in risks and costs in litigation from patent assertion entities (PAEs or more commonly known as "patent trolls").
When a business fails, or is on the brink of failing, it typically looks to sell off its assets to generate cash. This may include selling one of its product lines, buildings, pieces of equipment, etc. One of the most liquid assets they may sell are their patents. The reason these assets have become easier to sell, is because over time the value of these assets in litigation has become better understood; so there are a large number of buyers – with typical selling prices of $100,000 per patent – helping the companies who are liquidating to recoup some revenue – while offering an inexpensive way for patent buyers to add to their portfolio.
The PAE Problem
As some of the patents from distressed companies go up for sale, they become available in an open market. Patent assertion entities look to these open markets to purchase patents – often at a reduced price. Through these distressed sales, patent trolls gather up unwanted patents in which they hope to seek monetary gain by suing companies for infringement. And with the cost of defense through trial ranging from $500,000 to $5 million or more, it's apparent why more companies, especially those facing economic hardships or facing a patent litigation case, opt to settle out of court. In fact, more than 87% of defendants settle before trial.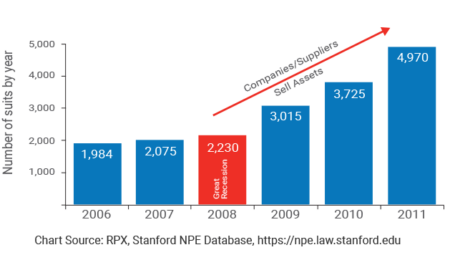 By 2011, patent troll litigation had climbed to a record-high of nearly 5,000 cases nationwide and became the greatest source of litigation risk to the country's high-tech industry. Patent trolls are responsible for more than 84% of U.S. high-tech patent litigation. As the high-tech industry was experiencing the wave of patent litigation cases, IP leaders from Red Hat, Google, and Canon decided it was time to take a stand and collaborated to form LOT Network. Because companies are the ones who originate most of the patents used by patent trolls, companies ultimately had to find a way to protect themselves from the very risk they were creating: these assets when they get released into the wild.
At the same time, it was important that this private solution allow companies to continue to use their patents in all the traditional ways to protect their business and to protect innovation. With the help of a handful of other visionaries, LOT Network was launched in 2014 as an experiment by a brave few. That idea has since grown into a community of more than 800 high-tech companies across the globe who enjoy widespread herd immunity as a cure for the patent troll problem.
General counsels are responsible for implementing cost-effective solutions that reduce risk and cost for their company that, at the same time, allow the company to optimize for long-term success. With the current economic downturn, it's just a matter of time before more patents fall into the hands of patent trolls causing a spike in patent litigation cases. Legal teams eager to get ahead of the problem are joining non-profit communities like LOT Network to reduce their risk and exposure to patent litigation.
As more companies join, the patent troll problem can be reduced – especially when, like LOT Network, the community counts the second, third, and fourth largest patent holders in the world – and actively immunizes its members from 2.4 million patent assets globally. We've already seen LOT provide real value in 2020. For example, LOT member IBM sold 1,000 patents to WiLAN (a PAE) earlier this year. Those in LOT Network received an automatic free license. Those that are not part of the herd now face risk of being sued or having to pay for a license. This is one of the many reasons over 200 companies have joined LOT in 2020 already.
Be proactive, not reactive, for once
As many legal departments and general counsels know, they're the first to be blamed when their company gets sued. Right or wrong, many peers on the executive team assume something went wrong if the company gets sued. LOT Network allows a legal department to show that it is proactively doing something to reduce the risk of costly lawsuits.
For companies earning less than $25 million annually, membership in LOT Network is free. This allows many startups and entrepreneurs to seek a cost-effective solution to guard against unwanted patent trolling. Additionally, with more than 800 members now a part of the organization, members can benefit from the collective group experience.
As general counsels from large and small companies – across all verticals – are preparing for a potential recession, they're also reviewing any litigation risks that might take a bite out of their bottomline. Every PAE litigation avoided is money saved that can be used for more productive legal work: e.g. close another deal, file another patent, hire another attorney, etc.
Joining LOT Network should be a no brainer for general counsels looking to protect their company. Through a cost-effective membership, GCs can help save millions for their organizations, and allow companies to focus on more important things like research & development rather than on costly litigation.