Jessica Jarvi, a Tempe native who grew up about a mile from Arizona State University's Tempe campus, comes from a family with deep ASU roots.
"We have lots of Sun Devils in our family," she said. "My grandparents met at ASU and got married at Danforth Chapel on ASU's campus, and my parents did too. I grew up going to ASU football games, and the Jerry Olson Stat Booth in Sun Devil Stadium is named after my grandpa."
Her family encouraged her to consider other colleges, but were in utter shock when she chose the University of Arizona.
"My parents did not understand — they were horrified," she recalled with a laugh, pointing out that her father even has a Sparky tattoo.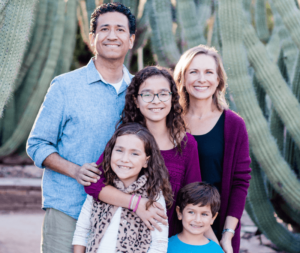 After graduating cum laude from UA with an English degree, Jarvi discovered that, contrary to Thomas Wolfe's novel, you can go home again. She moved back to Tempe and began weighing her options.
"I was insistent that I wasn't going to law school for a long time because both my parents were lawyers," she said. "Then, I graduated from college and realized it was the only graduate school that interested me, so I capitulated."
Planning a future in the Phoenix area, her hometown law school held the most appeal.
"The in-state tuition was great, and I'd always heard that you should go to law school where you want to practice," she said. "Everything pointed back to ASU."
She enrolled in what is now the Sandra Day O'Connor College of Law at Arizona State University and, in 2002, graduated cum laude with a Juris Doctor degree. It allowed her to build the successful career in the Valley that she had envisioned — and get back in her family's good graces.
"I came back to ASU for law school, so they forgave the 'Wildcat' phase," she said.
She is now the senior vice president, deputy general counsel for Western Alliance Bancorporation, a position she has held since 2013. She was nominated for the Arizona Public Company Counsel of the Year award in 2017, and was recently named to the 2019 list of the Most Influential Women in Arizona by Az Business and AZRE magazines.
She credits ASU Law for exposing her to a wide array of legal interests and putting her on the path to a successful career.
"I remember thinking, 'Well, if my parents did it, so can I,' but law school was definitely more challenging than I thought it would be going in," she said. "But ASU Law was great. The quality of the faculty and the program made for an excellent education."
One memory that stood out to her was the orderly fashion in which Professor Jonathan Rose conducted his class.
"He had this reputation of being a really tough professor, but I thought he taught the fundamentals of contracts really well," she said. "I appreciated that he called on students in the order we sat, so you knew when your time was coming. He said he never found it to be of value when he called on students who weren't fully prepared, and I really appreciated that point of view. You know, in an environment where you sit in a lot of classes just feeling nervous about being called on, I thought his approach was more true to real life."
Through an on-campus interview, she landed a summer associate's position at Snell & Wilmer, and upon graduation, she began working there as a first-year associate. She followed one of the firm's partners to an in-house position in banking, then joined Western Alliance in 2007.
At the time, the legal department at Western Alliance consisted of just the general counsel and herself. She now oversees a legal department that consists of 12 lawyers and five additional staff members.
"Now we're kind of a small law firm within a business," she said, explaining the company's rapid growth over the past decade. "We've been able to build a legal department that is customized to a bank that has grown dramatically over the last decade. We were about $5 billion in assets when I started, and we just passed the $25 billion mark."
Keeping up with the needs of an active, entrepreneurial company can be challenging.
"We have to be able to respond to a wide variety of legal needs in a fast-paced environment where there isn't time to write lengthy research memos or anything like that," she said. "But when you get to work with great people the challenges can be enjoyable. We've got a terrific team in the legal department, and the bank is just full of good internal clients."
As for being named to the Most Influential Women in Arizona list, she was honored but said she wasn't sure she belonged.
"My immediate reaction was pretty lawyerly, which is, 'What's the definition of influence?'" she said. "I wasn't sure I understood it. But it feels really good to be recognized, especially with so many other accomplished women in the state."
And as a mother of three young children, she knows the challenge so many other parents face trying to manage a demanding career with a busy home life.
"It's not easy to be a working parent, so I give a lot of credit to everybody out there who's trying to work on a successful career while they're raising kids," she said. "You need to manage the priorities of what needs to get done at work and the priorities of what needs to get done at home, and somehow feel like you're doing the best you can in both worlds."