The COVID-19 pandemic has shown us that all professionals not only need to do business online, but can also improve their digital presence. With the explosion of virtual meetings and events, it is clear that we are no longer constrained to in person events or networking. Online authority marketing is more important now than ever before. For legal professionals, this move online is even more significant, as it helps to increase visibility for clients and promote professional development. I asked legal innovations evangelist Larry Bridgesmith about his networking experience, and he kindly shared some tips.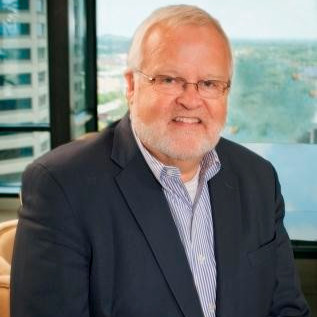 Larry Bridgesmith is Managing Partner of DASH.law and co-founder of the Program on Law & Innovation at Vanderbilt Law School in Nashville, Tennessee. In that capacity, he also co-founded the Music City Legal Hackers. He has invested the last 15 years in exploring how innovation in law will be of benefit to both lawyers and clients.
IP: Why is networking so important?
LB: Firstly, you need to understand how networking will help your future career. There are two main points: (1) Networking helps you to develop as a professional and (2) networking helps you to raise your personal brand as a professional.
Through events and meetups, you can learn the latest news in your practice area and get relevant tips from more experienced colleagues in your own profession, and others as well. For example, the Legal Hackers community that I participate in involves technologists, computer and data scientists, engineers, as well as legal professionals. So, it is a very multidisciplinary group, which creates an environment that is the essence of innovation. Because legal professionals' perspectives are pretty much the same, we do not really think innovatively when we only think together. 
Getting others' perspectives on problems that we might be facing is really the origin of innovation. It helps [us to] think more creatively and come up with ideas that are "out of the box" of status quo thinking. To stay updated, I follow about 200 groups on LinkedIn. They are all related to my specific areas of interest and expertise: dispute resolution, legal technology, legal innovation, and emerging technologies, like blockchain, artificial intelligence, cryptocurrency. 
In addition to LinkedIn and Twitter, I follow newsletter groups and bloggers who provide content regularly in the subject matters which are aligned with my "brand". The American Bar Association newsletter is published frequently and is free. Other bloggers and newsletter groups I follow include the National Center for State Courts, The Pew Foundation, Peter Diamandes, LawTeckUK, International Legal Technology, Association, Council of Legal Operations Counsel, and many similar groups. 
Secondly, networking will help you grow your professional brand. You will get more relevant contacts in your practice area by sharing information and showing your knowledge. It is important in communications, not only to obtain value, but also to give it back. By getting together and sharing experiences, we can begin to see that the way in which we have come to think about the delivery of legal services is subject to change. In our community, you can share your vision and experience with others. If a person sees that there is another person who shares the same passion for legal innovation, it will also help you to be on the same page in terms of both need and opportunities.
IP: How does networking help with a personal brand?
LB: Nowadays, networking [has] also moved online, so it is important to keep an eye on how others see you on the internet. Our image, our reputation, is now far more effectively built in a virtual world than it is in a face-to-face world. For building connections online you need to perfect your profile. I could recommend you to:
No. 1: Understand your target audience.
Be sure you understand who the audience is that you want to reach. That is really critical. You need to think [about] where your audience is and how they communicate. For lawyers, it is especially important to use common language for a client audience. For me, LinkedIn is one of the best means of doing that. You can share experiences, promote upcoming events, share documents that have been created, and link to other articles that have been written. 
No. 2: Use your social media profiles properly.
LinkedIn is a tool that I have used for more than a decade before the pandemic. Sharing information, building a brand, addressing an audience who's interested in what you have to do and what you have to say, is going to be far more critical going forward than it was before the pandemic. The reason is that our clients are going to the internet to find us. They are the ones we hope are following us on LinkedIn or Twitter, etc. 
No. 3: Identify and stick to your style.
Since there are many experts to follow on the internet, you need to differentiate yourself. Again, you need to understand your audience and how they want materials to be delivered. Based on the brand I have created, I try to be a frequent source of related content and articles written by others who are also exploring similar areas of interests. I typically share an article written by other thought leaders and ask questions to my audience about the logical outcome of their thinking. This provides an opportunity for others to "like" or comment on my posts and generates a following due to the content I am providing and sharing. Currently, I have about 4,000 followers and 6,000 contacts on LinkedIn because I try to be a source of valuable information to those who follow my posts. 
Being a part of a community and networking is helpful not only for building a personal brand among your colleagues, but also for developing yourself as a professional. Because you see the  experience of others, you can be better at your practice area and then it becomes easier to find new clients."