How many missed opportunities have you had, and now you look back wishing you were quick to jump on? Don't let this opportunity be another. 
The following law firm website builder is truly the best I can recommend, and you'll be an early adopter if you get in now. Using this website builder for lawyers will give you a serious competitive advantage.
I won't make you wait any longer.
The best website builder for a law firm is Duda.
As a lawyer (and in general, an informed person), it's best to understand the supporting evidence to such a bold (and dramatic) claim.
How can Duda be the best website platform for lawyers? Is it really that much better than the second-best platform?
Yes, it is the best. And yes, it's significantly superior to its counterparts.
First, let's go over a quick summary of what Duda is. Then we'll dive into the specific features and qualities that support my claim.
What's Duda?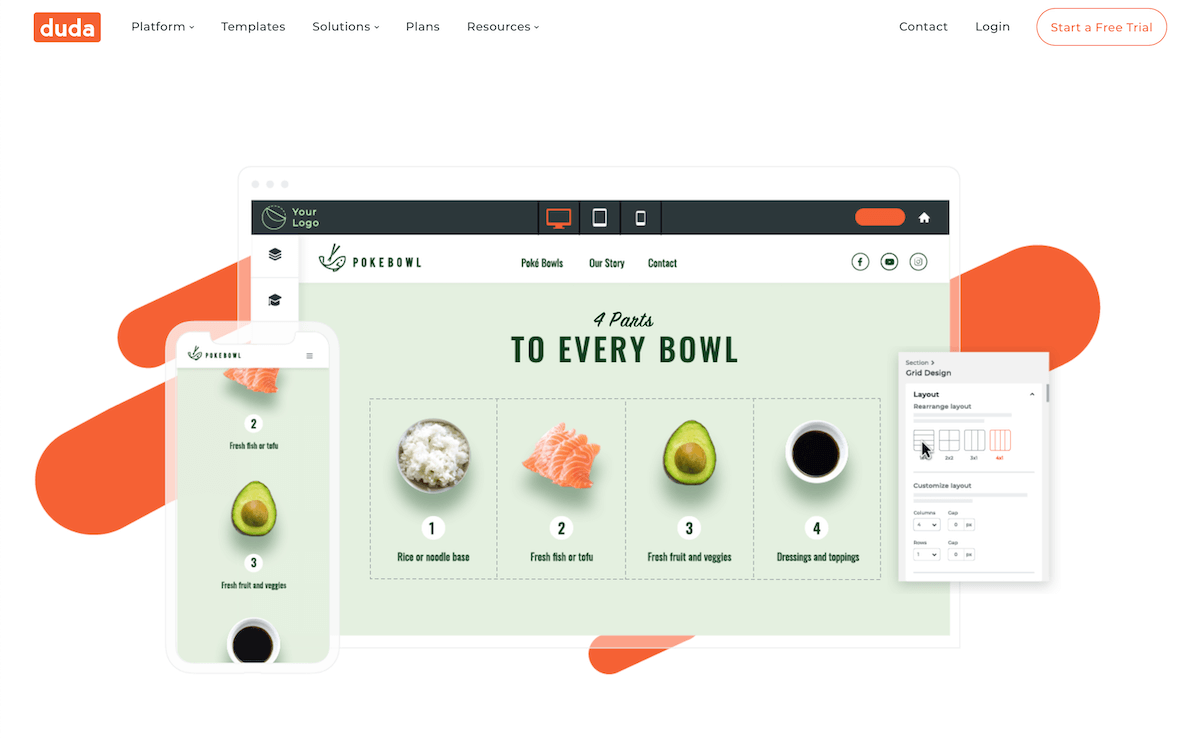 Duda is a website platform that solves all your problems, reduces your costs, and gets you better results. Their systems support over 14 million websites and have earned them many highly reputable awards.
"Every Duda website is automatically optimized for lightning-fast loading and great out-of-the-box SEO." -Duda.co
In summary, they are an all-in-one solution for building, hosting, maintaining, and ranking websites.
What Does a Law Firm Need from a Website Builder?
It might seem that the needs of a law firm aren't much different than, let's say, a real estate company. But they are.
First, a law firm needs a website builder that is highly performant in search engines. More so than just about any other industry. That's because competition is fierce in the legal industry, and every (milli)second counts when it comes to page load time.
Second, a law firm doesn't need much functionality but rather a highly streamlined system to develop high-converting websites. Unlike a real estate company that needs to integrate with an MLS, law firms need to present themselves with a signature design and relevant content. Not much functionality there!
Lastly, because the legal industry is increasingly competitive, law firms must ensure that their website builder won't consume their valuable budget. I've built a website on every major content management system/website builder, and let me tell you, the "time to launch" is significantly different between them. We need to ensure you have money left over to invest in marketing your website. Every dollar counts.
So to support my claim, I'm going to show you how Duda accomplishes the following qualities:
It's highly performant.

It's streamlined for your needs.

It will save you money.
Duda's Performance
Speed is now a ranking factor in Google's search algorithm. Tuning your website to be lightning-fast is a must for lawyers.
On platforms such as WordPress, you are responsible for tuning the platform for performance. In a separate article, I cover over 20 ways to make WordPress faster. It's a lot of work and requires a lot of knowledge. Even after implementing all optimizations, it's still challenging to match Duda's performance.
On Duda, you don't have to do much besides be cognizant of what adding a video will do to page load time.
Duda's engineers are constantly finding ways to make their websites even faster. 
Here are some ways they accomplish these ridiculous speeds:
Only load "above the fold" code first

Lazy load all images below the fold

Lazy load CSS

Lazy load widgets

Optimize images
Alright, sorry for getting technical. Let's look at pictures 🙂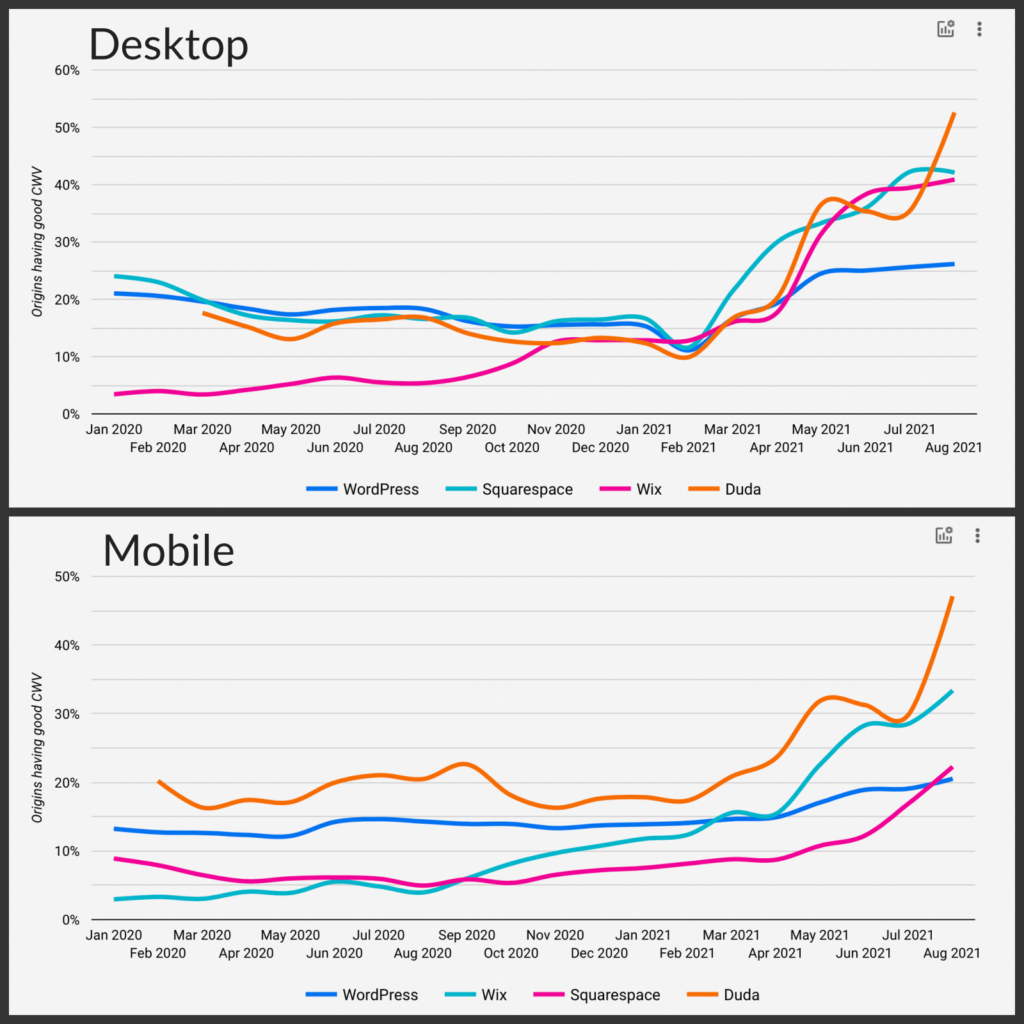 These graphs show performance data from millions of websites that use popular website platforms. The higher the line, the better the score. Duda is crushing it (WordPress is not)!
Take Away: From the perspective of performance, Duda is the best website builder for lawyers.
Duda is Streamlined for Lawyers
The needs of a website builder for law firms are simple. The platform must enable the lawyer to create compelling designs that look great on mobile and desktop and ultimately drive people to call, chat, or fill out a form.
Duda is perfectly aligned with those capabilities, which is another reason why Duda is the best website builder for lawyers.
The website platform is also easy to use. Whether you are a beginner or a pro, there's a lot Duda has to offer.
Take Away: Duda's capabilities are precisely what lawyers and law firms need.
Every Dollar Counts. Spend Them Right.
There are two primary ways you will save money by building on Duda:
Duda enables rapid website building.

There are almost no maintenance costs.
With a click of a button, I can create a Duda website and has all the tools I need to get going. In contrast, WordPress requires you to set up a server, go through the install, purchase and download the plugins you need (such as a page builder), and then you can start building.
Duda has all the tools you need to manage the lifecycle of a website (building, providing feedback, launching, and maintaining).
With Duda, you have:
Free and lifetime SSL certs.

Intuitive page builder.

Hosting (max $19 per month).

Automatic updates.

Comment tool.

SEO fields and tools.

Much more.
Duda is managed on their platform, unlike WordPress, which is managed on your server. That fact means you only have to pay for hosting, and that's that (technically, they use AWS for servers, but they manage it all). No hefty maintenance and management fees are needed here!
You can save thousands of dollars on the initial website build, maintenance fees, and ongoing upkeep.
Take Away: Using Duda will save you thousands of dollars which you can allocate towards marketing your law firm's website.
If You Build It (and Market It), They Will Come
Use Duda before your competition, and you'll have a significant advantage. Not only can you build and maintain a website for less money, but you will also have a better outcome.
The foundation of your website is instrumental to driving results. Duda is a strong foundation and ultimately the best lawyer website builder.