As in-house legal marketers, all elements of how our firm's brand is communicated tie back to us. From case wins for high-profile clients, to talent acquisition and retention initiatives, these communications comprise a law firm's culture and messaging, which aligns with the firm's brand reputation and marketing. Missing out on the successful implementation of best practices will cause firms to lose rainmakers or high revenue clients. This is why it is primarily up to us to ensure we have our finger on the pulse of what's next in firm culture and innovation. This article takes an in-depth look at one of the areas of innovation that has been a hot topic lately, Environmental, Social, and Governance (ESG), including what it is, its benefits, and successful implementation throughout your firm.
What is ESG?
ESG is a practice applied to businesses concerning their performance in each respective category – environmental, social, and governance. A law firm might ask itself, "What are we doing to promote best practices and contribute to a better and more-evolved future for each element?"
For example, while Diversity, Equity, and Inclusion (DE&I) efforts have been an essential yet inevitable topic for all businesses, including law firms, ESG incorporates this into the 'Social' portion of this all-encompassing initiative. Implementing ESG efforts allows law firms to bolster their culture and brand by contributing toward a global cause to create a better future.
Our level of involvement in this effort shapes the way clients make decisions when selecting counsel and how we attract, acquire, and retain talent.
The Benefits of ESG
"There is a growing expectation that all businesses must step up and take responsibility for delivering positive outcomes for the environment and society," said Tahera Mandviwala in the International Bar Association's ESG Toolkit for Law Firms. As we all strive toward a better future, society, and world to live in, we must do our part within the legal community to ensure positive change. As legal marketers, we also perform as change agents and are at the helm in driving innovation within law firms.
The successful implementation of ESG can begin as a departmental initiative which can later be reverberated throughout your firm's internal culture to lay the foundation for your ESG external initiatives and brand awareness. If done correctly, your firm's internal and external efforts toward ESG will become synonymous with your firm's reputation.
An added benefit of ESG efforts, and perhaps the most significant incentive to get partner and management buy-in, is securing work from top-tier clients and acquiring and retaining talent. As ESG becomes a worldwide effort toward a greater goal, more companies and individuals heavily scrutinize who they choose to do business with; those with ESG practices in place have a competitive edge in securing clients and talent. Clients and employees (existing and potential in both spheres) are looking to the firm's culture more than ever before when making decisions while being highly discerning.
This presents a more competitive landscape amongst law firms. This competitiveness drives the ESG force in holding law firms accountable for best practices as we all attempt to be the leading innovators of these initiatives.
Implementing an ESG Strategy
Success is inevitable when marketing works with teams to provide the ESG strategy. As legal marketers, we hold the keys to the firm's brand, and implementation is heavily up to us and the story we want to tell within our firm's brand, industries, and clients.
Below is an infographic provided by IBA ESG Toolkit for Law Firms (September 2021) page 5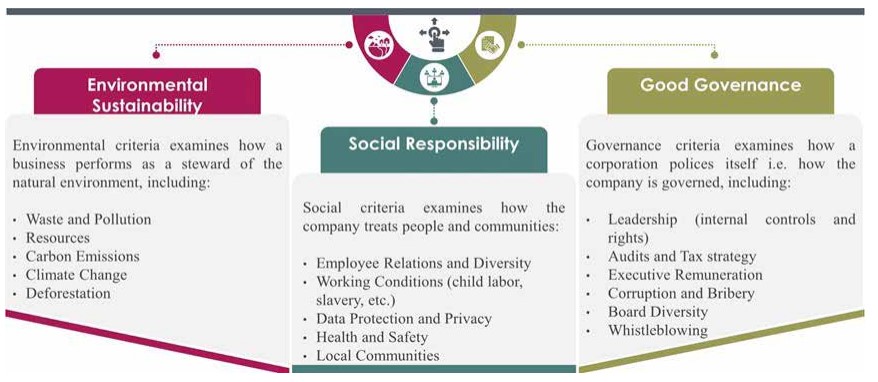 Beginning implementation by assessing your firm's current practices in each category is imperative. The above infographic illustrates subcategories to guide you in evaluating how your firm measures up toward each element. Once you have analyzed each point, you will have a good idea of your Strengths, Weaknesses, Opportunities, and Threats (SWOT Analysis) to construct your firm's ESG strategy.
In developing your ESG strategy and considering the SWOT analysis, prioritize each issue. This is a lengthy process, and correct implementation is vital for building lasting systems to be adopted by key stakeholders to lay the framework for all employees to implement the same practices.
Similarly, do not neglect to inquire how your firm's brand is relevant to each category, including the work you do and the clients you serve. This is a great way to bridge the gap in communicating with your clients and your shared industries on their efforts toward incorporating ESG. For example, a great way to keep the lines of communication open is to understand your client's commitment and efforts toward offsetting carbon emissions; this understanding enables you to make similar considerations when putting your policies in place to align with your client's goals and values.
The rollout of ESG-related policies is a significant undertaking yet highly necessary for law firms. Some  ESG-related policies may already be in place on your firm's website and external messaging (DE&I Initiatives and Policies, Environmental Policies, etc.), but a master ESG Mission Statement is necessary for a holistic approach to addressing the internal and external needs for communicating these efforts.
Depending on the size and capabilities of your firm, it may be beneficial to hire a consultant to help guide your firm in this process.
Continued efforts may include hosting monthly, or quarterly meetings focused on an ESG topic (make it internal and external to connect attorneys and clients for a shared learning experience). Depending upon your firm's scale and relation to certain efforts, go a step further and offer to host/participate in ESG-related panels with a key client to connect them with their target audience. Do not forget to share these experiences on social channels to bring your firm's ESG efforts full circle.
A final message: ESG is an ongoing effort that is constantly changing and evolving. Implementing a few of the initiatives mentioned above are steps in the right direction and, when applied as a continued practice throughout your firm's annual marketing efforts, will chart your firm on a course for ESG success.
Sources: