Attorney at Law Magazine first premiered in November 2009 in Phoenix, Arizona. Founder and CEO Kenneth Minniti, a well-seasoned trade magazine publisher, saw a need for a magazine for and about lawyers in the Phoenix market. He dove in head first.
Since the first issue, the magazine has taken root in the Phoenix market and spread nationally to become well-established in markets like Minneapolis, Raleigh, Cleveland, Los Angeles, and Dallas among others.
Now a national digital publication with local print publications dedicated the local legal market, Attorney at Law Magazine has grown a lot since Mr. Minniti first entered the legal industry. Over the years, the magazine has evolved as print media has changed and the legal industry has adapted to changing technologies. No matter the format or the platform, the core vision of the magazine has remained unwavering — sharing the lives, the stories and the ambitions of today's lawyers.
Here's a look back on the past 10 years:
2009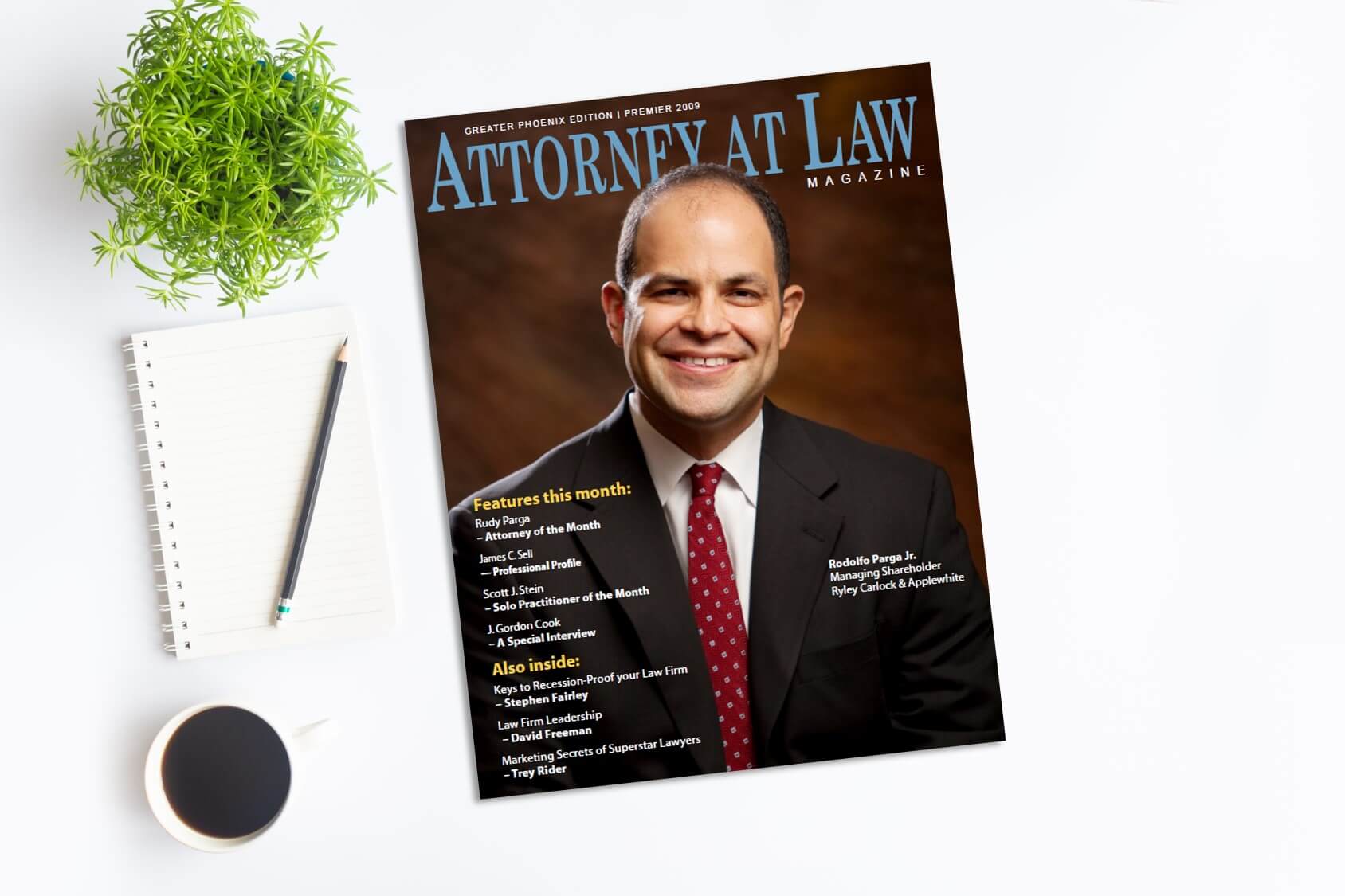 In the premiere issue of Attorney at Law Magazine Phoenix, we featured Attorney of the Month Rudy Parga.
In the second issue of the year, December 2009, we featured Grant Woods as the Attorney of the Month.
2010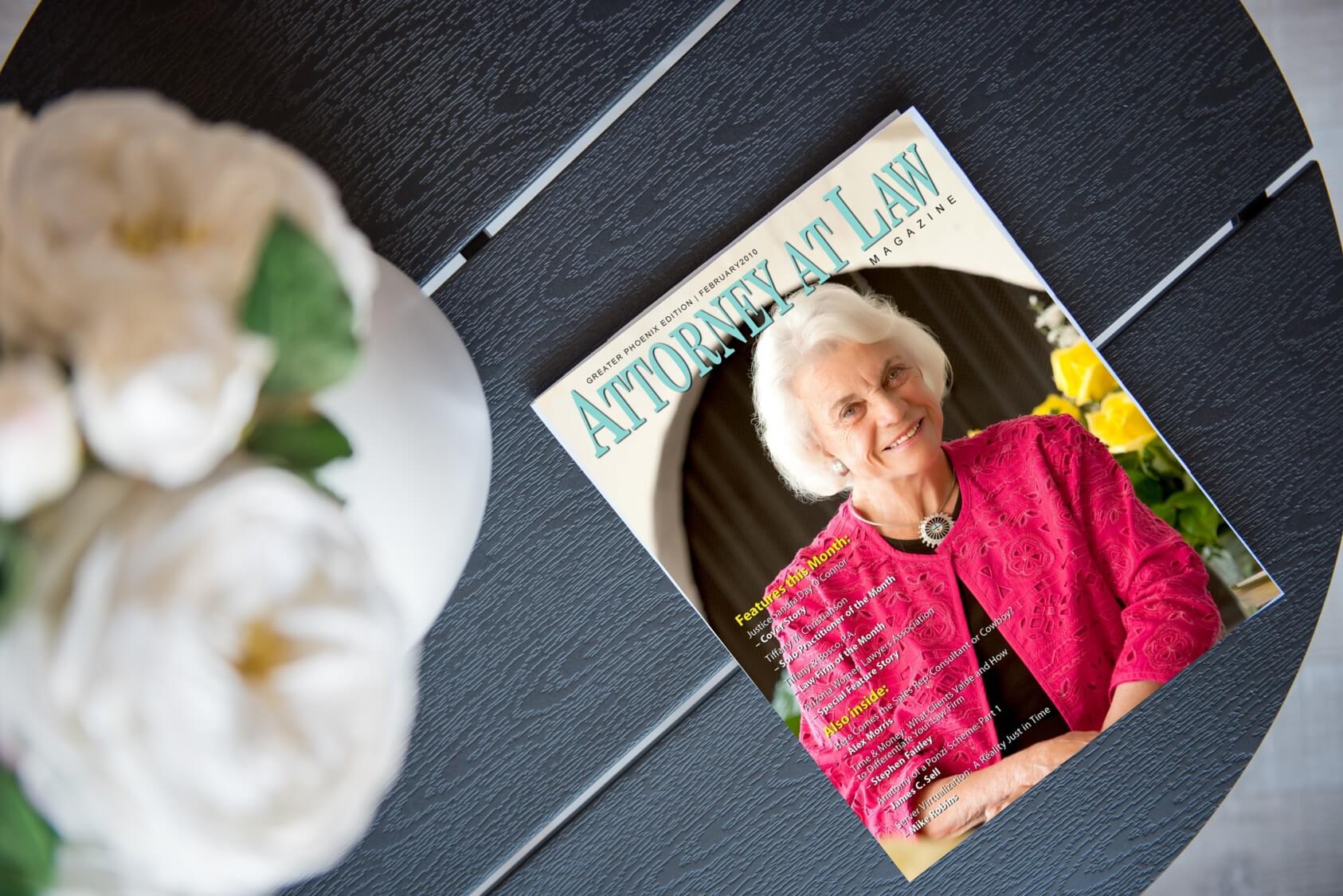 In 2010, Attorney at Law Magazine produced its first year of issues featuring top attorneys including Justice Sandra Day O'Connor and well-known NFL referree Ed Hochuli.
The year also featured well-known local attorneys like Mike Kennedy of Gallagher & Kennedy, Kenneth Van Winkle of Lewis and Roca LLP, Randy Nussbaum of Nussbaum & Gillies PC, and Lawrence Scarborough of Bryan Cave LLP among others.
2011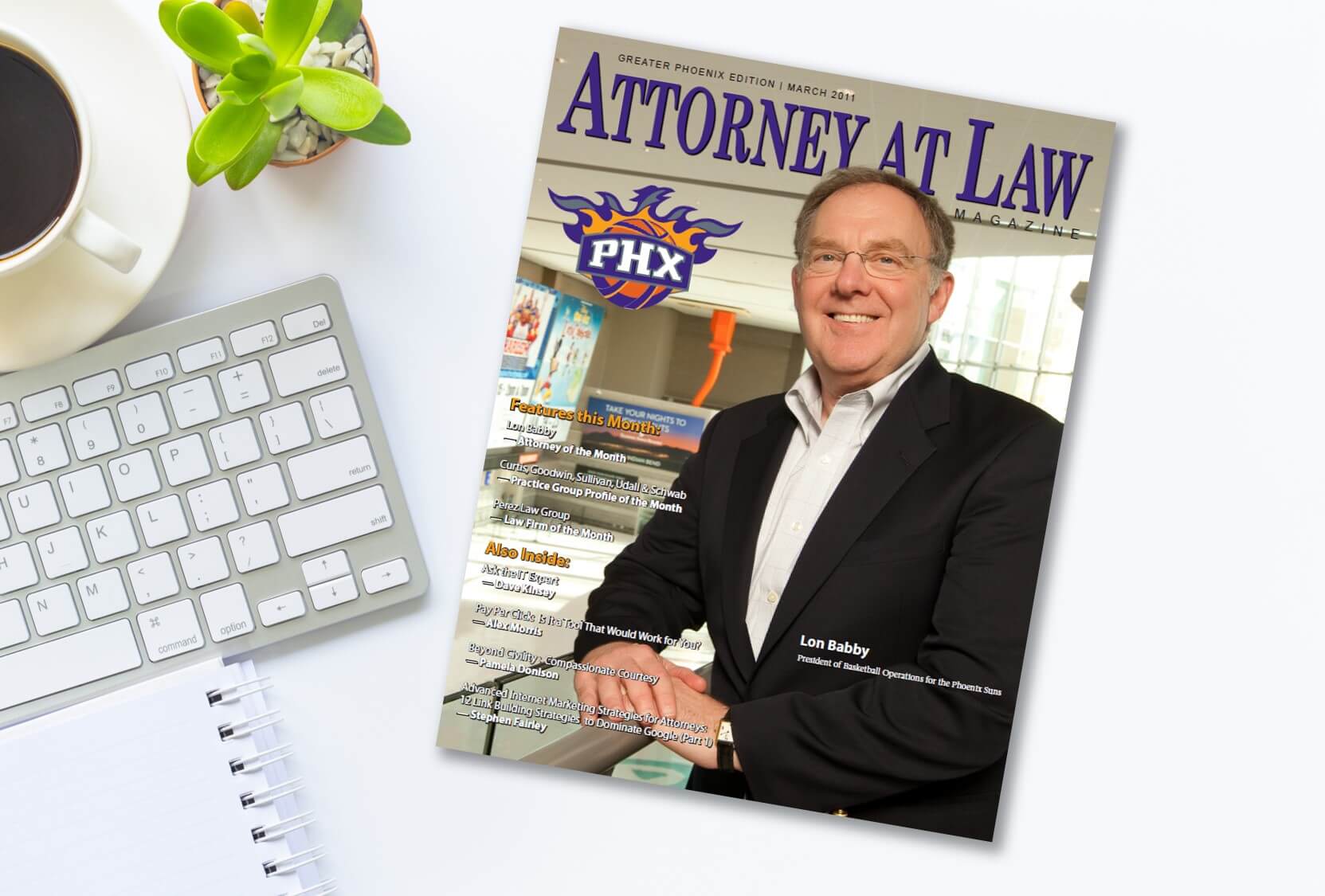 In 2011, the magazine took flight in several cities nationwide, including Miami. In Phoenix, the magazine continued to grow welcoming aboard a team of experts writing columns on their niche including long-time Technology Contributor Dave Kinsey.
This year, we featured more local legends including Michael Tiffany, Lon Babby of the Phoenix Suns, Matt Dana, David Cantor and the"Red Phone" Lawyers Marc Lamber and James Goodnow.
2012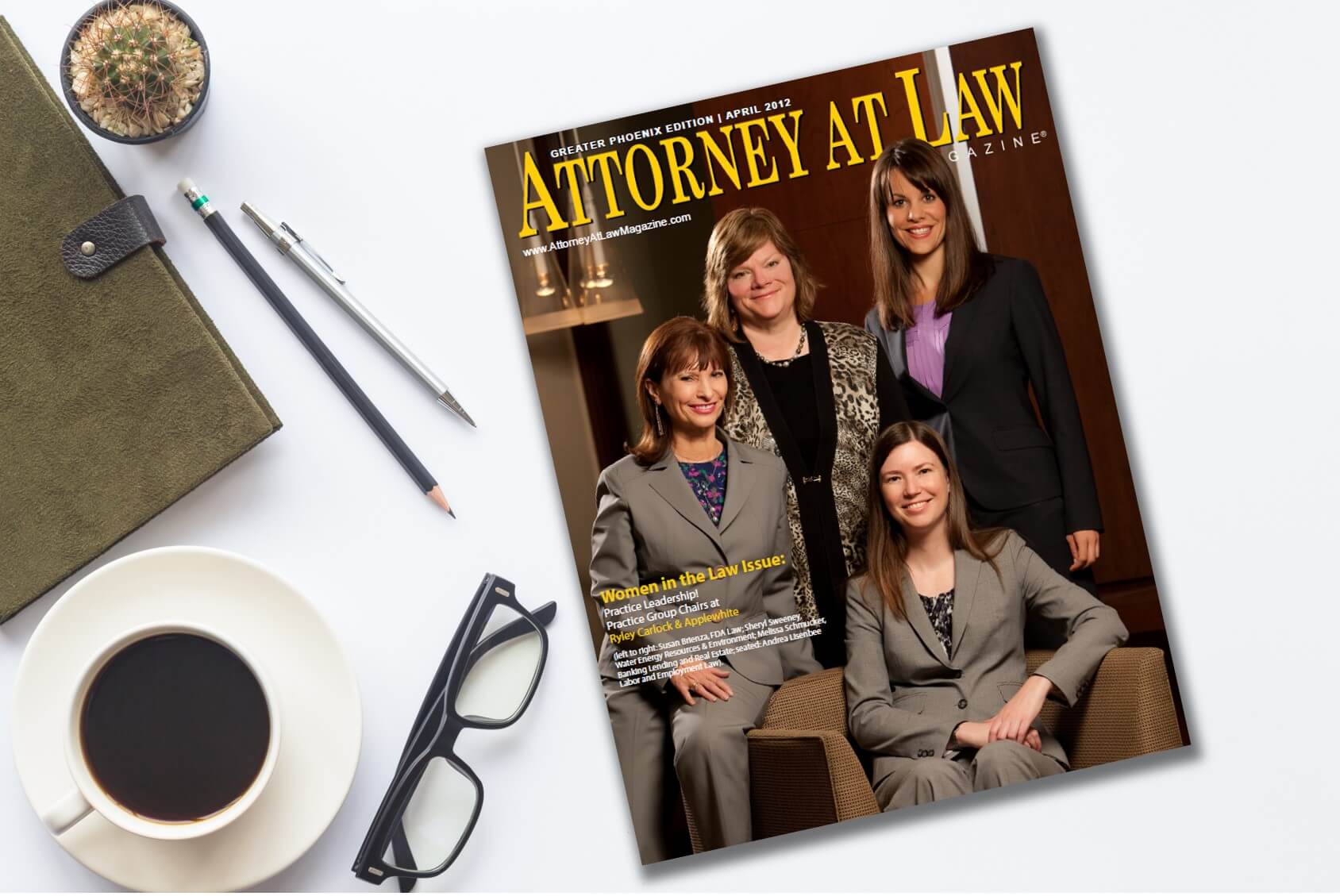 In 2012, the magazine hit its stride nationally, opening another long-time edition in Minnesota. In Phoenix, we produced our first Women in Law Special issue featuring the women of Ryley Carlock & Applewhite on the cover. Over the years, this annual issue has become one of the most anticipated issues.
Additionally, this year brought features on well-known attorneys like Knox Kimberly, Daryl Williams and Rick Ross, as well as some features on local law firms including Breyer Law Offices, Tobler & Associates and The Nolan Law Firm.
2013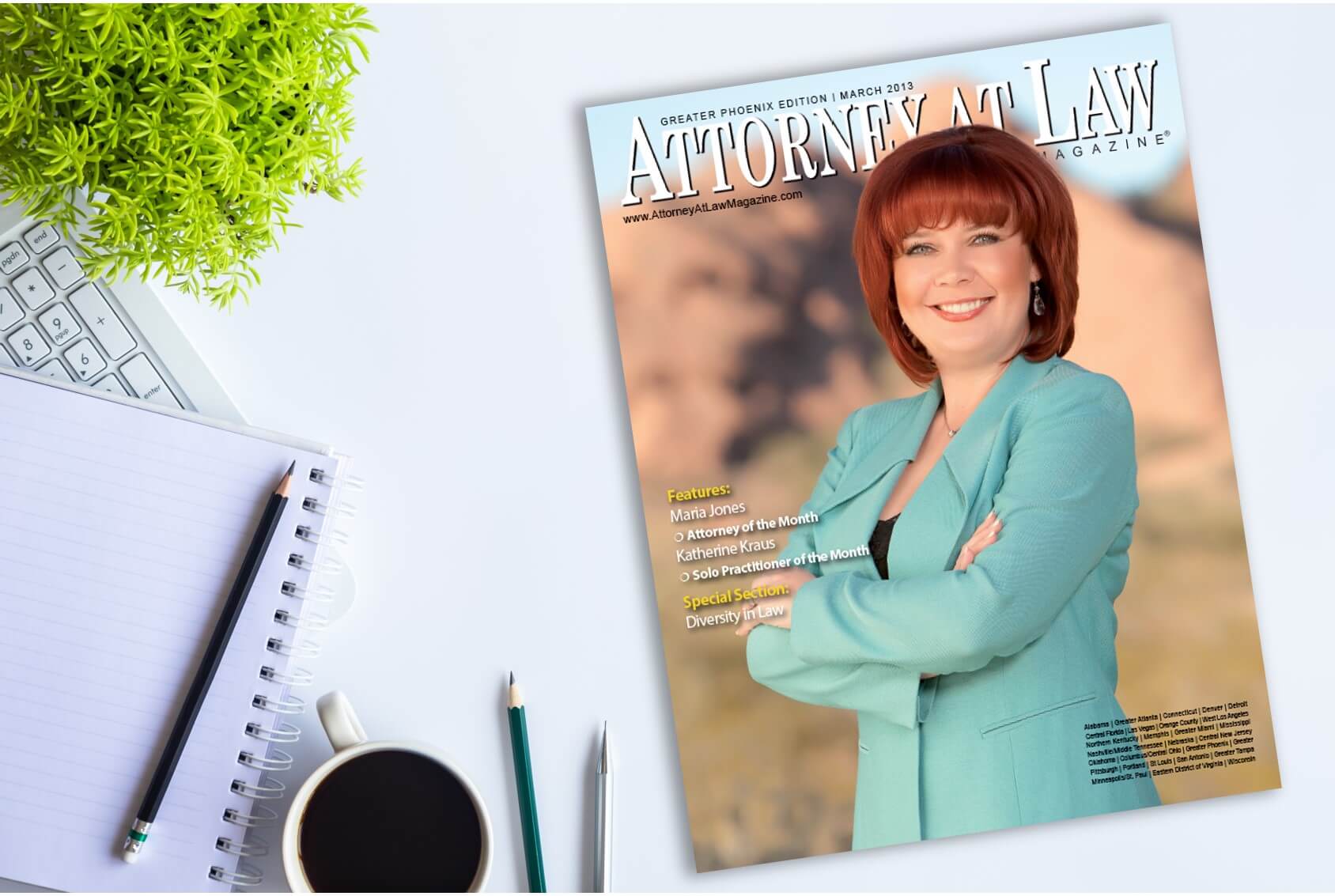 In 2013, Attorney at Law Magazine produced it's largest issue to date in March. This Diversity in Law Special Issue was a huge hit in the Phoenix market. This issue sparked a continued effort to offer a balanced profile of the lawyers in our community.
This year also brought about one of our most creative photo shoots in which some well known puppets made a cameo — Guy Brown's Attorney of the Month cover story.
2012 also brought about our first father-son cover shot when we featured Attorney of the Month Don Fendon.
2014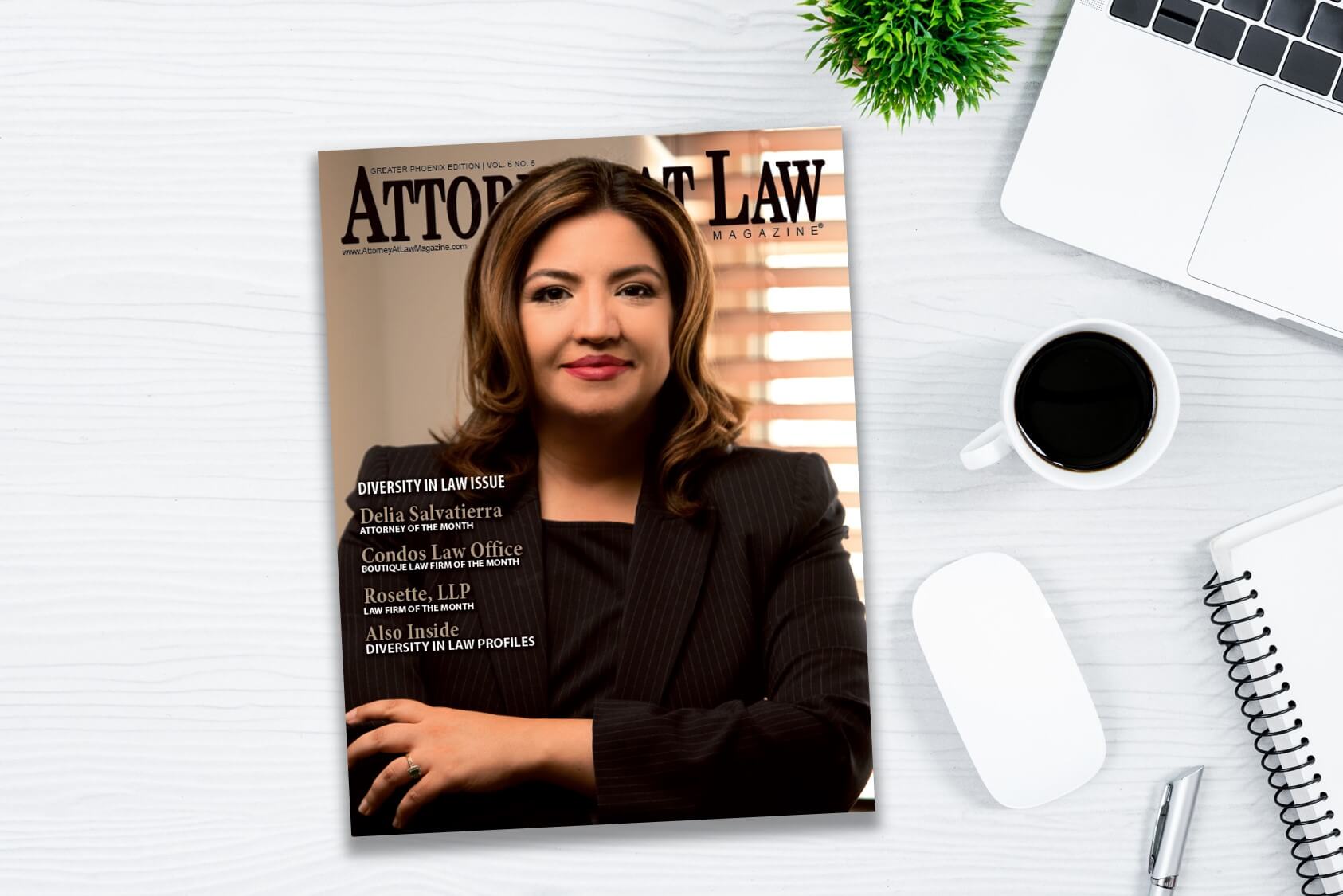 In 2014, Attorney at Law Magazine kicked off the year with some experts, interviewed different forensic experts in a variety of unique fields in this first and only Expert Witness Special Issue. 
The year also included cover features of Dean Doug Slyvester of Arizona State University law school, criminal defense attorney Adam Feldman and Delia Salvatierra on the cover of the second annual Diversity in Law Special Issue.
2015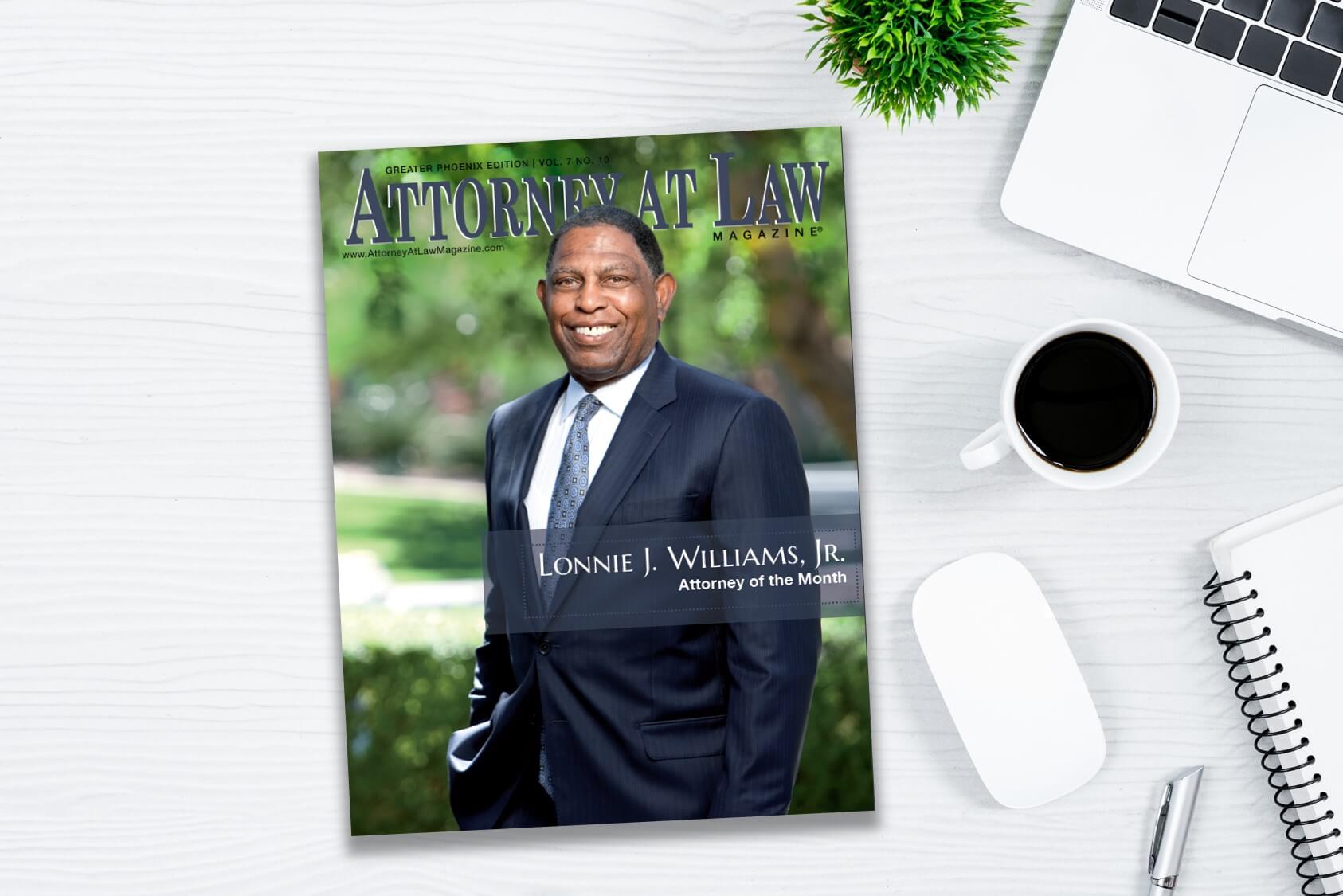 In 2015, Attorney at Law Magazine Phoenix produced features on some well-respected attorneys in the local community including ethics attorney Lynda Shely, criminal defense attorney Howard Snader, franchise lawyer Dan Warshawsky, and employment law attorney Lonnie J. Williams, Jr. 
2016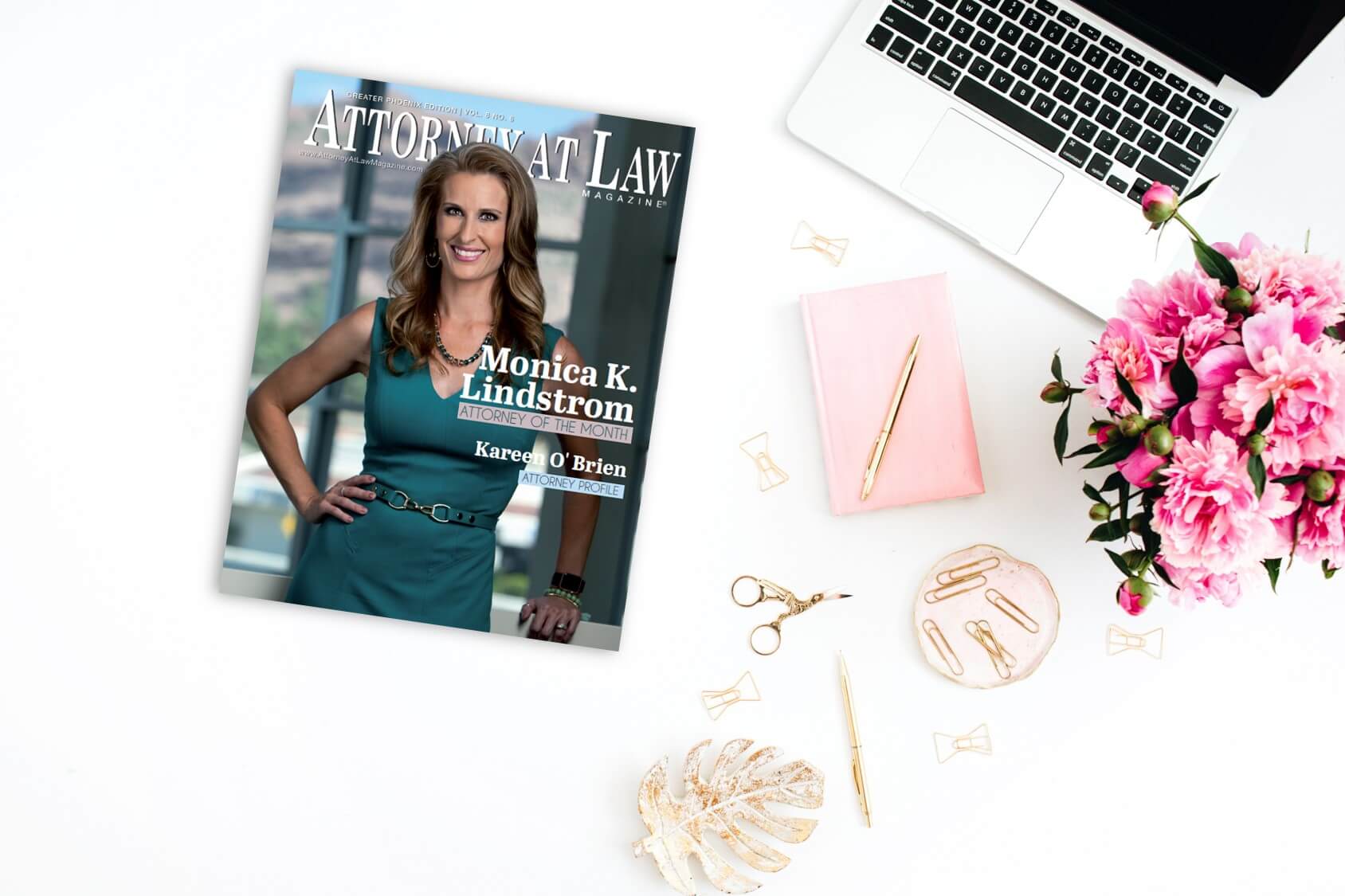 2016 was a year of women, featuring women lawyers on the cover of two-thirds of the issues, including Paige Martin, well-known radio personality Monica K. Lindstrom, and the women behind The Storey Lawyers PLC. 
Another special event in 2016 was the Attorney at Law Magazine interview with Arizona Supreme Court Justice Clint Bolick.
2017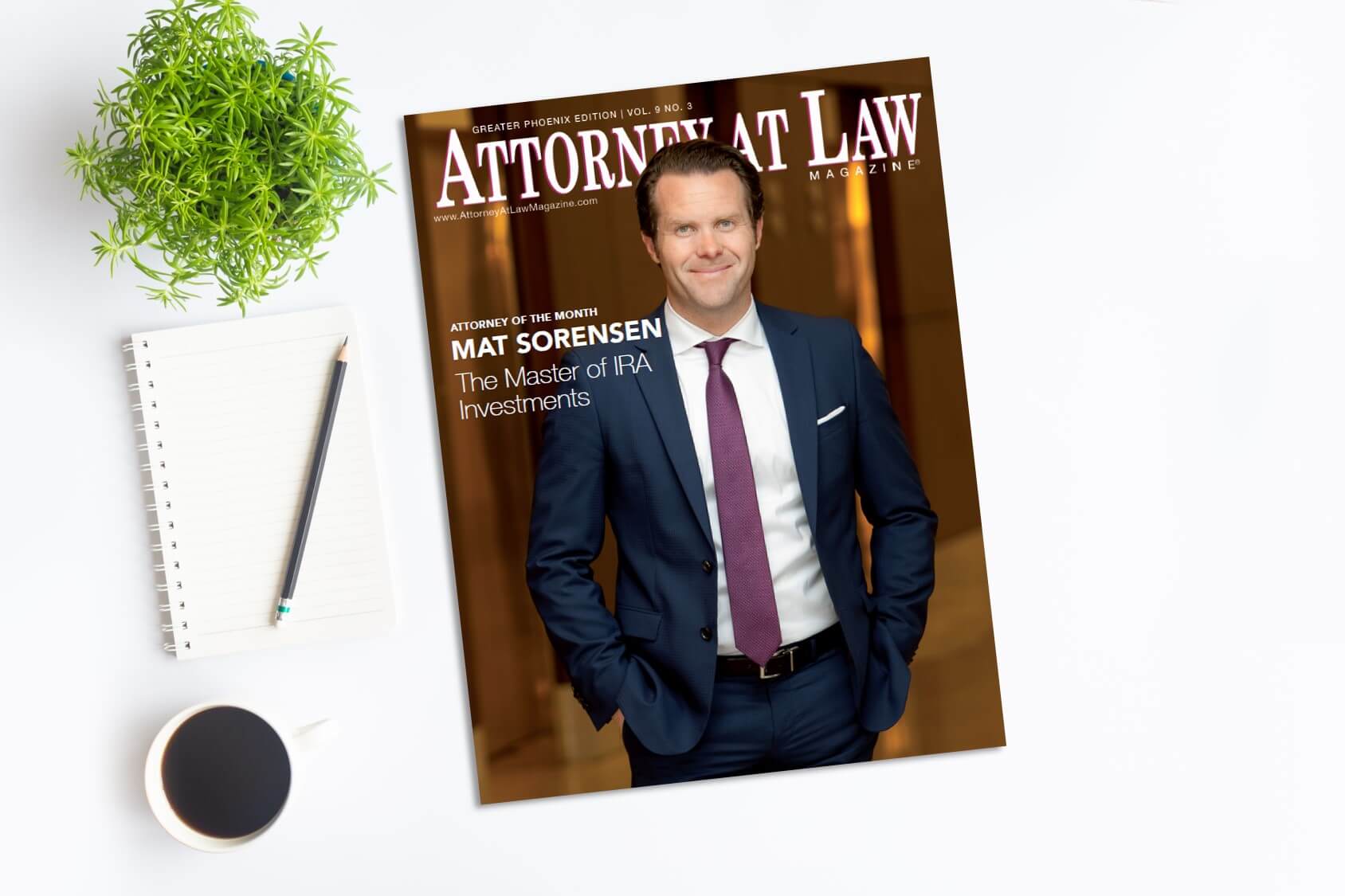 In 2017, Attorney at Law Magazine featured workers' compensation lawyer Robert Wisniewieski, the Master of IRA Investments Mat Sorensen and business divorce lawyer Robert Royal.
2018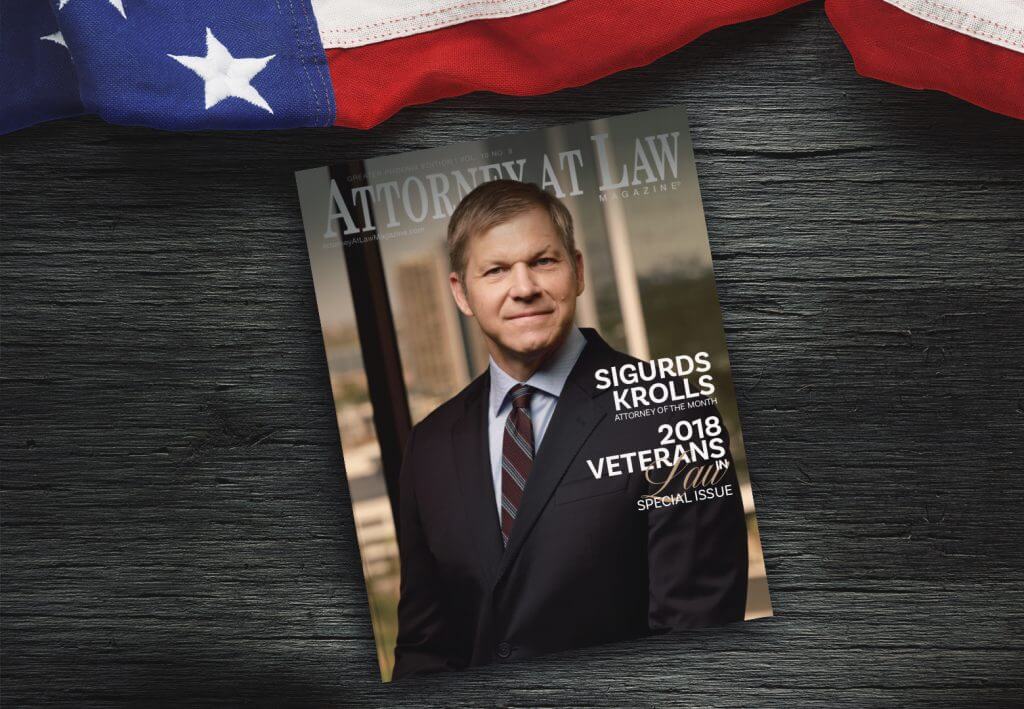 This year brought back some new and old faces, including James Goodnow, Tait Elkie and Christopher Zachar.
This year also included our first Veterans in Law Special Issue featuring men and women who have served their country both in the military and in the practice of law. It was an honor to share their stories with our readers.
2019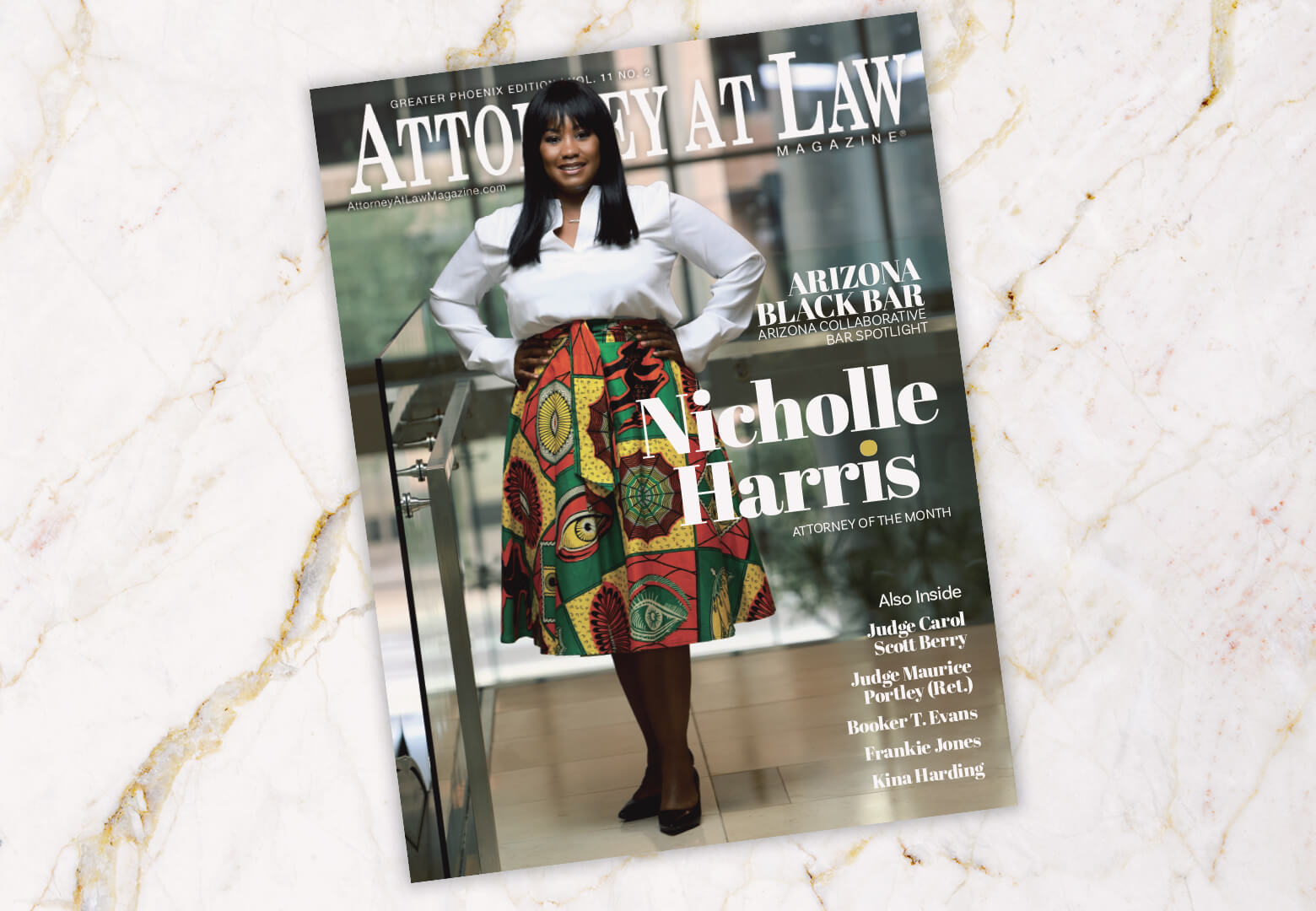 Our 10th year is off to a strong start. We have partnered with the Collaborative Bar Association to bring you a few special sections on local diverse bar associations throughout the year. To date, those sections have featured the Arizona Black Bar and the Arizona Asian American Bar Association. Los Abogados will be featured in the upcoming issue.