What type of valuation engagement is needed? This is a question I have to ask, and, in some cases, help determine in order to define the scope of what I will be engaged to do. The answer to this question could be a conclusion of value or a calculation of value under the valuation standards that I adhere to. Depending on the answer to the question, the following can be affected – cost of the engagement, thoroughness of the document request and production, timeline to produce a valuation report, use of the report, and ability to testify. With the topic of the article introduced, let us dive in to the two types of engagements.
As noted above, there are two types of engagements: a valuation engagement and a calculation engagement. In general, the valuation engagement is more in depth and traditionally carries more weight from the user's perspective. I have prepared a table to compare and contrast the two types of engagements in a family law context.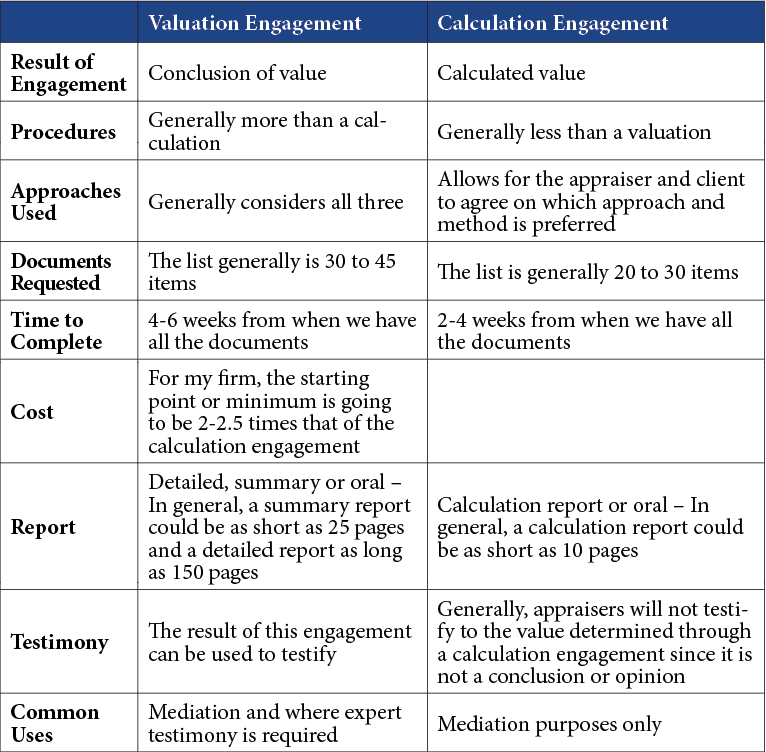 As you can see, the valuation engagement is more in depth, includes more procedures and costs more. But with that comes the ability for an appraiser to testify to their conclusion. We often get the question – Can you prepare a calculation for mediation purpose and then change to a valuation later? Answer – yes, we can. However, I want to acknowledge my personal hesitations. Allow me to explain.
The calculation engagement report will include required language acknowledging that if a valuation engagement had been performed, the value may be different. Though the standards allow for that, I am anxious about that actually happening. Thankfully it has not happened to date. Accordingly, when I am scoping the engagement, if there is a likelihood that the case will go beyond mediation and to trial, I believe it is prudent to start with a valuation engagement. However, if it appears that parties are willing to settle and resources are limited, a calculation engagement could be the appropriate decision.
In closing, the discussion and decision early on between the attorney and appraiser as to what type of engagement is needed is very important. Hopefully, this brief review of the types of engagements we can prepare has been helpful as you consider the next case where a business valuation may be needed.