Game Changers Summit 2024
2024 Date: TBD
Website: www.crispsummit.com
Price: FOR CRISP COACH CLIENTS ONLY. Contact Crisp for more details.
The Game Changers Summit is the #1 Law Firm Growth Conference on the planet, and for good reason. Join thousands of the most successful and fastest-growing law firm owners in the country for a two-day conference full of learning, networking, and transforming — but only if you're in the right group, because for the first time ever, this year's Game Changers Summit is exclusively reserved for Crisp Coach clients.
With past speakers like Arnold Schwarzenegger, Shark Tank's Kevin O'Leary, Crisp Founder & CEO Michael Mogill, and the owner of the largest personal injury firm in the United States, John Morgan, you are sure to leave with elite-level growth strategies to help you stand out from the competition and dominate your market.
With over 12,000 attendees since 2018, this event gets better and better every year. In 2022, Crisp gave away three luxury cars to Summit attendees — including Michael's very own Tesla — and we can't wait to see what they've got in store for the Crisp Coach clients who will be in attendance this year.
If you're ready to up your game, apply to join the Crisp Coach program and get ready to experience a conference that separates itself drastically from the competition. You won't ever go to another conference like this again, so make sure you're eligible to be there in 2024. History tends to repeat itself, so make sure you're all set to secure your spot at this November's event.
Legal Marketing Association Annual Conference
2024 Date: April 3-5, 2024
Location: San Diego, CA
Website: https://lma23.legalmarketing.org
Price:
Early Bird Registration – Register & Pay by Feb 21, 2024
$1,695 – Member
$2,343 – All Others
Full-Conference + JOIN LMA –
$2,293**
$2,741
THAT'S LESS THAN THE NON-MEMBER CONFERENCE RATE ALONE!
Click the link to get more information about ticket bundles.
The Legal Marketing Association Annual Conference is the largest global meeting exclusively for legal marketing and business development professionals. Over the past 38 years, this conference has brought together legal marketing and business development professionals of all experience levels, from CMOs to entry-level specialists, at firms of all sizes with the goal of advancing thought leadership and making valuable connections with solution providers fellow legal marketers, and consultants. LMA has an adaptive agenda that will allow you to customize your own agenda by choosing the sessions and experiences that will be most beneficial for you at every point throughout the day. Attendees will get to hear expert speakers that will help them stretch way beyond their current ways of thinking. This conference will help you:
Drive successful outcomes
Make an impact
Differentiate yourself and your firm
Amplify your successes
The SUMMIT
2024 Date: January 18-21, 2024
Location: Loews Miami Beach Hotel, Orlando, Florida
Website: https://ntlsummit.com
The Trial Lawyers Summit is a distinctive conference attended by the most well-known civil plaintiff and criminal defense lawyers in the U.S. Lawyers and law firms that want to perfect their practice's trial and business management skill sets. Attendees are welcome whether they have yet to try their first case or they have tried too many to count. They will be treated to engaging networking events as well as relevant and timely legal sessions to help bolster their practice. The Trial Lawyers Summit focuses on:
Digital Marketing
Mass torts
Criminal Defense
Women's leadership
Trucking and automobile litigation
Traumatic brain injury litigation
Catered meals and remarkable amenities are other benefits conference attendees will enjoy at this lively and highly educational summit. CLE credits are also available, and it's a family-friendly conference if you'd like some guests to tag along. 
ABA TECHSHOW
2024 Date: February 14-17, 2024
Location: Hyatt Regency Chicago, Chicago, Illinois
Website: https://www.techshow.com/
Price: 
Early bird pricing:
$800.00 – Law Practice Division Members
$900.00 – ABA Member
$1,000.00 – Non-member
$100.00 ABA Law Student Members
Regular Pricing if purchased after January 12, 2024
$1,000.00 – Law Practice Division Members
$1,100.00 – ABA Member
$1,200.00 – Non-member
$125.00 ABA Law Student Members
Never before has technology been so integrated into the practice of law. The legal field is now highly dependent upon technology, both in and out of the office. Tech makes the practice of law more efficient, effective, and manageable. The ABA Techshow brings lawyers, legal professionals, and technology together and provides several CLE offerings. If your firm needs help integrating more technology and understanding its features and benefits, this conference is not one to miss. Lasting about three days, this conference gives attendees ample time away from the office but not too much. For over 35 years, the ABA Techshow has provided invaluable experiences and information to those in the legal field. Full conference and virtual CLEs are available to those who qualify.
Mass Torts Made Perfect Seminar
2024 Date: April 3-5, 2024
Location: Las Vegas, NV
Website: https://mtmp.com/
Price: Pricing varies, check out this link for more details: https://mtmp.com/register/
This seminar is essential if you or your firm handles mass torts or class action lawsuits. The Mass Torts Made Perfect Seminar boasts more than just a conference; it's a place where legal professionals connect, network, and learn about the top current class action and mass tort lawsuits. These are biannual conferences that also feature webinars throughout the year covering essential topics in this law niche. Attendees can choose from various tracks, including:
Mass Tort Projects

 

Business of Law
Class Actions

 

Nuts and Bolts
Paralegal Skills
They can easily move among tracks to build a conference that provides the most benefits for them. Topics covered include:
Efficient financing
Innovation to help your firm grow
Google algorithm
Leadership
Intake and conversation
Inclusive and multicultural marketing
Lanier Trial Academy 7.0
2024 Date: June 17-20, 2024
Location: Marriott Marquis Houston, TX
Website: https://laniertrialacademy.com/home
Price: Pricing varies, check out this link for more details: https://lanier.thenationaltriallawyers.org/
Mark Lanier is a highly successful trial attorney. His law firm, the Lanier Law Firm, has won over $20 billion in verdicts, including a single $4.69 billion one. With this three-day intensive trial academy, you can learn to build on their successes. Mark will cover:
Trial discovery
Trial preparation methods
Exhibit preparation
Voir dire
Openings
Direct examinations
Cross examinations
Witness preparation
Closing arguments
This academy also features brand new learning modules for:
Non-Verbal Cues
Time Management
How to Identify Liars
CLE certificates will be provided.
As if this conference wasn't already packed with value, you can feel good knowing some of your money is going to a good cause. All net proceeds will benefit Guatemala SANA, a charitable project bringing hope to the children of Guatemala by providing high-quality health care and education. Attendees can also take a tour of the Lanier Theological Library or participate in the Meadow Golf Tour.
2024 AAJ Winter Convention
2024 Date: February 10-13, 2024
Location: Austin, TX
Website: https://www.justicewinterconvention.org/default.aspx
Price: See registration and pricing details here, https://www.justicewinterconvention.org/register.aspx
It's more crucial than ever to hone in on your trial skills and stay up-to-date with the ever-changing landscape of legal practice. AAJ will provide access to unmatched education to help you advocate for your clients in this time of change. The AAJ 2024 Winter Convention brings accomplished trial lawyers together to discuss the latest trends in trial advocacy and other specialized legal topics. The cutting-edge CLE offerings are designed by plaintiff lawyers for plaintiff lawyers to help you better represent clients and provide you with the opportunity to earn as much as a year's worth of CLE credits.
Here, attendees will network and build powerful connections. They will grow their knowledge and remain ahead of the curve when it comes to the latest developments in their practice areas by attending Section, Litigation Group, and Committee meetings.
ILTACON 2024
2024 Date: August 11-15, 2024
Location: Gaylord Opryland Resort & Convention Center | Nashville, TN
Website: https://www.iltacon.org/home
Price: Member registration will open in early April.
ILTACON (International Legal Technology Association) is one of the longer conferences, with 4.5 days filled with comprehensive peer-driven programs, educational content, and face-to-face networking. At this conference, industry experts and the legal community collaborate to discover effective legal and operational strategies for today's ever-evolving legal industry. ILTACON is recommended for:
Leaders
Managers
Decision-Making Legal Technologists
Professionals New to the Legal Field
Firms of All Sizes
Corporate and Government Law Departments
Academia
G100 Firms
They provide formats to satisfy a variety of learning styles, including learning pathways, panel discussions, hands-on training, and attendee-driven sessions. ILTACON 2024 will feature:
More than 70 educational sessions curated by the ILTACON Planning Committee
A robust exhibit hall
Networking activities designed to grow your network and generate lasting connections
Rainmaker Retreats
2024 Date: Working on Spring and Fall dates for 2024
Location: TBD
Website: https://www.rainmakerretreat.com/upcoming-retreats/
Price:  TBD
Since 1999, the Rainmaker Institute has helped over 20,000 attorneys create successful and sustainable law practices through the implementation of recognized law firm marketing and management strategies. One of the ways in which they do this is through their retreats. Typically, they hold between four and eight retreats per year. They are usually held on a Friday and Saturday to minimize any disruption to your firm or clients. Their conferences include an exciting agenda with over 65 proven step-by-step strategies to cultivate your law firm.
During your retreat, you will:
Develop a Marketing Action Plan that you can begin implementing right away
Discuss your unique challenges with their law firm marketing experts
Receive training on what criteria you should consider when selecting a marketing vendor/partner
Many attorneys find this retreat so compelling and inspirational that they come back multiple times and bring others. The Rainmaker Institute is so confident in their retreats that they offer a 100 percent money-back guarantee. So, you have nothing to lose by checking one out.
Clio Cloud Conference
2024 Date: October 7-8, 2024
Location: Austin, TX
Website: https://cliocloudconference.com/register/
Price: Individual Pass – $599 + $42.02 Fee (Sales end Jan 18th, 2024
Team Pass – $499 + $35.31 Fee
Legal Vendor Pass – $999.00 + $68.84 Fee
At the Clio Cloud Conference, or "Clio Con," attendees can network with thousands of other legal professionals both in-person and virtually. This fun and innovative conference brings thousands of leaders from across the legal and technology sectors who desire to learn, be inspired, and innovate. Industry leaders and visionaries will be providing thought-provoking keynote speeches and discussions.
This conference goes far beyond the everyday practice of law, focusing on well-being and self-care. Attendees receive first access to the Legal Trends Report, released annually during the conference. They can also earn CLE and CPD credits for their participation. Networking with thousands of other forward-thinking legal professionals across the nation is one of the most beneficial aspects of the Clio Cloud Conference. Attendees will likely need two or three days away from the office but also have the option of attending from anywhere virtually.
Legalweek
2024 Date: Jan 29 – Feb 1, 2024
Location: New York Hilton Midtown, New York
Website: https://www.event.law.com/legalweek
Price:  Register at https://www.event.law.com/legalweek/begin for more information.
True to its name, Legalweek is a full week focused on addressing the changing legal landscape. It's here that thousands of legal professionals gather to network, cultivate their professional development, discover topics and strategies tailored specifically to their role, and garner the tools required to get legal business done.
Legalweek programming is developed with input from ALM's legal editorial advisors and an advisory board of fifteen industry experts and is designed to provide a highly engaging experience. Through TED-style talks, panel sessions, and more, this conference covers topics like:
ESG
The Future of Law
Robotic Process Automation Cyber Security
Data Privacy
eDiscovery
Contract Lifecycle Management

 

The latest in legal technologies
If you are a legal leader who needs to restructure, rebuild and reinvigorate your solo practice, law firm, or legal department, Legalweek is designed for you. You will leave with insights that allow you to tackle your challenges and actionable insights.
AILA Annual Conference on Immigration Law
2024 Date: January 18-19, 2024
Location: Jackson Hole, WY
Website: https://agora.aila.org/store/products/view/midwinter-conferenc
The American Immigration Lawyers Association (AILA) 's annual conference is not one to be missed if you practice or support someone who practices immigration law in the U.S. Enhancing peer knowledge is at the core of the AILA mission. This conference includes over 120 substantive sessions, allowing attendees to choose from fundamentals, intermediate, or advanced-level tracks. You'll also find unmatched networking opportunities, insights from top immigration experts, and an exhibit hall with trending tools, techniques, and services. 
Attendees can participate in person or through an online option. This four-day event will feature educational sessions and rich networking opportunities. Topics to be covered include:
Ethics and risk management best practices
Family, probate, tax, and public benefit issues
Non-immigrant visas
How to have a long, prosperous, healthy legal career
Students who win the H-1B lottery
Pandemic errors
Invalid divorces or marriages
Asylum law
Hardship waivers
Criminal convictions and their immigration consequences
Issues in worksite enforcement
Well-being practices for the entire office
CLEs are available, and the conference closes with an annual celebration.
The Benefits of Attending Legal Conferences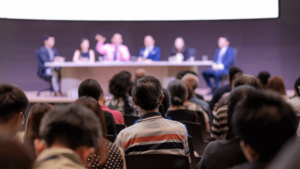 Whether you are an attorney, paralegal, or other legal support professional, attending legal conferences have many valuable benefits. It doesn't matter if you are new to the legal field or have spent decades in it; there is always more to learn and gain by attending a conference. Benefits of attending a legal conference include:
Continuing Education—receive the most up-to-date information to help you stay relevant in your practice and give your clients the best chance at success, no matter their legal matters.
Networking/Relationship Building—grow your legal network and get your name out there by networking with others from across the country. You never know the connections you might make and what might unfold from them in the future. The legal profession is highly competitive, but you can ensure that your skills, strengths, and accomplishments are noticed through networking at conferences.
Marketing/Promotion—receive the most up-to-date information on marketing and promoting your practice online and through other methods. Learn new tips and tricks to make your marketing dollars work harder for you.
Time away from the office—sometimes getting some fresh air and a break from the usual day-to-day can help your mental well-being. It can also help you be more productive upon your return.