In our lifetimes, violet hues have become synonymous with the state of Minnesota. Much of that has to do with the 1961 arrival of the Minnesota Vikings on the local sports scene and the popularity of the purple & gold NFL franchise. However, the work-product and predilections of Prince Rogers Nelson for all things purple has cemented that color as Minnesota's own. If still with us Prince would have turned 60 last month.
Others have also contributed to Minnesota's affinity for purple. For instance, purple is the dominant color for the graduates of two prominent Minnesota universities, Minnesota State University, Mankato and the University of St. Thomas. The locally renowned garden center Bachman's conducts its business via a fleet of light purple trucks. In 2017, character Dustin Henderson caused a sensation when, on Netflix's Stranger Things, he showed up wearing a 1986-era dark purple Science Museum of Minnesota brontosaurus hoodie. In 2018, Minnesota hosted the NFL's Super Bowl, marketed under the theme "Bold North" and a purple-laden color palate (with a Prince halftime show "cameo" thrown in for good measure). And if that wasn't enough, the Pantone Color Institute declared that 2018's color of the year is "Ultra Violet 18-3838" (last year that same institute also announced a new shade of purple to memorialize Prince, called "Love Symbol #2").
PURPLE PRIDE & INTELLECTUAL PROPERTY
What does all this Minnesota lavender love have to do with intellectual property? You might be surprised—it touches on all four cornerstones of IP.
TRADEMARKS
As you might expect, a number of Minnesota companies have employed the word or color purple in their brands and have obtained federal trademark registrations for those marks. In 1983, the Minnesota Vikings registered features of its gold and purple jersey colors and has since obtained a registration for the word mark EVERYTHING PURPLE. Belatedly, Prince's NPG Records of Chanhassen is now attempting to register the mark PURPLE RAIN for a variety of goods and services (after an earlier attempt by Paisley Park Enterprises was abandoned in 2012). Target owns a registration for the mark PURPLE SEDUCTIA while Minneapolis-Honeywell owns a registration for the mark PURPLE PEEPER. Purple Power Foods of St. Paul owns registrations to such marks as LIVE WELL, EAT PURPLE! and PURPLE POWER MILK (for a number of milk-related products, including "hemp milk used as a milk substitute"). Clearly, purple sells in Minnesota!
PATENTS
Colors usually have little to do with patents. However, the Purple One is everywhere! In 1994, a U.S. design patent was issued to inventor Prince Rogers Nelson, for a "Portable, Electronic Keyboard Musical Instrument" (which he dubbed the "Purpleaxxe") as shown in the picture below.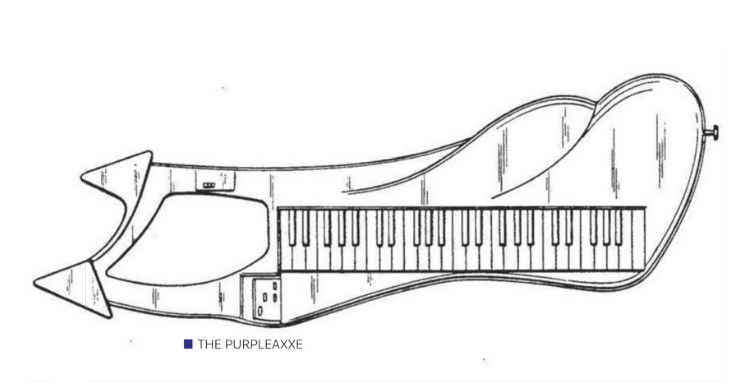 Prince's only patent expired ten years ago this month, so unlike the trademarks and copyrights associated with Prince, this design is now in the public domain. You are free to copy it for your own keyboard body – subject to any other intellectual property rights the Purple One may have secured for it.
TRADE SECRETS
Every NFL team (including the Minnesota Vikings) has a confidential playbook that includes proprietary information about that team, its opponents and its game plans. The secret contents of Prince's music vault have innumerable potential value until released to the public, and after released that material has actual value. These "purple" trade secrets are kind of a big deal.
COPYRIGHTS
If you are an NFL fan, you probably can recite this from memory: "This broadcast is copyrighted by NFL Productions for the private use of our audience. Any other use of this telecast or any pictures, descriptions or accounts of the game without the consent of NFL Productions is prohibited."
For Prince's estate, copyright law provides the primary legal vehicle to control and exploit the artistic content he created. For works he personally created, copyright protection extends until April 21, 2086 (the life of the author plus 70 years). For any work of Prince that is characterized as a work for hire, copyright protection extends for 95 years from the date of that work's first publication or 120 years from the date of its creation, whichever is shorter. This is why the Prince estate is worth fighting about, and no one seems to know its actual value.
PURPLE RAIN / PURPLE PAIN
Although probably unintentional, Prince's "Purple Rain" lyrics reflect some of the historical angst, confusion, and solidarity amongst Minnesota Vikings fans. Read and reflect:
PLAYOFF NEAR MISSES:
I never meant to cause you any sorrow
I never meant to cause you any pain
I only wanted one time to see you laughing
I only wanted to see you laughing in the purple rain
VIKINGS QUARTERBACK MERRY-GO-ROUND:
You say you want a leader
But you can't seem to make up your mind
THE VIKINGS SKOL CHANT:
If you know what I'm singing about up here
C'mon, raise your hand[s] Z. Peter Sawicki and James L. Young