Attorney at Law Magazine Phoenix spoke with Bruce B. May, a real estate attorney with Jennings, Strouss & Salmon P.L.C., about his time playing tight end and defensive end on the Princeton University football team for the Athletes in Law 2020 issue.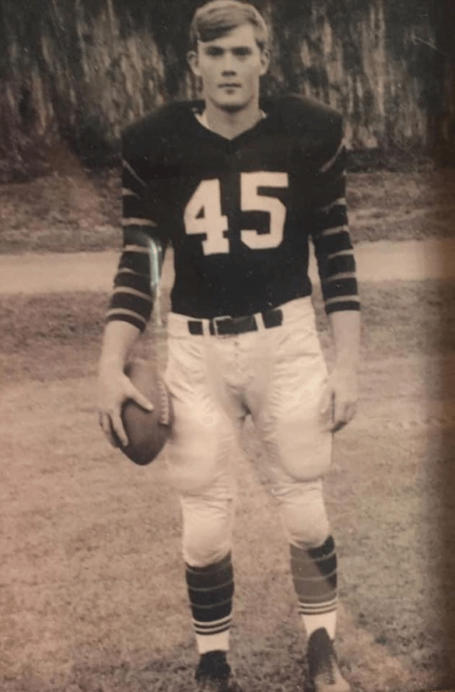 AALM: Tell us about some of your athletic career.
BBM: My first trophy awarded for winning a city-wide grade school foul shooting contest.  It's important, because I only held it once while a picture was taken for the local newspaper; they told me my name would be inscribed on it, and I never saw it again, didn't know where they put it, nor was particularly curious.  It was what I did to win the trophy that meant anything, sinking more shots than the others in gym after long hours of practice, not the trophy itself.  I don't have much of a trophy case. 
AALM: What are some of the most important lessons your coaches taught you?  
BBM: Hoot Moore, our ninth grade physical education teacher and High School Track Coach, taught us in physical education the joy of engaging each other in contests, in games he would invent, with few rules, that involved reckless behavior and required immediate adaptation to the field of play (one involved sitting us on flat scooters about six inches off the ground with four swiveling wheels that were impossible to control, equipping us with hockey sticks and throwing a fluff ball into the middle of the pandemonium with the only rule being "try not to hit anything with ears on it"), and, as a Track Coach, he managed to turn a small high school in a small town into a powerhouse by pushing us to our limits and beyond. If we ever flagged or were tempted to stop running, he would tell us that there was someone out there training as well, who wasn't flagging and would take that extra stride and would beat us in the race where we inevitably stood alongside him at the starting line. The whole point was to win and win decisively.  He was a former Marine and was extremely proud of his service.  At the end of the day, we were all Marines. 
 AALM: Who is your favorite sports hero from the sport you played, and who is your legal idol? 
BBM: My football hero is Hobey Baker, Princeton, Class of 1914, not only considered the greatest athlete of his generation, but, more importantly, held himself to highest standards of honor, sportsmanship and allegiance to the team.  
My legal hero is Tom Lang of Streich Lang, who set a bar of professional excellence and integrity sufficiently high that I felt truly challenged to clear, and honestly, can't say that as long as I have tried, I have succeeded but intend to keep making the attempt as long as I can. 
AALM: What did you do to calm your butterflies before a game? 
BBM: In football, there were never any butterflies: Every game seemed no different from the pick-up games we played as kids on whatever empty field or court we could find. 
AALM: If you could have played another sport what would it be?
BBM: At Princeton, basketball in particular, but really any other, to the extent I could have ever found the time given the rigorous academic demands.  In High School, I was captain of one of the top basketball teams in Oregon and after my freshman football season, I threw my pads in the locker and laced up my Converse, as I had done every year before, but as I trotted into the gym, witnessed three other freshman practicing, each an All-American, one over 7 feet, one about 6'10, and the other although only 6'4" was as good a point guard as any in the nation and enjoyed a long career in the NBA that began with being named "All Rookie" as a Portland Trailblazer.  I retreated to my dorm room.  Later in the year, I read that our class was named one of the top five recruiting classes in the country by Sports Illustrated. Bill Bradley, Class of '65, was packing his bags on his way to Oxford as we were unpacking ours. Truth is, that if I had walked into the gym any other time, I would have tried out, and sometimes I imagine there would have been a spot at the end of the bench for me. 
AALM: Who inspired you as a young athlete?
BBM: Anyone I thought who was on the court or field was playing a better game than I. 
AALM: What is your favorite mantra?
BBM: In the Navy, as a line officer on a destroyer patrolling the Mediterranean during the Cold War shoulder to shoulder with the Soviet warships, it was understood that "The second-best navy could always be found at the bottom of the sea."

Football Hero: Hobey Baker, Princeton, Class of 1914
Legal Hero: Tom Lang
Other Sports He Wanted to Play: basketball
How He Celebrated Victory: Throw the ribbon in a drawer and move onto next challenge
Favorite Pre-Game Meal: Anything in the commons. I wasn't particular. 
His Mantra:The second-best navy could always be found at the bottom of the sea.