Attorney at Law Magazine Phoenix spoke with Jeff Pyburn, a personal injury lawyer with Gallagher & Kennedy, about his time playing football and baseball for the University of Georgia as well as his brief professional career for the Athletes in Law 2020 issue.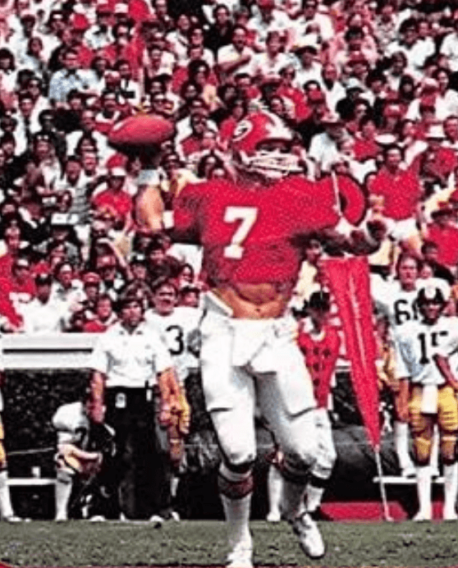 AALM: Tell us a bit about the sports you played in college.
JP: I played quarterback for the University of Georgia in 1976-1980. We were SEC Champions in 1976. I also played centerfield on the baseball team. I broke all records for homeruns and RBIs in the 1980 season. I was then drafted int he first round in the 1980 MLB draft to the San Diego Padres and in the fifth round of the NFL draft to the Buffalo Bills.
AALM: What lessons did you learn from the sport that you apply to your practice today? 
JP: Outwork your opponent, always be prepared, no pressure in trials – Pressure is having 90,000 people booing you after you throw an interception.
AALM: What are some of the most important lessons your coaches taught you?  
JP: Never quit, be tough as nails, be confident in your preparation and execute
AALM: Who is your favorite sports hero from the sport you played, and who is your legal idol?  
JP: Being a QB, my idol growing up was Johnny Unitas. Loved the ugly high tops. And he could really sling it. My baseball idol was Ted Williams. My dad played against him and always talked about what an amazing hitter he was. Read every book on Ted I could get my hands on. Mike Gallagher is probably my legal idol. He's kind of a good ole boy like me. He's great on his feet, quick witted and really relates to juries.
AALM: What are three reasons you like being part of a team sport? What are three reasons you like being an attorney?  
JP: Football is the ultimate team sport. You go through hell with your brothers to prepare for a season, killer off season programs, 3 a day's etc. You develop a bond and kinship that lasts forever. Many of my best friends to this day are former teammates. The locker room banter is hysterical and politically incorrect. Nobody cares what color you are, only if you are a tough SOB who can get the job done. You have to rely on your teammates to do their jobs. The chain is only as strong as the weakest link.
Trying cases requires many of the same things you have to do as an athlete. Outwork your adversary, know your game plan cold, don't get intimidated and make sure everybody on the "team" is pulling their weight.
AALM: Relate competing in a sport to competing as a lawyer.
JP: As Herm Edwards once said, "You play to win the game." But you've gotta play by the rules. In football, you try to knock the hell out of your opponent with good, clean hits. Same thing at trial.
AALM: Who do you wish was watching you perform at every game or match?  
 JP: My dad who was a 2 sport All-American in football and baseball at Auburn (I had enough sense not to go to Auburn).
AALM: What qualities make a teammate a good team captain? What qualities make for a good law partner?  
JP: Reliable, smart, hardworking. Somebody you wanna emulate.
AALM: What is the one thing you always did after a good performance?  
JP: Enjoy a nice dinner that some alum would buy me.
AALM: What did you do to calm your butterflies while you compete, what do you do to calm butterflies before trial?  
JP: Review playbook one last time to make sure I had everything down. For trial, I go to the gym and get a good workout. If I don't know my case by then, I'm screwed anyway.
AALM: If you could have played another sport what would it be? 
JP:  Track. I actually ran the 60 at UGA in some indoor meets.
AALM: Who inspired you as a young athlete?  
JP:  Like most kids, I wanted to be like my dad. Unlike most kids, my dad really was a stud who played pro baseball for the Orioles. I was motivated to excel like he had.
AALM: Who was your favorite coach at any level and why?  
JP:  One of my high school coaches, Bill McCullough. He played at UGA. Tough guy who really pushed us but was very bright and gave a pat on the back when deserved.
AALM: Do you think attitude was a factor in winning in a sport as much as it is in practicing law? 
JP:  Of course. I played with a lot of dudes who had amazing talent but weren't willing to sacrifice to be good. They never saw the field. Wasted their lives. There are a lot of smart lawyers who don't excel because they are lazy or unmotivated. I love the feeling of excitement as you walk out on the field for a game or walk into the courtroom for the start of trial. Gets me jacked up and ready to play. But it doesn't mean a thing if you ain't prepared.
AALM: How did competing at the NCAA level in athletics make you a better attorney?  
JP:  You learn how to deal with highs and lows. You get knocked down, you learn to pick your ass up and get back to work.
AALM: Tell us something you love about your practice today.
JP: I have been lucky to work on some big and high profile plaintiff's cases. I love the fact that each case has a life of its own.

Favorite Sports Movie: Hoosiers
Favorite Legal Movie: My Cousin Vinny
Favorite Football Quote: "Fatigue makes cowards of us all."  — Vince Lombardi
Football & Baseball Idol: Johnny Unitas & Ted Williams
Legal Idol: Mike Gallagher
Favorite Food to Eat Before Game: A big, juicy rare steak that mooed when I bit into it
His Mantra: What doesn't kill you makes your stronger.