Attorney at Law Magazine Phoenix spoke with Grant H. Frazier of Galbut Beabeau P.C. about his time playing all over the field in both rugby and football at Pomona College for the Athletes in Law 2020 issue. 
Today he represents clients in business litigation and commercial transactions, offering his services as an outside general counsel.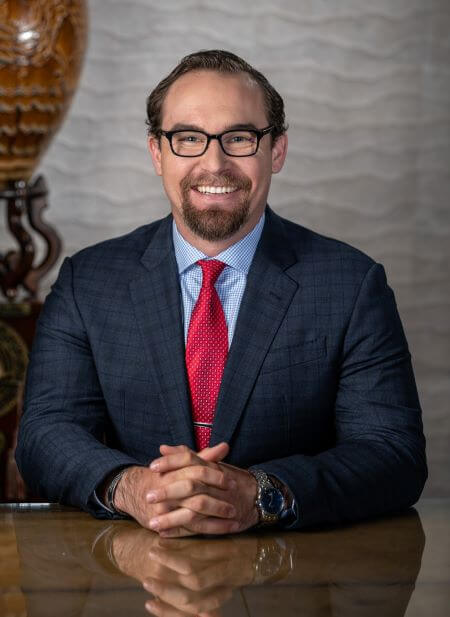 AALM: Tell us about some of your recognitions in sports.
GF: In football, I was captain my senior season. I received the SCIAC John Zinda Award, the Scott Studenmund Award and the Pomona College Blair Nixon Award. I was invited to play in several All-Star Games and was selected to participate in the NFL Regional Combine, but was unable to participate because of commitments to rugby.
In rugby, I served as captain of the team on all four years. It was the first time in the program's more than 100-year history that a player served captain for more than two years. In my four years, our team went 44-7, including a trip to the National Championship. I was named MVP twice and received the Heart of the Lion Award.
I turned down a professional rugby contract to attend law school.
AALM: Relate competing in a sport to competing as a lawyer.
GF: Practicing law is a lot like playing football and rugby, the notable exception being I used to be encouraged to hit people, which is not the case much anymore. In both arenas, success is driven in large part by preparation, interpersonal skills, respect and competitiveness.
Just as preparation for a sports contest would consist of breaking down the tendencies, patterns, etc. of an opposing team's game film, lawyers work to anticipate arguments and/or defenses that may be mounted by an opposing party, or to respond to probing questions asked by a presiding judge.
Also critical to both team sports and the development of a successful legal practice is one's ability to build trusting friendships. In team sports, camaraderie and respect among peers is incredibly important to ensuring that all members are similarly motivated, will hold each other accountable, etc. In the practice of law, relationship building is important for successful client development and retention, as well as for developing a positive reputation among other practitioners and members of the judiciary.
AALM: Who do you wish was watching you perform at every game or match?
GF: My parents and my siblings. I was fortunate to have my family attend the majority of my football and rugby games in college. Especially my parents, who each only missed one game during four seasons of college football and rugby. Sports-related travel took my family and me to Pennsylvania, Tennessee, Massachusetts, Colorado, Nevada, Oregon, Utah, and throughout California. Looking up in the stands and seeing (and hearing) them cheering was yet another reminder of how close my family is and how we support one another in all pursuits—academic, athletic and otherwise.
AALM: What qualities make a teammate a good team captain? What qualities make for a good law partner?
GF: The qualities that make for a good team captain or a good law partner are quite similar. While legal expertise and a book of business are certainly important in the legal arena, effective leadership in either context is best characterized by integrity, ambition for the betterment of the "team," sound judgment, a collaborative nature, and superior communication skills. Consistently implementing these skills builds confidence and a sense of value creation in those around you. In the sports world this means greater buy-in by teammates. In the legal world, this leads to satisfied clients who value your counsel and demonstrate their confidence in you through repeat business opportunities.
AALM: What is the one thing you always did after a good performance?
GF: My typical post-game routine involved sharing a meal with teammates, friends, and family, after which I got right back to work. My competitive nature drives a desire for self-improvement, and so I would quickly turn my sights to identifying my next challenge, and how I would overcome it.
I continue to apply this same mentality to successes in the legal world.
AALM: If you could have added another sport to your schedule, which would it be?
GF: Growing up I played a multitude of sports. I enjoyed, and still enjoy, all of them. Due to conflicts with other sports, I was never able to wrestle. I wish I would have done this in high school and at the collegiate level as well. My strength, aggressiveness, and ability to gain leverage on others was my strong suit in football and rugby. These same traits would have served me well in wrestling. I would have enjoyed the physicality of the sport.
AALM: Tell us a bit about your work in the community.
GF: While at ASU Law, I spearheaded the creation and endowment of the James Madison Scholarship – the first student-led endowed scholarship in ASU's history – which seeks to promote student leadership and extracurricular intellectual programming. I continue to help grow this scholarship fund, and also lead development efforts for the Claremont Colleges Rugby Program and write grant applications for the Center for Law and Military Policy.

Sports Played in College: Football & Rugby
Favorite Rugby Quote: "Rugby is a hooligan's game played by gentlemen."
A Sport He Wishes He'd Pursued: Wrestling
How He Celebrated After a Game: Sharing a meal with teammates, friends and family