Attorney at Law Magazine Phoenix spoke with John A. Shumate, a corporate lawyer at Greenberg Traurig, about his time playing defensive back on the Yale University football team for the Athletes in Law 2020 issue.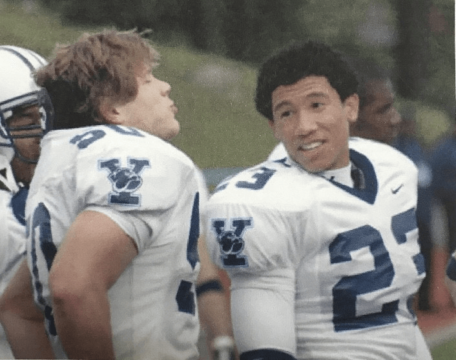 AALM: What lessons did you learn from the sport that you apply to your practice today?
JAS: I learned some unique lessons from football, including the following: (1) finding comfort in being uncomfortable, (2) accepting delayed gratification, and (3) willingness to work alone. These lessons directly apply to the practice of law, especially as a young associate. I began playing football later in life, so there was a steep learning curve for me to work to catch up to my peers. The first few years of any worthwhile endeavor are typically the most difficult, and this is true for both a young football player and a young associate. Such years can be very uncomfortable, so you have to recognize that the difficulty will not last forever and push through it. Piggybacking off that first lesson is accepting that any gratification received might be delayed. Both a young football player and a young associate must make peace with the probable fact that they will not receive pats on the back each day or words telling them how great they are. The recognition might come later (if at all) but that takes work. That brings us to the third lesson of having the willingness to work alone. Both a young football player and a young associate have to be willing to work "outside of working hours" to hone their respective craft.
AALM: Who is your favorite football hero? Who is your legal idol?
JAS: My favorite sports hero from football is the great Ed Reed, who played safety for the Baltimore Ravens from 2002-2012. Among many accolades, he was the 2004 NFL Defensive Player of the Year and 2013 Super Bowl Champion. My legal idol is my uncle, Kevin F. Warren, who was an attorney for Greenberg Traurig; worked in the front office of the Minnesota Vikings; and was named the Big Ten Commissioner in June 2019. Kevin actually lived with me and my immediate family, in our basement, while he attended Notre Dame Law School. He is a great person and true inspiration.
AALM: Who do you wish was watching you perform at every game or match?
JAS: My grandfather, the late Dr. Morrison F. Warren, who played football at Arizona State College (now ASU) after serving during WWII. He was inducted as an Arizona History maker in 1997 because of his work in education and in the community. He attended the majority of my sporting events until he passed away during my junior year of high school. I miss him.
AALM: What qualities make a teammate a good team captain? What qualities make for a good law partner?
JAS: A few qualities that make a teammate a good team captain, include the following: (1) lead by example, (2) inspire, and (3) selflessness. A good team captain must lead by example; in other words, whatever he or she, or the coach, wants the other players to do, the team captain must be willing to do and lead the way. A good team captain must also be the source of inspiration when the team or an individual player needs it. A good team captain will provide an encouraging word or act after a tough loss or a bad play by a teammate, instead of providing words that tear down others. A good team captain must also be selfless, and prioritize the team's needs ahead of his or her own. A good team captain will do whatever it takes to help the team win. I have some great examples at Greenberg Traurig, and I think the same qualities that make for a good team captain also make for a good law partner.
AALM: Who inspired you as a young athlete?
JAS: My father, John H. Shumate, who was an All-American basketball player at Notre Dame and the 4th overall pick by the Phoenix Suns in the 1974 draft. He was from the tough area of Elizabeth, New Jersey, but my grandparents wanted better for him, so they encouraged him to attend (and graduate from) Notre Dame. He was not a super athletic power forward, but he was tough, strong, and smart. He was a great model for a young kid.
AALM: Do you think attitude was a factor in winning in a sport as much as it is in practicing law?
JAS: Yes, very much so. Former Notre Dame football coach, Lou Holtz, has a great quote: "Ability is what you're capable of doing. Motivation determines what you do. Attitude determines how well you do it." I believe that one's attitude determines whether one demands excellence of himself or herself, and, in turn, level of excellence determines winning at anything in life.

Football Hero: Ed Reed, Baltimore Ravens
Legal Idol:  My uncle Kevin F. Warren, Greenberg Traurig
Favorite Football Quote: "Ability is what you're capable of doing. Motivation determines what you do. Attitude determines how well you do it." — Lou Holtz