More than 150 years have elapsed since Arabella Mansfield, a native of Iowa, became the first female to be admitted to the bar. In this special issue recognizing today's women in law, we find it serendipitous that one of the outstanding professionals of Henningson & Snoxell, Ltd. to be featured shares that home state.
Both Susan Peterson-Lerdahl, born in Iowa City, Iowa, and Debra Nelson, who hails from Nebraska, are shareholders and serve in leadership positions at this prestigious firm.
Accomplished attorneys with a wealth of experience highlighted by a trail of victories, Peterson-Lerdahl and Nelson both exemplify the true essence of Women in Law. Their stories are a testament to the indomitable spirit that fuels progress within the legal profession. From the courtroom to the boardroom, these women have shattered glass ceilings and challenged norms, leaving an indelible mark on the cases they've handled and the lives they've touched.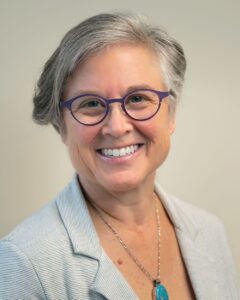 Susan Peterson-Lerdahl
Chair of the firm's estate planning department, Peterson-Lerdahl leads a team of professionals dedicated to providing comprehensive services including estate planning,  probate and estate administration and elder law.
For Peterson-Lerdahl it was not the typical straight line from undergraduate to law school. In fact, she says, the legal profession was not something she had even considered until after completing her master's degree in English and American literature and having already launched her teaching career.
"I was an old law student," she jokes lightly. "I was already teaching both at a community college and a traditional four-year university when I made the decision to practice law. I knew it would be an interesting career and it fit my skill set and experience."
Peterson-Lerdahl's teaching skills coupled with her proficiency in probate and trust administration enables her to guide clients through the intricate processes involved in both creating an estate plan and distributing assets and managing the affairs of a deceased individual, where her knowledge extends to both probate and trust administration.
"Initially, it might not be obvious how my training and background in education would translate into a career in law," Peterson-Lerdahl says. "But the ability to effectively educate clients and help them make important decisions is not only helpful, it's essential. If they don't fully understand the strategies we put in place, the whole plan could fall apart or be ineffectual."
Another notable example of how critical a client's comprehension is applies to the area of intergenerational wealth transfer where family businesses generate that wealth. Depending upon the type and size of the business as well as how many family members are involved and to what degree, this can be a complex matter. With the precision of a symphonic orchestra conductor, Peterson-Lerdahl assists in devising strategies that produce a smooth transition to the next generation, navigating the legal intricacies, financial considerations, and operational challenges that such a process often entail.

Debra Nelson
For Debra Nelson the decision to go into law was made while she was studying at the University of Nebraska, Lincoln.
"I was obtaining my business degree and trying to decide what career I wanted to go into," she says. "Then, I took a business law class, and it was like a light bulb went on. I knew what I wanted to do. It sparked my interest in business transactions, and I never looked back."
Nelson is a shareholder, the chair of the firm's business and nonprofit organizations department, and a member of the real estate department. Her area of expertise covers mergers and acquisitions, general business and corporate law, real estate, contracts, employment law, nonprofit law, and business succession planning.
Not surprisingly, her work often coincides with Peterson-Lerdahl's.  "Susan and I work together a lot," she says. "It works very well because everyone needs estate planning. We also work with the firm's family law attorneys when clients who are business owners divorce. And then, litigation helps where there are contested issues so, really, we all work together to make sure we provide all the services our clients might need."
Nelson is very aware of the struggles that many women still face in the legal arena and is always eager to help advise or offer support.
"I always want to reach out and help other women in law," she says, "I like to show them that there are law firms out here that are good to work for as a woman. I enjoy helping younger women coming up. I feel it's our duty to offer that support and encouragement. You know, it was hard for a long time for women to get into law as well as rise to the top, and I like to let them know it is possible and in a sense be an example as to what can be accomplished."
Nelson chose an area of the law – mergers and acquisitions – that perhaps more than almost any other area of the law continues to be male dominated. However, it was an area that appealed to both her sensibilities and skills, so she was determined to succeed.
"I think one of the most important factors in achieving your goals is to find the right firm," she says. "With the right firm, you'll have the support and mentorship that will allow you to realize your goals."
She says she was fortunate to have two attorneys join her extended family who mentored and advised her along the way.
"One of them was in business law, Scott Johnston, and he really helped me out a lot," she says.
And, when she was a young associate, Marshall Tanick was a great influence on her career. "He was one of my mentors when I joined one of my first law firms," she says. "It wasn't just me, he helped many of us young associate attorneys find our paths by giving us active roles in his cases."
For both Nelson and Peterson-Lerdahl, a career in law, and particularly in their specified areas of practice, has been very rewarding. They have not only proven to be worthy adversaries when necessary but tremendous advocates for their clients.
As they move forward, both women hope to continue to contribute to their firm, support their colleagues, secure satisfactory outcomes for their clients, and help other young attorneys as they strive to achieve similar goals.