Ever cognizant and highly sensitive to the emotionally-charged issues that typically arise in the practice of family law, the Dickinson Wright family law team also happens to be one of the most experienced and respected in the country. In fact, many of the team's 13 fulltime attorneys are certified family law specialists and as a group possess more than 150 years of combined experience. Furthermore, the family law attorneys are backed by a full-service law firm with more than 500 attorneys and 19 offices.
"We have every area of the law covered as far as expertise," says Robert Schwartz, co-chair of the family law group. "Because for instance, when we deal with divorce cases other issues frequently come into play such as taxes, real estate, corporations, estate planning and healthcare directives. We have available to us, through our organization, the resources of our local and national offices and associates to deal with every issue that comes up in a divorce case.
"We handle everything from the largest cases to be tried in Arizona cases involving complex asset and valuation issues to more basic cases," he adds. "So, our range covers divorce, paternity, cohabitation agreement, prenuptial agreement, postnuptial agreements, spousal maintenance, custody, child support and even interstate and international family law matters; really anything that is related to family relationships or personal relationships, with the exception of juvenile court and adoption."
Versatility and attorneys with expertise in a large and varied spectrum of the law make it easy to match clients with the most effective and efficient representation. Resources are allocated based on each client's specific needs and requirements.
"One of the reasons we are able to handle such a wide range of cases is because we have attorneys at different levels of experience. This allows us to efficiently staff a case based on the needs of the client and the issues involved in the case," says Marlene Pontrelli, co-chair of the Dickinson Wright family law group.
This is all in keeping with their objective which is to help their clients solve problems, not create or exacerbate them. Whenever possible, attorneys will encourage out-of-court settlements. Based on their years of experience, they know that even the most contested cases can be settled effectively in this way.
However, when litigation is necessary, Dickinson Wright clients' benefit from this preeminent team's extensive knowledge and experience in both state courts and in private mediation and arbitration.
POST DECREE
Although most people assume that once a divorce is granted and finalized, that's the end. However, frequently this is not the case. As children grow, lifestyles or incomes change so might the rule laid out in the original decree.
"People think, 'OK, that's great. We're divorced, we'll go off and live our separate lives,'" notes Pontrelli. "But a lot of issues come up with respect to modifications of parenting time and child support. Or, children were in preschool, now they're going to school; what school do we choose? We have the ability to also do all of the post-divorce work as well to assist clients with the issues that might develop aft er a case is finalized."
"We also have a very large practice of appeals," adds Schwartz. "Some major decisions have come out of the appellate courts in Arizona as a result of our appeals. These binding decisions established principals applied in divorce cases."
IMPACTING LAWS-EXCHANGING IDEAS
Not only has the Dickinson Wright family law group handled virtually every type of divorce case, a number of the attorneys in the group have worked on writing the rules that are currently in effect for family law cases.
"Many of our attorneys have been involved in the process of writing the rules and subsequently modifying rules," Schwartz confirms. "We also have one of our partners who has been very involved in the legislative process of trying to get different statutes amended or changed in the legislature."
Another aspect of this family law group that sets them apart, are their weekly meetings where they discuss any issue anyone might have or just to share experiences and ideas. "We have the advantage of nine or ten legal minds in the room at one time," notes Schwartz, "considering a specific case or particular issue. It's not something we bill for, we sit around and eat lunch and share ideas."
"There's a lot of collaboration amongst the attorneys with respect to a particular case," agrees Pontrelli. "So, if there's an issue that's unusual or interesting or an attorney just wants to solicit additional input, we all are there to contribute.
"We exchange ideas regularly and each of us is comfortable approaching any of our colleagues to ask for advice, suggestions or simply brainstorm," she adds. "It's a very collaborative relationship we have with each other in order to try to do the very best we can for the benefit of our clients. Again, this isn't something that we charge our clients for, but in sharing ideas and different perspectives, we make sure that we're looking at all options in order to best serve our clients."
Pontrelli is quick to give credit to Schwartz for his role in developing the family law practice group. "We all have benefited from having as our mentor Bob Schwartz. He cares about all the attorneys in our group and has worked hard at building up a department that will have a lasting impact on the firm and the family law profession. We are very grateful to him and his leadership."
Individually and as a group, the family law attorneys of Dickinson Wright are among the most accomplished and experienced in the country. Moreover, the culture of this firm is one where camaraderie and a collaborative mindset encourages the sharing and exchanging of ideas. Simply put, this means every client benefits not just from the expertise and talent of his or her assigned attorney but that of every member of this extended and proficient team.
… one of the most common complaints I hear from divorcing clients is that no one ever told them before they got married about the serious financial consequences of getting married.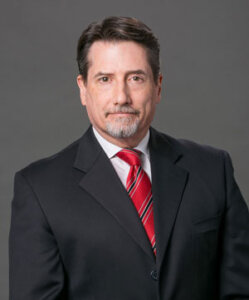 PREMARITAL AGREEMENTS
By Lee Richard
Getting married is the most significant financial decision that a person will usually make. Saying "I do" means more than agreeing to share each other's love through sickness and health and for better or worse. It also means "I do" agree to give my spouse one-half of all my income and assets during marriage; give my spouse potential interests in property and assets I owned before marriage (like my business or professional practice) or might inherit; and financially support my spouse during and possibly after our marriage. In my 30-plus years as a family law attorney (more than half as a Certified Specialist), one of the most common complaints I hear from divorcing clients is that no one ever told them before they got married about the serious financial consequences of getting married.
Consulting a qualified attorney about a premarital agreement before marriage is a good way to educate yourself (and your future spouse) about the financial rules that apply to married couples. Entering into a premarital agreement also allows spouses to avoid the arcane and often counter-intuitive rules that govern married couples' finances and property and to tailor their future financial life together according to their unique desires and needs. Under Arizona's Premarital Agreement Act, couples who plan to get married can essentially exempt themselves from Arizona's community property law and create their own private rules and regulations on how to handle their income, property, and debts during their marriage or in the unfortunate event of death or divorce. Premarital agreements are also very useful tools for estate planning, asset protection (especially where one spouse has past credit or debt issues or is in a financially risky job), and streamlining business concerns. Premarital agreements are a good way for couples planning marriage to come to a mutual understanding of their future financial life together and avoid the unintended consequences and surprises that lurk in Arizona's community property law.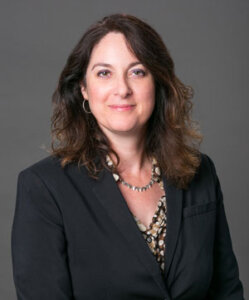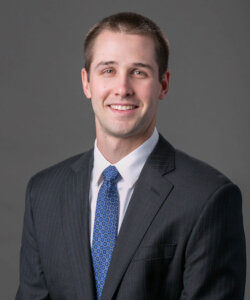 MICHELLE KHAZAI AND BRIAN MERDINGER
One of the benefits of a large family law practice is bringing junior attorneys into the group and providing them with immediate experience. This includes handling some matters on their own, and at the same time working on larger more complex cases with a senior attorney. Michelle Khazai is a 2014 graduate of the Sandra Day O'Connor Law School at Arizona State University. Brian Merdinger graduated in 2017. Both took Marlene Pontrelli's family law class, and upon joining Dickinson Wright decided to pursue family law.
Khazai handles a variety of family law matters, including paternity, child support, dissolution, and various post-decree matters. As a parent herself, Khazai especially appreciates assisting clients with the challenges of co-parenting during and after divorce.
Merdinger likes the variety of issues that family law entails and was intrigued by the various emotional and financial issues that accompany a divorce matter. Merdinger says the immediate client contact and quick access to experience in the courtroom have been invaluable to his development as an attorney this first year. He has not only enjoyed the challenge of learning by doing but also appreciates the mentoring he receives from so many lawyers in the practice group.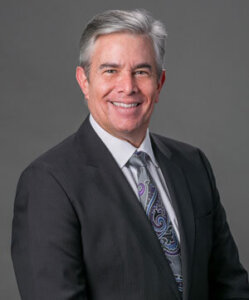 STEVE WOLFSON
At the heart of family law in Arizona are the Arizona Rules of Family Law Procedure and Title 25 of the Arizona Revised Statutes. Both have been updated, clarified and modified over time to address changes in the needs of spouses, children and families in Arizona. In Steve Wolfson's 27 year practice, he has been regularly involved in fixing Arizona's family law rules and statutes. From 2002 through 2013, Steve was the State Bar of Arizona representative to the Domestic Relations Committee (DRC) of the legislature.
Wolfson worked on a variety of family law legislation while serving on the DRC, including legislation regarding termination of the marital community, legislation to make the involvement of both parents in legal decision-making the official policy of the State of Arizona and legislation providing for the division of liquid assets as part of temporary orders issued by the court.
More recently, Wolfson, in January 2017, was appointed by the Arizona Supreme Court to the Task Force to review and revise the Arizona Rules of Family Law Procedure and was selected to chair one of the workgroups. The revisions that he and other committee members worked on are now being considered by the Arizona Supreme Court and are expected to benefit the legal community and the public in years to come. Wolfson's work with the Arizona legislature and the Arizona Supreme Court is an example of how he not only helps clients navigate the law but how he helps to shape the law.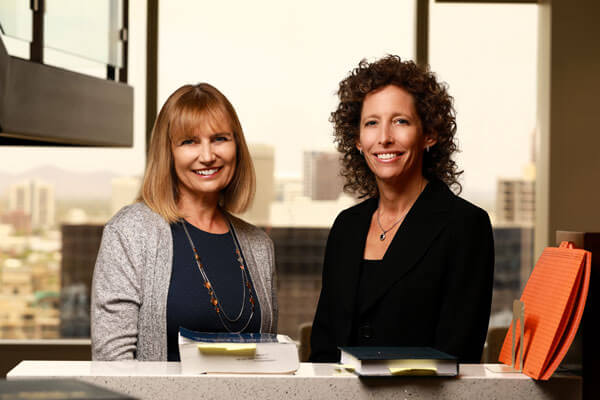 MARLENE PONTRELLI & DANA LEVY
Being a family lawyer is indeed stressful. We deal with clients who have financial distrust of their partners, may be facing a return to the workforce after a considerable absence, may have to provide continued financial support to someone they no longer wish to support or have to learn to share parenting time with another parent despite having previously been the primary care provider. While our primary responsibility is to guide our clients through these difficult legal issues, we are also often called upon to provide emotional support as our clients learn to adapt to the significant changes that are occurring, many of which are beyond their control. So, who do we turn to for support while we address our client's needs and these difficult issues? At Dickinson Wright PLLC we are fortunate to have a tight-knit group of attorneys who are always willing and prepared to discuss our pending cases or to simply just listen to someone who needs to share (aka listen to their griping). With weekly lunch meetings and offices next door to each other, our family law group enjoys collaborating on ideas and legal strategies to best assist our clients and values each other's contributions toward managing our own individual stress levels.
Beyond the working relationship that exists, our family lawyers enjoy friendships out of the office as well. In the over 12 years we have all worked together, we have shared many personal events together such as weddings and bar mitzvahs. We share many similar interests, including spending time with our own families, travelling and dining out. Dana and Marlene both have a love for running. Dana ran the Boston Marathon in 2010, Marlene ran it in 2016, and each happily display their finishing medals in their offices. While Marlene claims she will never run a marathon with Dana because she runs so much faster, Dana claims she will never be able to catch up to Marlene's goal of running a race in each State (she's up to 26 so far!). Dana and Marlene also have established their own "book club" with each other. They share novels with each other as each has a penchant for reading something other than statutes and case law.