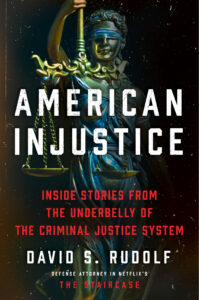 In his new book, "American Injustice," David Rudolf writes that confirmation bias led to the arrest and initial conviction of his former client, Michael Peterson.
Peterson was found guilty in 1993 of murdering his wife, Kathleen. The case was overturned. Peterson accepted an Alford plea in 2017. The case has been detailed in the Netflix documentary and HBO Max docu-drama, "The Staircase."
"Confirmation bias is a human condition we all suffer from. It's a psychological tendency to seek only evidence that confirms your beliefs while ignoring or discounting evidence that contradicts your beliefs," writes Rudolf.
"Law enforcement decides who they 'like' for a crime, generally one of the 'usual suspects,' such as the spouse in a murder case. They focus on a single subject and overlook or dismiss exculpatory explanations or evidence."
Rudolf describes several NC wrongful conviction cases with the easy-to-read prose that has become de rigueur with lawyers turned writers. He provides a little more cake to go with the icing than others in the genre provide, which gives readers a deeper understanding of how the investigations go awry and the impact that wrongful convictions have on the individuals targeted.
The Usual Suspect
Rudolf represented Charlotte doctor Edward Friedland, who was charged with killing his wife, Kim, in their home on July 27, 1990. The doctor had arrived home that night and found Kim almost decapitated and stabbed 26 times.
There were no signs of forced entry, and the only thing missing was her wedding ring. Her nightgown was bunched around her waist and her legs spread apart, but she had not been sexually assaulted.
The time of death appeared to be roughly the same time Friedland was making hospital rounds. Investigators were then tipped that he had been having a long-time affair with a nurse. Friedland had met with a divorce attorney but decided he would have to give up too much of his assets to proceed. Police seized on that as the motive for murder.
"Investigators had all made up their minds that Friedland was guilty. They were bound and determined to prove it and get a conviction," writes Rudolf. "There was zero violence or abuse in his background. He seemed altogether incapable of such a horrific crime."
In 1994, Friedland was arrested and charged with murder even though the evidence was circumstantial.
Police had briefly suspected Marion Anthony Gales, a handyman and known drug abuser who lived nearby and had a long rap sheet that was getting longer and more violent. He'd been seen in the Friedlands' neighborhood on the morning Kim was killed. He had done some work for her previously.
Rudolf writes that police withheld evidence of Gales' spiraling crimes and violence both before and after Friedland was indicted. But Rudolf's investigator, the late Ron Guerette, sniffed out the evidence the Charlotte police had hidden. Friedland was released. Gales was never prosecuted for the murder. The crime remains unsolved.
"If you wanted an example of how confirmation bias and tunnel vision lead to wrongful arrests and convictions, you would be hard pressed to come up with a more vivid and compelling example," Rudolf writes. "In many cases, the police and prosecutorial misconduct is not discovered until years after the defendant has been convicted, sentenced to prison, or even executed. In most such cases, it is never discovered at all."
Overriding Duty
"What I hope lawyers take away from this book is the sense that no matter what we do, whether we're tax lawyers or corporate lawyers or intellectual property lawyers, we have an overriding duty to the rule of law in our system. If we don't have the rule of law, we really don't have a democracy."