Below is an excerpt adapted from Heinan Landa's upcoming book The Modern Law Firm: How to Thrive in an Era of Rapid Technological Change. In his excerpt Landa reviews how to harness technology to your firm's advantage.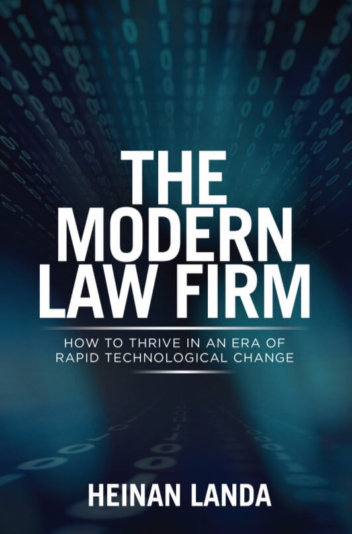 Most of us can relate to how different the law firm environment looked 20 years ago—actual paper files, walking to the associate's office to request a revision, and other practices that seem archaic and slow to us today. It's hard to conjure a picture of the future—what things will look like 20 years from today as technology continues to evolve at an exponential rate.
For many industries, including the legal profession, it can feel as though we are stuck in the middle: technology is changing at a rate faster than we can strategically act on it, but we know every time we don't act we are falling farther and farther behind. Add to that the fact that everything seems to be working, at least for now and law firms feel no immediate impetus to change. This cycle, unfortunately, causes inaction—which will inevitably become detrimental to firms' bottom lines and sustainability.
According to a survey conducted by Altman Weil, Inc., 59% of law firms say they are not feeling enough economic pain to motivate significant change in the way they deliver legal services. This means that despite all the changes in how clients are making buying decisions, despite the sky-high expectations that active clients have for their overall experiences with their chosen law firms, and despite the obvious signs of tension between these expectations and reality (both internally and externally), the majority of law firms remain steadfast. They've done business a certain way for however many decades, and they will continue to do business that way for however many more. After all, they've made it this far, haven't they?
The bottom line is if technology stands as something to be feared, ignored, or otherwise deprioritized, the gap between how your firm operates and what your clients and employees expect will only grow wider and wider until it is simply unsustainable. What got you here, when it comes to technology, will decidedly not get you there.
The Why: Embracing Legal Technology
For better or for worse, our lives have become saturated with and shaped by technology. While law firms used to attract new clients based on their reputation and word-of-mouth alone, today:
67% of the buyer's journey is carried out digitally
83% of people start their search for an attorney by checking online reviews
70% will go to an attorney in an inconvenient location if that attorney has better reviews
Potential clients draw conclusions about the quality and credibility of your firm before they even walk through the door. Then once an engagement begins, clients used to interacting instantly and seamlessly with their family and friends over text message and video chat will have little patience for slow and clunky communication.
At the end of the day, we lose prospects and clients and staff all for the same reason: misalignment between what they expect and what we deliver. This misalignment takes an infinite number of forms:
A potential client expects to be able to reach you easily over the web, can't, and abandons you as an option in their search for help.
A current client expects to be able to collaborate on a document with you without a maddening amount of back-and-forth, can't, and seeks out a more efficient firm the next time.
A new associate expects to have the flexibility to occasionally work from home, doesn't, and decides to take their talents elsewhere.
In today's highly digital landscape expectations are higher than ever and access to alternatives is unbounded. We may take umbrage with the fact that something as minor as a three-second load time on our website will cost us over 50% of visitors (i.e. potential clients), but firms that intend to thrive in coming years must acknowledge that our ability to effectively leverage technology has a direct impact on growth and revenue.
Rather than sitting idly by while technology continues to advance exponentially, and while this tension between expectation and reality continues to mount, law firms need to actively and deliberately harness their technology to create the kind of experiences clients and employees will rave about.
The How: Assessing Where You Stand
In order to lay out the groundwork for a more innovative approach to technology, you will want to garner a comprehensive understanding surrounding what your firm is already doing well and which areas need more attention. Use our tech maturity tool to find out where you currently are; assess where your firm lies on the technological maturity spectrum, and what you can do now to start improving and innovating.
If your firm is in a place where you don't yet use technology to manage, say, your documents, there's going to be some groundwork to do before more complex initiatives are feasible from a practical, technical, or cultural perspective. First, you will need to get a clear baseline reading for where your firm stands today and then determine what you need to do to fill in any critical foundational gaps. To do this, I've designed a fourteen-point model that breaks the world of technology into bite-sized chunks. I call it the Technology Operational Maturity Model and have crafted it to apply to small and medium-sized law firms specifically.
There are just three levels of maturity: low (1), medium (2), and high (3). Firms that have reached at least level 2 for each of the fourteen traits are the firms that are best positioned to shift their focus forward, harnessing technology to both mitigate a myriad of risks and increase their competitive advantages.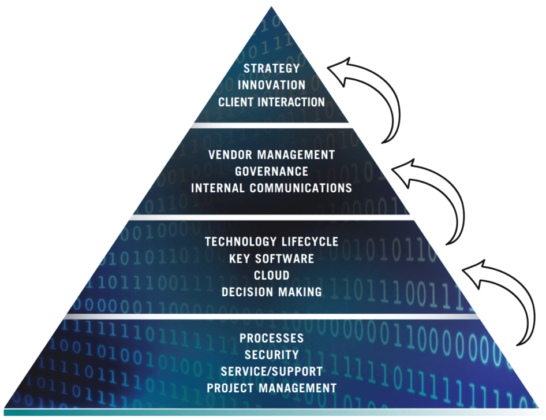 This model carefully evaluates your firm's routine IT processes, security policies, staff support systems, hardware and software lifecycles, DMS and case management systems, etc. Designed to shed light on specific areas that might not be getting the right kind of attention, the self-assessment tool serves a checklist for climbing higher in your overall maturity level and positioning your firm amongst the most innovative.
Here is an example for assessing one of the core concepts: Key Software. Rate yourself by assessing whether your firm exhibits none, some, or all of the following statements:
We have a document management system (DMS), a case management system, a time-and-billing platform, and an eDiscovery package as appropriate.
All of our documents (and all versions of them) are stored in the DMS, and we can find important information in seconds.
We use email, but only to send links to those documents inside the DMS.
All key software is used and understood by everyone in the firm—even the partners.
In addition to calculating your firm's technology baseline, this model is designed to function as a comprehensive checklist to maintain your strengths and bolster your weaknesses. To elevate your maturity, address the traits one section at a time, starting at the bottom of the pyramid. Use the self-assessment to envision what success looks like for each trait; then determine what steps need to be taken, by whom, for your firm to get there. When you've reached medium to high maturity for every trait in that section, move up to the next batch.
The end result is a firm that has mastered the use and management of technology, successfully turning its most imminent threat into a powerful competitive advantage.
Final Thoughts
For most firms, this journey toward becoming a more innovative and tech savvy law firm will require the implementation and adoption of many new technologies, and more change in less time than you've seen perhaps ever before. This is in fact, a huge undertaking for those who are just getting started, but the alternative is less appealing—from getting left in the dust by competitors to going out of business entirely.
Instead of viewing technological change as a monumental financial and operational roadblock, I encourage you to see this as an opportunity. For those who are bold enough to act, this is your key to success when it comes to differentiating your firm in a crowded marketplace.
Learn more about specific ways to succeed with new technologies and take the full technology maturity self-assessment in The Modern Law Firm: How to Thrive in an Era of Rapid Technological Change. The book will be available to purchase on April 16 on Amazon.