Attorney at Law Magazine Phoenix spoke with Real Estate, Estate Planning and Corporate attorney Scott Burns of Burns & Burns about his pitching career while at the University of Arizona for the Athletes in Law 2020 issue.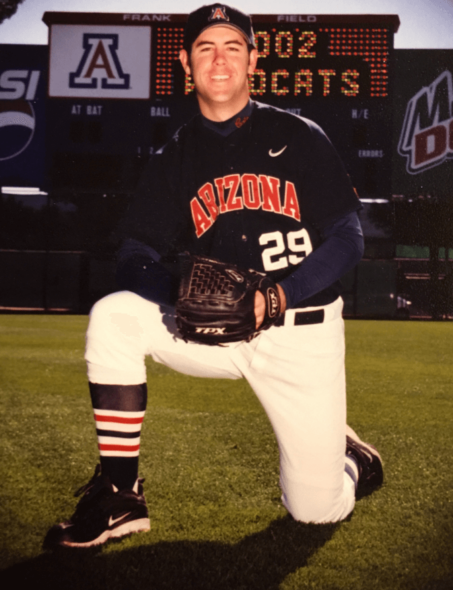 AALM: Could you give us some highlights of your baseball career?
SB: A top individual sports highlight for me included being involved in Arizona's Super Regional series victory against Long Beach State, the result of which was Arizona advancing to the 2004 College World Series. Of personal sentiment was that fact that I was named the game #1 winning pitcher, which happened to not only be Arizona's first-ever super regional win in school history but also because it was then Head Coach Andy Lopez's 100th career victory with the program. 
AALM: What lessons from baseball do you apply to your practice today? 
SB: Playing a Division I college sport in a power 5 conference, while earning a Bachelor's of Science in Finance, taught me the importance of hard work and time management. However, a specific lesson I learned was to 1) never back down from competition or 2) let one's competitive drive be an excuse for not treating others (i.e., opposing team members) with respect. Law is the same way. We need to be zealous advocates for our clients while maintaining a certain level of decorum and respect while interacting with opposing counsel.         
AALM: What are three reasons you like being part of a sports team sport and three reasons you like being an attorney? 
SB: The three reasons I liked being part of a team sport, include the teammates and associated shared experiences/ friendships, celebrations following victories and encouraging one another and receiving encouragement in defeat.     
The three reasons I like being an attorney include obtaining a favorable outcome for a client, joining an elite group of individuals in the practice of a great profession and continuing the tradition of being a 3rd generation Arizona attorney (F. Britton Burns, J. Scott Burns, Scott F. Burns (me))  
AALM: Relate competing in a sport to competing as a lawyer.
SB: The practice of law, like pitching, requires both mental and physical stamina. In sports you have to push through physical fatigue while maintaining your mental focus. Similarly, competing as a lawyer can be physically taxing (working late nights with early mornings) while needing to maintain high cognitive skills. 
AALM: What qualities make a good team captain and what qualities make for a good law partner? 
SB: Qualities of a good team captain and good law partners, include consistency in performance (skill), not being afraid to call out a teammate/peer while building them up versus only tearing them down, acting fairly in all situations and interactions with teammates/legal peers and placing team/firm goals ahead of personal accolades.   
AALM: Who inspired you as a young athlete? 
SB: My father. Not only was he my little league coach growing up, he was a successful athlete having also played baseball at the University of Arizona before attending the University of Arizona James E Rogers College of Law.   
AALM: Who was your favorite coach at any level and why? 
SB: I was lucky to play for two hall of fame coaches, namely: Coach Jerry Dawson with Chaparral Highschool and Andy Lopez with the University of Arizona. Both coaches stressed the importance of being a great man off the playing field
AALM: Do you think attitude was a factor in winning in baseball as much as it is in practicing law? 
SB:  Absolutely. In the practice of law, you are often dealing with grey areas. Similarly, in sports I was constantly facing capable opponents. Thus, in law or in sports, you need to keep a positive attitude despite any adversity and never take on an attitude of complacency.    
AALM: How did competing at the NCAA level in athletics make you a better attorney? 
SB:  As a college athlete you were constantly dealing with adversity. Adversity took many forms, including injuries or managing schoolwork. Whatever the circumstance, it taught you to keep a positive attitude and deal with the situation at hand. Law is very similar in that respect.   
AALM: What is the one thing you always did after a good performance? 
SB: I always thanked my catcher as he was involved in every pitch too. 

Favorite Baseball Movie: The Natural
Favorite Legal Movie: The Paper Chase
Favorite Baseball Quote: "Baseball is 90 percent mental; the other half is physical." – Yogi Berra
Favorite Baseball Hero: Hall of Fame Pitcher John Smoltz                                                         
Favorite Legal Hero: My father 
Other Sports He Wanted to Play: Golf
His Mantra: A heart at peace gives life to the body, but envy rots the bones.